Why Karrueche Tran x ColourPop's New Collab Is The Best One Yet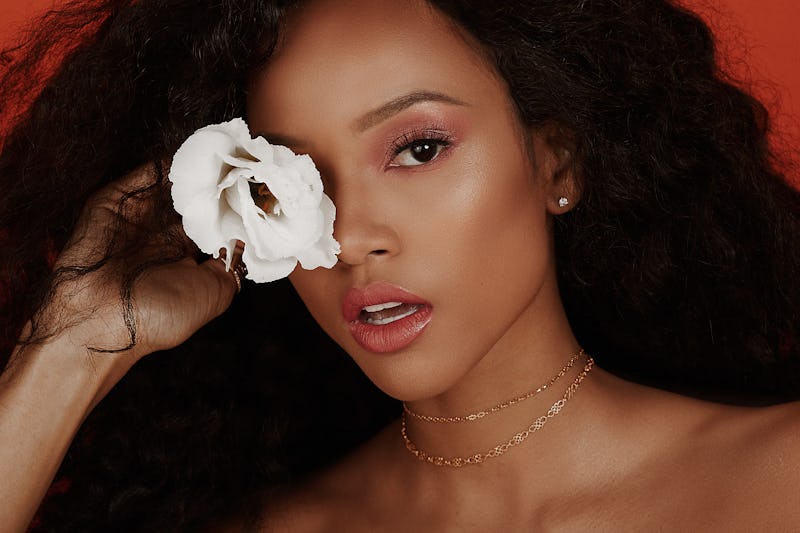 Courtesy of ColourPop
ColourPop fans know that when the brand does a collaboration, it's going to be killer. Whether it's a fictional character like Hello Kitty or one with a popular beauty guru, like IluvSarahii, great collaborative collections are part of the brand's appeal. Now, they're doing it again. A new ColourPop x Karrueche Tran collaboration is coming, and it may just be the best one yet.
On Thursday, popular beauty Instagram account TrendMood posted three images of the upcoming ColourPop x Karrueche collection, and while the first two collections from the brand and Claws actress were insane, this new one is sure to have fanatics stoked.
The collaboration is called Fem Rosa, and the products inside reflect the rosy nature of the name. Fem Rosa features a lip set with two Ultra Satin Lips (one is a deep burgundy rose, while the other a rosy brown) and one ultra glossy lip (in a gorgeous golden tone). The price is totally right for the lipsticks, too. They're being sold separately for ColourPop's usual price of $6 each or as a bundle for only $15.
While this isn't Tran's first time crafting lippies with the brand, this recent collaboration is more than just some liquid lipsticks.
Perhaps the most exciting product to come from Karrueche x ColourPop part three is an eyeshadow palette, similar to the incredibly popular Yes Please palette. The SHE palette features twelve pressed powder shadows in mauves, taupes, and pinks. Just like the Yes Please palette, this beauty is retailing for only $16.
It's not over yet. There's another product coming for fans. The final item in the collection is the HER, a three piece face palette. Inside, fans will find what looks to be a blush, highlighter, and bronzer. Basically, it's everything to make your complexion Karrueche Tran-approved, and it's only $15.
If you want to shop the new Karrueche Tran x ColourPop collection, mark your calendars for July 13. You won't want to miss out on the rose-inspired collection.