This Trendy Star Wars Clothing Line Will Bring The Force To Your Closet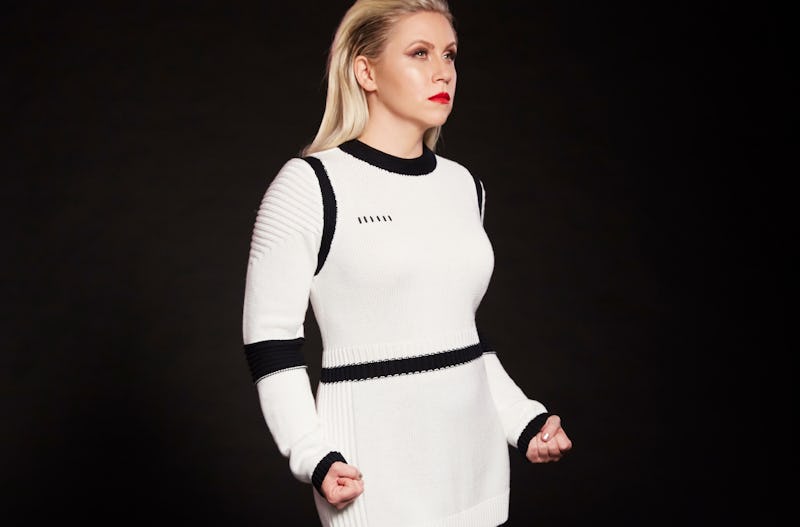 Courtesy of Her Universe
There certainly isn't a dearth of Stars Wars-themed fashions. ASOS dropped a men's Star Wars range last week, with women's designs coming soon. While you wait, the Her Universe's Star Wars collection is now widely available via shopDisney and will cruise into Disney Stores soon. And these Star Wars pieces are super adorbs.
In case you are unfamiliar, Her Universe is a line of fangirl fashion launched back in 2010 by Ashley Eckstein. Eckstein has served as the voice of Ahsoka Tano from Star Wars: The Clone Wars and Star Wars: Rebels. Her brand specifically caters to female fans of scifi and fantasy franchises, and produces apparel and accessories that fangirls can wear to proudly express their inner unapologetic nerd.
Her Universe's Star Wars designs drop at all Disney stores nationwide on Dec. 15 in conjunction with The Last Jedi's multiplex bow. The collection features dresses, jackets, sweaters, cardigans, capes, skirts, and shirts. In addition to the Star Wars designs, several of Her Universe x Marvel pieces are available at shopDisney.
Darth Vader Cape Coat, $50, Disney
In a statement, Eckstein expressed her excitement about Her Universe partnering with Disney.
"As a self-professed Disney super fan, Disney Store has been my go-to shopping destination for years.," she says. "Disney makes dreams come true, and I'm thrilled to have Her Universe available online at shopDisney.com and Disney stores. Fans can expect more exciting and exclusive collaborations ahead — this is only the beginning."
Prince Leia Cape Coat, $50, Disney
If you've not yet bookmarked the shopDisney site, get to it. It offers an unparalleled assortment of Disney, Pixar, Star Wars, and Marvel products and apparel. If you are a fashionista or a collector, you will find something you want to wear and own, like these swirly capes.
Below are some of the most fun and wearable items from the upcoming collection.
The Stormtrooper Sweater
Stormtrooper Pullover Sweater, $60, Disney
Slay the holiday season and any soiree you attend by pairing this Stormtrooper Sweater with leggings and booties. The source of inspo is obvious but sweet.
The Kylo Ren Shredded Tank
Kylo Ren Shredded Tank Top, $30, Disney
What a cool layering piece that also shows your love of The Dark Side. You can rock this tank with a cardigan or a zip-up hoodie, an infinity scarf, and skinnies during the cold weather season. But wait...
As temperatures rise, you can continue to wear this top. You will totally want to show off the shredded detailing in the back.
Chewbacca Vest
Chewbacca Vest, $90, Disney
Calling all wannabe Wookiees. You can mimic Han Solo's infamous sidekick, thanks to this fuzzy Chewbacca vest. Yes, it's a literal interpretation of the character but it's also a super fun fashion piece that doesn't drift into costume territory.
BB-8 Skirt
BB-8 Skirt, $75, Disney
The Her Uni x Star Wars collab is not solely about casual pieces. This '50s- inspired skirt will certainly work for holiday fetes and beyond.
Captain Phasma Jacket
Captain Phasma Jacket, $90, Disney
Satin jackets are so '80s. But when it's a Captain Phasma satin jacket, it's totally timeless.
Princess Leia Vest
Princess Leia Quilted Vest, $45, Disney
With Carrie Fisher's untimely passing, you can still connect with her beloved character, the eternal rebel Priness Leia, via this vest.
BB-8 Hoodie
BB-8 Hooded Sweatshirt, $30, Disney
This zip hoodie is another perfect layering piece.
Sparkly Sweater
Pullover Sweater, $60, Disney
Sparkle! The Kylo Ren sweater has so much texture, courtesy of the galaxy glimmer and ribbed sleeves.
The glittery detail is festive but you could wear it year-round and for any fancy occasion.
Cold Shoulder Sweater
Rey Sweater, $65, Disney
This structured, cold shoulder sweater is so on trend — and a subtle nod to the franchise.
May the fashion force be with you!