Universal Standard & J.Crew Just Released A Killer Collaboration That Goes Up To Size 32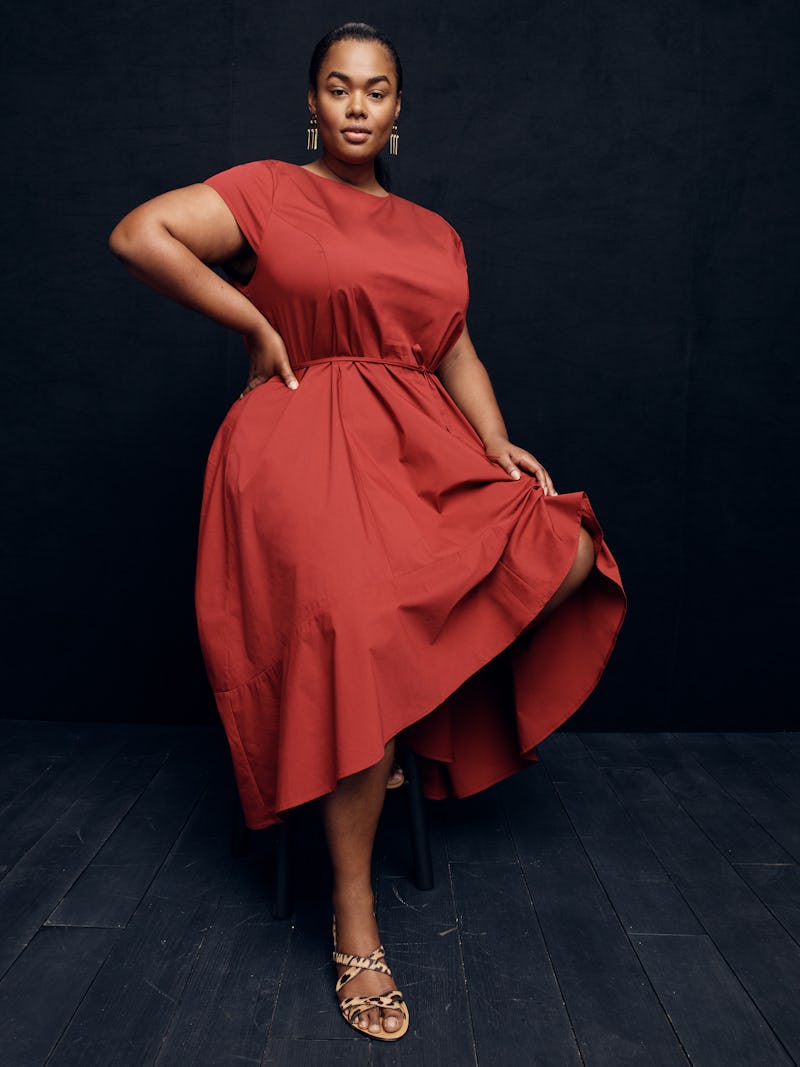 Courtesy of Universal Standard
Let's get the facts straight. One size does NOT fit all. Truly understanding the importance of size-inclusive fashion, Universal Standard is an empowering brand on a mission to change the way plus-size beauties shop. And they're doing a damn good job, now that a Universal Standard x J.Crew collaboration happened, making the retail giant's clothing more accessible to beauties of all shapes and sizes.
From the very start, Universal Standard has always been a brand for the people. Carrying sizes 6 through 32, with the goal of soon expanding that range to suit women from size 0 to 40, the brand is determined to make all body types feel welcomed in the fashion sphere. That was made even more evident when the body positive company teamed up with a mainstream favorite like J.Crew to expand their racks with more sizes.
It wasn't long ago that J.Crew extended their jean sizes. The denim retailer previously capped pants sizes at 32, but now offers styles in up to a size 37. Meanwhile, many of their dresses and blouses still stop at a size 16. Still committed to expanding, however, the brand is making another shift towards providing equal access to their clothing. Their collaborative, size-inclusive fashion created with Universal Standard just dropped, and every single style is so freaking good.
Now available online and in select J.Crew stores across the country, the new Universal Standard x J.Crew line includes 16 summer and fall styles that have modern and chic written all over them. The collaboration is powerful not just because it's fashion forward, but also for its ability to open up J.Crew's clientele to a more diverse range of women.
For anyone who wasn't previously able to shop the retailer's limited sizes, that has all changed. Styles from the collaborative line will be available in sizes 0-32, a wide range that extends J.Crew's current offerings. The Universal Standard collection will also be introduced as a part of J.Crew's mainline, rather than as a separate category of clothing, proof that the brand is serious about offering a size-inclusive shopping experience.
So, what's to really be expected of a collaboration that combines body positivity with sophisticated style? We're talking one hell of a fab collection, here.
If this jumpsuit doesn't scream "I rolled out of bed fierce", then it's going to be hard to say what does. Its flared and comfy fit does casually cool fashion so much justice.
Yet another effortlessly chic ensemble, this silky blouse and pants combo is a real winner. The white stripe lining the bottoms give it a tuxedo-esque feel, that makes them easy to dress up or down.
The Universal Standard x J.Crew line isn't just about playing it cool. The collection also includes dressier pieces, like this scarlet number with a ruffled hem. There's no way you wouldn't have all on eyes on you in this trendsetting garb.
Sleek is the name of the game with this tank dress. It's an LBD reimagined as something much more minimal and chic.
This has got to be one of the most interesting styles from the entire collection. With a shirt dress featuring a breezy fit, pockets and a front slit, there's really so much to love.
There are a few more incredible styles where all of those "it girl" numbers came from, so the Universal Standard x J.Crew mashup is likely to have something that catches your eye. But if nothing else, the plus-size friendly line just may carry your fit, and that's worth celebrating no matter what.
This article was originally published on