This Contestant Is Very Likely Going To Be Your Next 'Great British Baking Show' Crush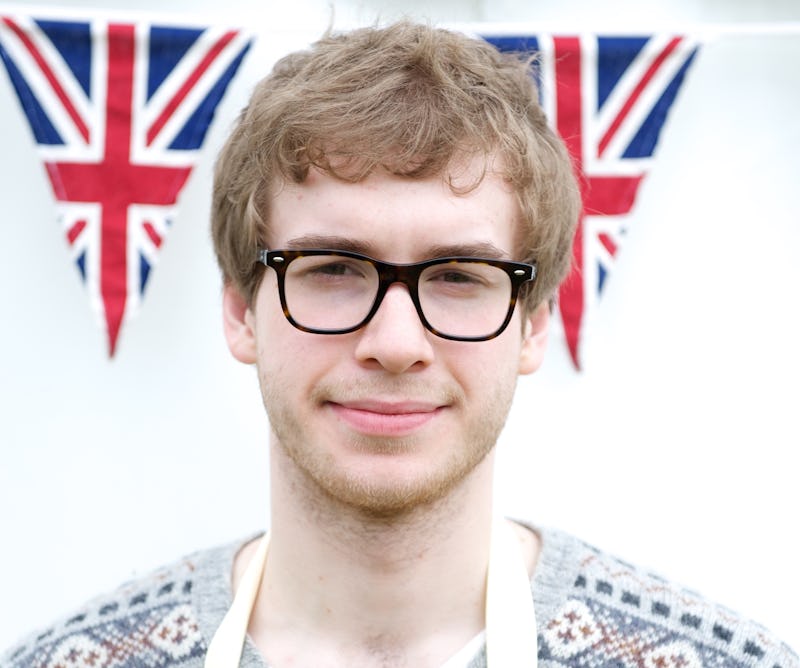 Love Productions
The Great British Baking Show as you know it no longer exists in the U.K., but PBS is giving U.S. fans another chance to see it as it once was. A new-to-Americans season premieres on PBS on June 22 and one baker who will catch your eye is Great British Baking Show contestant James Morton. While James appears in the fifth season of The Great British Baking Show in the U.S., this season originally aired across the pond back in 2012 as the third season of The Great British Bake Off. So it's quite easy to discover six-year-old spoilers and find out where he placed (that's your warning that clicking on linked articles in this piece might ruin the competition results). But without giving away what happens to James on The Great British Baking Show, here's what you need to know about this charming baker and what he's up to now.
As the premiere episode outlines, James was 21 years old and the youngest baker on his season of The Great British Baking Show. He's from the Shetland Islands in Scotland and at the time of the competition, he was a medical student. As Scotland's The Daily Record reported, James' signature style made him something of a sex symbol during his season and he gained a lot of Twitter followers. On the show, he rocks thick-rimmed glasses, knitted sweaters, and sweater vests (somewhat confusingly called "tank tops" in the U.K.). His student status and nerdy-chic look even lead judge Paul Hollywood to call him "professor cake maker" in the first episode.
Since his time on the show, James has continued to build his baking career. In 2013, he published Brilliant Bread on the art of (you guessed it) baking bread. The particularly science-minded baker also published How Baking Works: And What To Do When It Doesn't in 2016 that helps explain baking while offering simple steps for recipes. Another book by him that hit American bookshelves in 2016 wasn't about baking, but James' take on home brewing — Brew: The Foolproof Guide To Making World-Class Beer At Home — was still focused on recipes (and yeast).
His books have led him to be featured on Penguin Random House's The Happy Foodie. This British publisher's website showcases recipes from famous chefs, including Baking Show judge Mary Berry and contestants Nadiya Hussain (from Season 3 in the U.S.) and Candice Brown (from Season 4 in the U.S.). You can watch him and his low-key delivery of baking tips on The Happy Foodie's YouTube channel. James also runs a blog, but he tweeted in March 2018 that his website was hacked, so it was unavailable to view at the time of the U.S. premiere of The Great British Baking Show Season 5.
Although baking made him famous, James has done a lot in the world outside of the kitchen. As previously noted, he was a medical student in 2012 and his sudden fame from The Baking Show wasn't going to deter him from his goal. "I am definitely going to become a doctor," James said in a BBC News interview at the time. "Baking's great fun. The Bake Off is great fun. But it's a hobby." And while he's certainly made baking more than just a hobby since then, he did follow his career track as his Twitter bio states that he's a doctor for the U.K.'s National Health Service (NHS).
His passion for the medical profession may come from his mother, Dr. Susan Bowie. In 2016, The Guardian ran a feature on her as a family practitioner who runs the most northern solo practice in the U.K. As for his writing, that's from his dad; Tom Morton is a journalist and author. The father-son duo even wrote a book together, Shetland: Cooking On The Edge Of The World, which will be available in September 2018. And one last family member who deserves acknowledgment is James' "gran." He told The Happy Foodie that his grandmother taught him how to bake when he was only 3 or 4 years old.
After his time on the baking competition show, he returned again for The Great British Bake Off Christmas special in 2016. But check out how James originally captured the hearts and stomachs of a nation when his season of The Great British Baking Show premieres on June 22 at 9 p.m. And even if his final place gets spoiled for you, it will still be sweet watching him bake, knowing all the accomplishments still to come.