Here's What's Still Up For Grabs At The Kylie Shop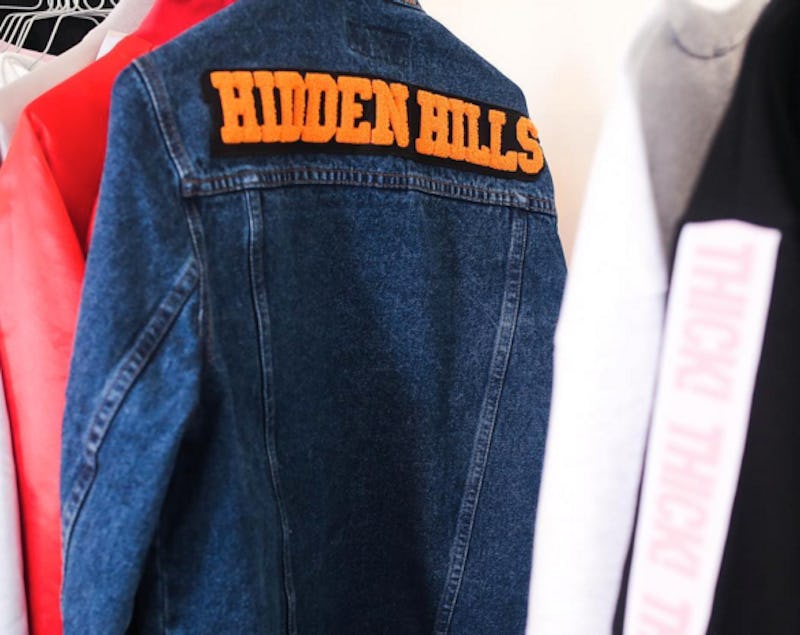 thekylieshop/Instagram
If you didn't get to head to New York City to get the full real-life experience of shopping Kylie Jenner's merch, then you'll have to rely on the Internet to bring the greatness into your life. Kylie Jenner's online store has been open since Valentine's Day, and thankfully, not everything has sold out just yet. What's left to shop at the Kylie Shop? Add some items to your cart while you still can!
Nine of the latest items have already gone out of stock. This includes the flame sweatshirt, a couple of the satin bombers and one of the "Thick!!!" matching sets. But, that still leaves plenty of shopping options. At the time of publication the swimsuits, pins and more were still up for grabs on the site. So, if you're looking to get more Jenner-branded items in your life, now would be the time to do it — especially if you couldn't get to NY.
Prices range from $12.50 for a lighter to $120 for one of the Kylie Cosmetics lips Logo bomber jackets, so no matter your budget — there's bound to be a piece for you. Jenner's always looking out for her fans, and she's surely given you a lot to love about her latest pieces. That's precisely why you've got to get your hands on them before they're gone!
There may be restocks to come, but you can never really be too sure, you know?
And when the merch is this good, it's better safe than sorry.
You really shouldn't deny yourself this shopping pleasure!
1. Kris Attitude Tee
Kris Attitude Tee, $35, Kylie Jenner Shop
A size Large in this tee was still up for grabs at the time of publication. Don't miss the chance to rep Kris Jenner's DGAF attitude!
2. Thick Crewneck Sweatshirt
Thick Crewneck Sweatshirt, $70, Kylie Jenner Shop
Show some self-love with this cozy sweatshirt.
3. Lips Satin Bomber
Lips Satin Bomber, $100, Kylie Jenner Shop
The black colorway is the only option left in stock at the moment. Better scoop it up if you want to get in on the satin bomber action!
4. Hidden Hills Denim Jacket
Hidden Hills Denim Jacket, $160, Kylie Jenner Shop
This super cool denim jacket could soon be yours.
5. Patch Pack
Patches Pack 2, $20, Kylie Jenner Shop
Don't forget to deck out that denim jacket with some patches while you're at it!
6. Lips Dad Hat
Lips Dad Hat in Khaki, $35, Kylie Jenner Shop
A new khaki color was introduced in this launch, so if you're into the trendy hat look, better get your hands on it, stat.
All right, everyone. Get those credit cards ready!