Leo's 'Bachelorette' Tweets Are Straight Fire & You'll Want To Follow Him ASAP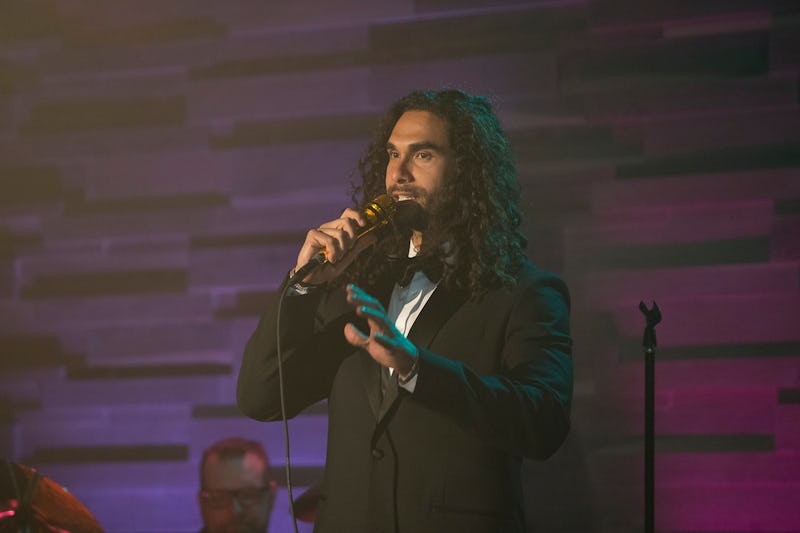 Paul Hebert/ABC
Until very recently, Leo has been the most underrated of Becca's potential beaus on this season on The Bachelorette. He's stuck around this far, but he just hasn't gotten quite as much screen time as some of the other guys. But as we saw during his one-on-one date with Becca last week, when she does show up, he delivers. We don't know how much farther he makes it on the show, but filming is long over at this point. So what is Leo is doing after The Bachelorette and is he back to work as a stuntman or has he been hanging out with Becca all summer?
We don't really know just yet. But we do know that he has one seemingly new, beloved hobby since filming wrapped — engaging with Bachelor Nation on social media. In case you've missed it, fans on Twitter are doing everything from laughing about his Jim Halpert-esque camera side-eyes and pointing out his apparent emotional maturity to comparing his luscious locks to the ones donned by Anne Hathaway in Princess Diaries. And Leo is apparently living for it, since he's responding to anyone and everyone tweeting about The Bachelorette, thanking them for kind words, shutting down negativity, and even offering embarrassing personal details about himself.
He's also giving some behind the scenes insights, like when he quote tweeted an Us Weekly report saying that he was actually the first person Becca kissed this season. In his response, Leo confirmed that he was indeed the first to plant one on her and hinted that there's actually a lot of footage that never makes it on air. So he's definitely keeping busy on Twitter.
His Tweets *Are* Pretty Good
Aside from his newfound love of tweeting, Leo's The Bachelorette and Twitter bios reveal that he's a stuntman in Studio City, California, and a performer at Universal Studios' Waterworld show, so that's something that's likely still going for him since filming wrapped on the show. His Instagram account shows him in costume apparently filming something back in late April, and the caption includes the hashtag #bestjobever, so he's living his best life, for sure. His IMDB page lists projects like FX's 9-1-1 and American Horror Story as past stunt jobs for him, and there are plenty of other smaller films and shows among them from 2017 and 2018, which means he's likely still in the industry and planned on returning to work no matter what happened on the show.
Leo's also apparently "cooking up a hair care routine" for everyone dying to know how he keeps his mane looking so perfect. Please give us the secrets, Leo. That volume is the stuff of hair dreams. So maybe there's a side gig as a stylist in his future. Hey, a Leo stan can dream, right?
Other than musing about life's minor inconveniences, his own hair, and his time on the show, Leo hasn't been sharing too much about his day-to-day since The Bachelorette, but once the finale airs, hopefully that will all change. Leo's probably bound by some pretty tight non-disclosure agreements from the show, so he can't reveal the intimate details of his life as it stands today lest he spoil the ending of The Bachelorette journey.
For now, he's still in the running for Becca's heart, and fans will be sorry to see him go if he doesn't end up receiving the final rose. "He's funny, seems very emotionally mature, has been low drama, is great at dodgeball. What's not to like," wrote Reddit user Lr20005.
Some fans are saying that even though Leo has laid low, he could be an underdog to watch out for, especially given how comfortable Becca has seemed with him in recent weeks. "Is Leo her front-runner? No," wrote another Reddit user, NetflixTacosChill. "But is it telling that she trusted him enough to vent [and] she has a good enough relationship with him that she'd rather spend her remaining time with him over guys like Lincoln, Connor, & Chris? Yes. Very telling," they added.
Obviously, he's definitely solidified himself as a fan favorite, but only time will tell if Becca will favor him the same way. Whatever happens, his generally good attitude and great hair will definitely take him places long after this season of The Bachelorette.