What Bekah REALLY Thinks About Jordan On 'The Bachelorette' & The Rest Of Becca's Men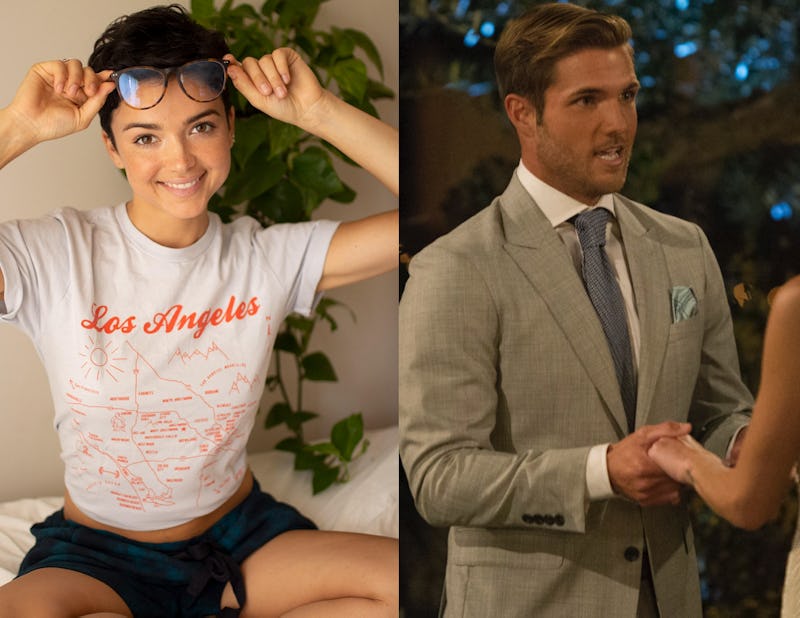 Courtesy Bekah Martinez/ABC/Paul Hebert
After competing on Arie Luyendyk Jr.'s Bachelor season, Bekah Martinez has plenty of opinions about the franchise, and she's dishing all to Bustle. Read what Bekah has to say about Becca's Bachelorette season and that already infamous David vs. Jordan feud.
This week was set in glamorous Vegas!
I'm going to start this recap on a positive note with Colton, because it only goes downhill from there. Colton got the only one-on-one this week, and I was pleasantly surprised with how it went. Colton seems genuinely into Becca, and I'm beginning to believe that he's genuinely here for her and not because he believed Tia would be the Bachelorette. I'm glad that their conversations are no longer lingering on that whole situation, and they truly seem to be developing a meaningful relationship.
The group date was fairly uneventful, so I'll jump right into the good stuff: the two-on-one. I think we all could have predicted the way it went down. David was doomed from the beginning because he committed the cardinal sin: trash-talking his opponent instead of discussing his own relationship with Becca. I had hoped Jordan would hang on for one more episode, but we all knew he had to go at some point.
This may be an unpopular opinion, but I deeply mourn the loss of Jordan this season. He captured my heart from the moment he started blasting people for not wearing socks on night one. He always had something absolutely ridiculous to say just when I started falling asleep mid-episode. David acted like he had always been the honest and upstanding one, but he consistently poked and prodded Jordan to elicit a response to try to make him look bad. It always backfired, though, failing to make David look any better than the sub-par male model. He asked Jordan at the beginning of this episode, "How'd it feel to get the last rose at the ceremony?" to which Jordan responded, "Probably a few seconds away from how you felt getting the second to last rose." Aaaaaand I laughed out loud.
Jordan was consistently the comedic relief throughout this generally slow and tame season. His delusional self-confidence and off-the-cuff one-liners were vastly more entertaining than any other contestant's time on screen thus far. Of COURSE he was there for the wrong reasons, and of COURSE Becca was never into him from the start, but trainwrecks are more interesting to watch than romantic walks in the park.
The real villain of this season has emerged as Chris. He is absolutely awful. I can't stop seeing Ron Perlman every time I look at him, and he's just a mess. I wasn't a huge fan of his from the get-go — he spent his whole one-on-one emotionally dumping on Becca, and then this episode he resorted to essentially blaming her for his own insecurity and inability to take initiative. He started off his time with Becca saying she owed him 50,000 kisses.
Dude. She doesn't owe you SH*T.
Chris might actually be more delusional than Jordan. He genuinely thinks he's an amazing, sensitive person, when the reality is that he's a manipulative, entitled little b*tch.
Men need to realize that just because they're "giving their all" in pursuit of a relationship doesn't mean they deserve anything from the person they're pursuing. Unlike Colton or Blake, who both demonstrate through their actions that they're good guys, Chris is someone who has to TELL you he's a good guy. Producers must've talked Becca into giving Chris that last rose, because you could see her disdain for him written all over her face.
The last thing I'm going to say is that Wills won this week, hands down. He put Chris in his place with such ease and grace, standing his ground without actually involving himself in any of the drama. I'm really excited to see how his relationship with Becca continues to evolve.
Hopefully, what happened in Vegas WILL stay in Vegas. Let's hope Virginia has more love and less bullsh*t in store for Becca next week!