Here's What's Open On Easter Sunday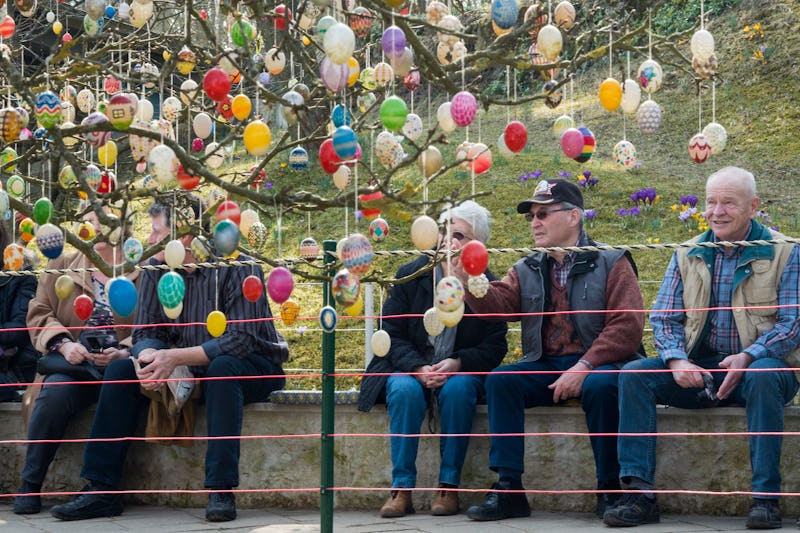 Jens Schlueter/Getty Images News/Getty Images
Whether you celebrate Easter or not, it's recognized as a national religious holiday — so, even if you're not celebrating, many businesses around the country will be in the sense that they'll be closing their doors in observance. So, you're definitely going to want to know what's open on Easter Sunday. If you have food to buy, gas to refill, letters to mail, pets to feed, clothes to wash or shopping to do, you'll definitely need to plan ahead and around the closings.
And if you are celebrating Easter, you better make sure that you have everything ready before Sunday, because the last thing you need to deal with when you're hosting is running around and looking for an open business to buy an egg or loaf of bread. You'll want to get your ducks in a row ahead of time to avoid and last minute freak outs.
But before you panic, rest assured that not everything will shut down. There will be some businesses open for people like you who ran out of toilet paper, gas or ice cream ... I don't know, I'm just trying to think about the most dire necessities in life, and that's all of them, right? Anyway, here's what you can expect to be open on Easter Sunday 2017, but when in doubt, call ahead, some openings might change from state to state.
Bed, Bath & Beyond
In case you need some last minute home accessories.
The Home Depot
You never know what you'll need to put back together on Easter Sunday.
Kmart
When you're feeding a ton of people and could really use some good deals on food and other necessities.
Lowe's
Not only are they open, but they're actually going to have some sales going on.
Old Navy
Spring weather is finally here, so stop in for some post dinner shopping.
Safeway
Open all day for your last minute Easter needs.
Toys 'R' Us
Because you forgot to put together Easter baskets. Don't fret, Toys 'R' Us has some pre-made baskets to choose from.
Trader Joe's
To be honest, my favorite prepared food for hosting. Also, their Trader Joe's-brand cookie selection is on point.
Walmart
It's the one-stop shop for everything you forgot to get for the big dinner. Also a great place to go and pretend to shop when you want to hide from your family for a while.
Walgreens
Open all day — and expect major sales on Easter candy, too.
Whole Foods
Whole Foods to the hostesses rescue. I will definitely be there on Easter Sunday filling up cartons with hot food.
7-Eleven
Easter Sunday slushies, anyone? Might be the perfect spring dessert.