Reformation Is Opening A Culver City Store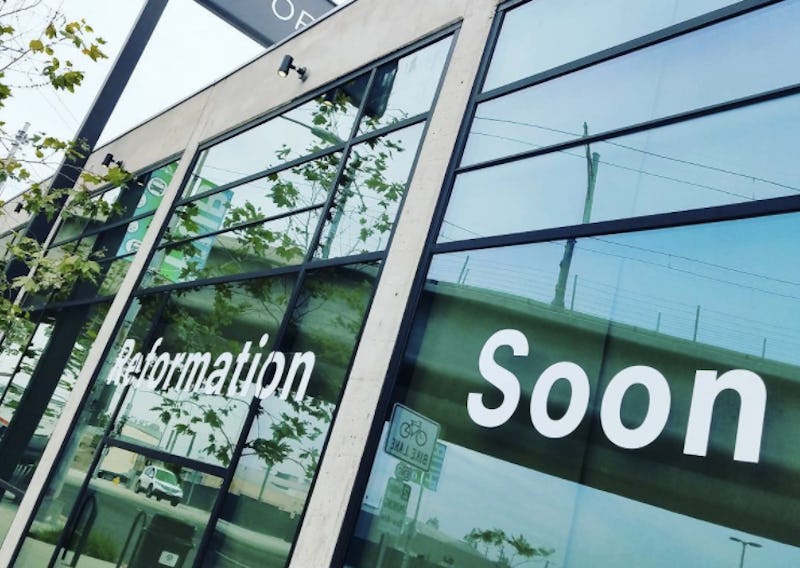 Reformation has been killing the game lately. Not only are they sustainable, but they've recently launched a denim collection, created tees to support your favorite charities and now they're opening up second eco-friendly store in Los Angeles. But is the address for Reformation's Culver City store?
Reformation will be joining a few trendy boutiques at the Platform in Culver City. The Reformation Culver City address is 8850 Washington Blvd., Culver City, CA 90232, so put that in your GPS now if you live in Los Angeles or are planning a trip there any time soon (it's also very close to an In-n-Out, so #winning).
This isn't the only store Reformation will be opening in the near future. They also announced that they would be opening a new Reformation store in San Francisco, which is set to open Feb. 21.
Reformation's San Francisco location will be their fifth store and their Culver City spot will be their sixth. The first store opened in Los Angeles, and then they opened two stores in New York, one in SoHo and the other in the Lower East Side, and then a fourth store in London.
It appears as though Reformation's cool girl vibe while also helping the planet is really resonating with people for them to grow so quickly.
Unlike traditional brick and mortar stores, Reformation's store concept combines the best parts of online shopping with the best parts of real life shopping.
No word yet as to when Reformation's Culver City location will open, but my hunch is that things will move pretty quickly.
You'll be able to find Reformation Culver City at 8850 Washington Blvd., Culver City, CA 90232.
Images: UncoverLosAngeles/Instagram