Jimmy Kimmel Faced Ted Cruz On The B-Ball Court & The Final Score Will Wow You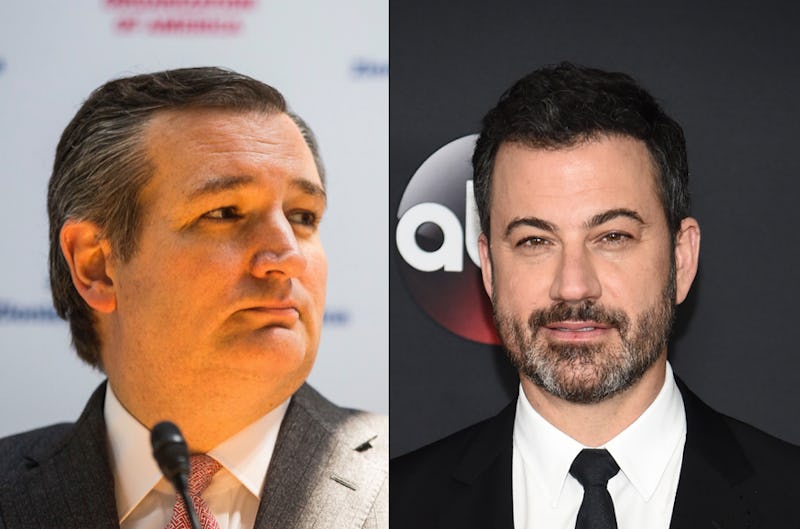 Zach Gibson/Getty Images News; Dimitrios Kambouris/Getty Images Entertainment/Getty Images
On Saturday, in a charity basketball game dubbed the Blobfish Basketball Classic, Jimmy Kimmel and Ted Cruz squared off to raise money for "non-political" organizations of their choosing. Though the two occupy opposite ends of the political spectrum, it was a match intended to also settle a more personal score — Kimmel had recently compared Cruz's appearance to that of a deep sea fish, the blobfish.
"When Ted arrived at the Toyota Center, some of the fans mistakenly thought it was Grandpa Munster Bobblehead Night," Kimmel said last month, referencing Cruz's expression at a Houston Rockets basketball game. "I mean, look at him. He looks, and I'm not joking here, he looks like a blobfish."
Cruz got wind of the joke and clapped back at Kimmel, challenging him to a game, Huffington Post reports.
".@jimmykimmel All right, Big Guy...you talk a good game," Cruz tweeted on May 30. "You besmirched my support for the @HoustonRockets. So let's settle this man-to-man: one-on-one, hoops (or "ring-ball," if you prefer). The loser gives $5k to the (non-political) charity of the winner's choice."
According to reports on Twitter, the Texas senator beat Kimmel, landing at a final score of 11-9. But since they were raising money for nonprofits, both agreed that there was no real loser.
"The winner tonight? @generation1TX and @TexasChildrens," Cruz tweeted after the game, sharing donation links to each organization: Generation One and Texas Children's Hospital. Cruz was playing for Generation One, a Houston-based group that works to eliminate the cycle of poverty. Kimmel was playing for Texas Children's, a nonprofit hospital. Kimmel shared Cruz's tweet, lending his support for the sentiment.
As of Sunday, the only public glimpses into the game were shared on Twitter and Good Morning America. More thorough footage is scheduled to be aired Monday night.
According to HuffPo, each player ultimately pledged $10,000 to each other's charity. But even with good intentions, the game was allegedly not very thrilling. Cary Darling of the Houston Chronicle described the game on Saturday as a "slow-motion car-crash of half-court basketball for charity and political one upsmanship."
Darling reports that the game was initially slated to end when one player reached 15 points with a two-point lead. However, as the game dragged on, the rules were changed. Instead of 15 points, the winner only needed to reach 11.
According to several reports, Kimmel did seize upon the opportunity to direct a few barbs at Cruz.
"Did you spend more time this week practicing basketball than trying to get those kids out of that detention center?" Kimmel asked Cruz in a video clip shared on Twitter. (Kimmel was referencing an ongoing immigration crisis wherein nearly 2,000 children have been separated from their families after crossing the U.S.-Mexican border.)
However, the Chronicle reports that the crowd was not always so tolerant of the political interjections. During one attempt to talk politics, the crowd reportedly yelled, "Play ball!" Kimmel reportedly retorted that the basketball game was "as close as we're going to get to a town hall."
Still, social media posts indicated an event more focused on jokes than anything else. Sen. Cruz, for example, tweeted a photo of a white board with a note reading, "Jimmy, don't dribble off your foot. Love, Ted."
Kimmel, in turn, tweeted a photo of a man stretching out his leg, captioned, "stretching with my physical therapist."
According to Kimmel's tweets, more comprehensive footage of the Blobfish Basketball Classic will be shared on his show on Monday night. For now, clips and related tweets are being posted to Twitter on both players' accounts.