Here's Why Meghan Markle Will Likely Be A Duchess, And Not A Princess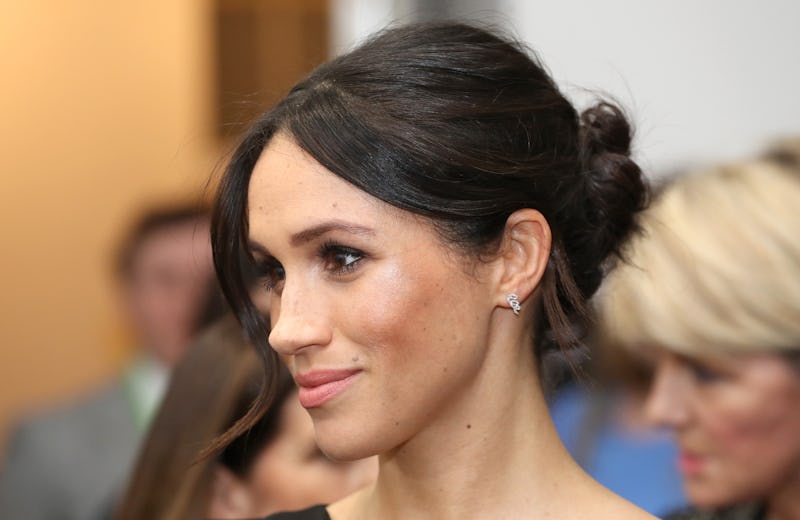 Chris Jackson/Getty Images Entertainment/Getty Images
There has been no shortage of royal news lately, between the birth of Prince William and Kate Middleton's third child Prince Louis, Princess Charlotte's third birthday, and a whole slew of updates about the royal wedding. Bar none, of course, the biggest news to come out of Windsor Castle as of late concerns the upcoming marriage of Prince Harry to American Meghan Markle. With all the wedding hullabaloo, many are wondering: What's the difference between a duchess and a princess? After all, Kate Middleton is a duchess, and Markle will likely be named one on her wedding day as well.
To some, this may be slightly unexpected, as Kate Middleton is and Meghan Markle will be married to a prince. But that doesn't automatically make someone a princess.
Princesses are typically the "daughters or granddaughters of a king or queen," according to Live Science. A woman possessing no royal blood or rank is known as a commoner (like Meghan Markle, and formerly Kate Middleton). A commoner could potentially earn the title of "duchess" by marrying a prince. It is a title reserved for a wife or widow of a duke (or, in the current era, a woman who holds the rank of duke in her own right). Basically, duchess is the feminization of duke.
Dukes and duchesses are usually referred to as "Your Grace," rather than "My Lord" or "My Lady," which is said to their royal peers, Insider reports.
For most of his life, Prince William was referred to only as HRH Prince William of Wales. But as soon as he and Kate Middleton wed, he was bestowed the title of Duke of Cambridge (Kate received the complementary title of Duchess of Cambridge). As Prince William is second-in-line to the British Royal Throne, he will presumably one day in the future gain the title of King William. Kate will become Queen Consort, a title of which she is second-in-line for, behind Prince Phillip's wife Camilla Parker-Bowles — the full line of succession is visible on the royal family's website here.
So, where does that leave Meghan Markle?
According to Charles Kidd, editor of Debrett's, an authority of royal etiquette, Meghan Markle and Prince Harry are expected to have the titles of Duchess and Duke of Sussex bestowed upon them at the time of their marriage. "They're quite limited in the titles that are available," Kidd told Express. "The Duke of Sussex is the front-runner without any doubt."
As Markle was not born into the royal family, she will never technically be a princess. Duchess Kate is not eligible to earn the title of princess either, as she, too, is royal by marriage and not by blood. Charlotte Elizabeth Diana, Prince William and Duchess Kate's daughter, is has the official title of princess. She is fourth-in-line to the throne behind her grandfather, father, and older brother, George Philip Louis.
Where this gets even more confusing is the fact that Prince William and Prince Harry's late mother is commonly known as Princess Diana. In actuality, Diana Spencer was never given the title of princess. Baronage explains that she was actually known as Diana, Princess of Wales upon her marriage to Prince Charles of Wales, or Her Royal Highness The Princess Of Wales. If she were a true, by-the-books princess, the title would precede her first name. Lady Diana, too, was a commoner before her marriage to Prince Charles. Interestingly, Diana did in fact have British Aristocratic blood. TIME reports four of her ancestors engaged in affairs with Charles II during the 1600s. Talk about a tangled family tree!
If you are still feeling confused, it boils down to this: Meghan Markle will not actually become a princess after her marriage to Prince Harry — she'll (likely) become a duchess. Kate Middleton is also a duchess. You can only be an official princess through blood, like Princess Charlotte. That being said, Markle can most certainly be a princess in your heart.