The New Baby Prince Has Three Very Historic Names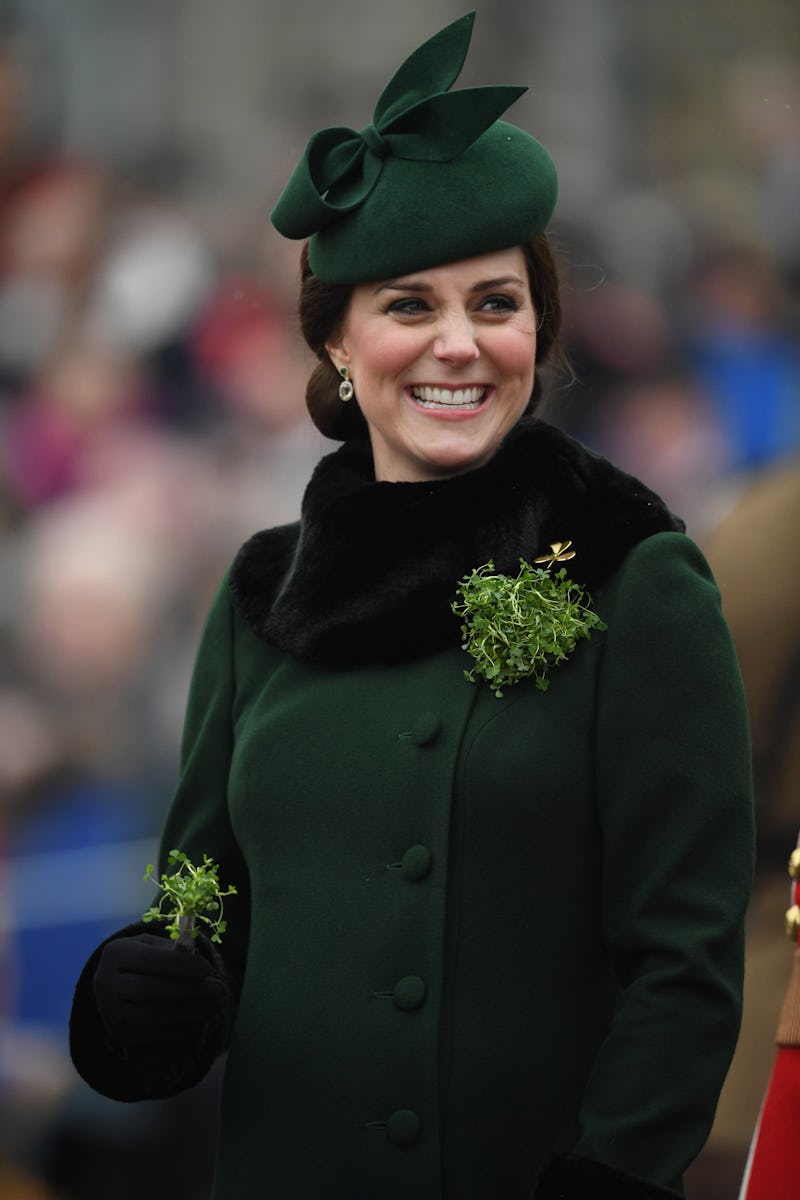 WPA Pool/Getty Images Entertainment/Getty Images
The week kicked off on an exciting note for the royal family: Kate Middleton and Prince William welcomed their third child on Monday morning. A few days later, the baby boy's name was revealed to be Louis Arthur Charles. So, who is Prince Louis named after? As expected, they chose a name with special meaning to the family.
Kensington Palace announced on April 27 that Prince William and Middleton's third child will be formally known as His Royal Highness Prince Louis of Cambridge. Louis wasn't necessarily the first name that people were expecting the fifth heir to the throne to have. The Guardian reported that bookmakers had the baby's middle name of Arthur as the favorite based on bets. But no matter what people had anticipated, each of the baby prince's three names packs a whole lot of significance.
Louis is actually the second middle name of Prince George, Prince Louis' older brother. But name sharing between family members is quite common for the royals — even their father has Louis in his name. (Prince William's full name is William Arthur Philip Louis.) The name "Louis" seems to be inspired by William's grandfather's side. Prince Philip, Duke of Edinburgh, had an uncle named Louis, who was Lord Mountbatten. Viewers of The Crown know that Lord Mountbatten was something of a mentor to Prince Philip. So while Louis isn't traditionally a British royal name (as CNN reported, that distinction goes to the French), it's most certainly a name that's important to the family.
Beyond Prince Louis having the name of his great-great-great-uncle, Sky News commentator Alastair Bruce tweeted that there have been other ancestors named Louis. Bruce wrote that there was the Grand Duke of Hesse, Louis IV, who was married to Queen Victoria's daughter Alice. Their daughter also married a Louis, Louis of Battenberg, and they were the parents of Lord Mountbatten.
One of the reasons it's so meaningful that the new prince has the name Louis is because of how Lord Mountbatten died. TIME reported that the Irish Republican Army (IRA) assassinated Lord Mountbatten when the group detonated a bomb on his boat in 1979. Three others were killed, including his teenage grandson. When Prince Harry and fiancée Meghan Markle visited Northern Ireland in March, many outlets — like People — noted Lord Mountbatten's assassination. So there is some sad family history when it comes to the infant's name.
As for Prince Louis' other two names, they most likely come from the baby's paternal grandfather — Charles, Prince of Wales. The heir apparent to the British throne's full name is Charles Philip Arthur George, so Louis shares two names with his grandpa. Those middle names also connect Louis to his father and uncle since William has the middle name Arthur and Harry has the middle name Charles.
Arthur may have been so popular in royal baby name bets, not only because of Prince William's middle name but also because of the British legend of King Arthur. Royal commentator Richard Fitzwilliams told the BBC before the name was announced that he thought the baby would be named Arthur. "What's wonderful about Arthur is it conjures up a kingship that never existed — Camelot was an egalitarian paradise and of course there was the quest for the Holy Grail," Fitzwilliams said. "It's one of the great royal legends — and that's my bet." E! News also noted that one of Queen Victoria's sons was Prince Arthur.
People may have been surprised that the new prince's first name is Louis, but it's still a name rich in family history. And even though Prince Louis will probably never become king, with a name like Louis Arthur Charles, the world will expect big things from this little prince.