You Could Be Treating Your "Dry" Skin Totally Wrong, So Here's How To Make It Right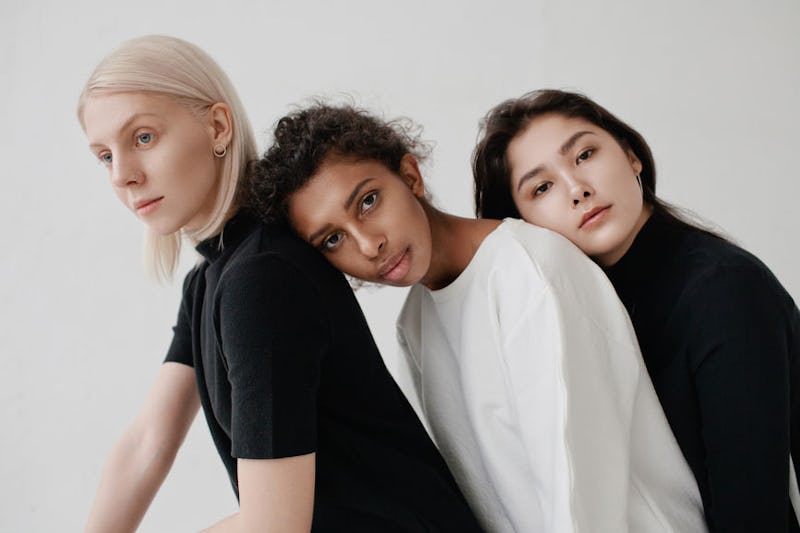 Sergey Filimonov/Stocksy
Skin that feels like it's lacking in moisture and struggling is a common problem. However, it's often difficult to determine if skin feeling like this is dry or dehydrated. So what's the difference between dry and dehydrated skin? How should each be treated? Here's what the experts have to say.
The first step is to differentiate between dry and dehydrated skin. Dry skin is usually characterised by its dry and flaky appearance. It is a skin type rather than condition, and one that lacks sebum and natural oils. "Contrary to popular belief, dry skin doesn't lack water. It is hydrated but doesn't have sebum and natural oils," says Skinceuticals National Head of Training and Science Linda Blahr. "When it is low in sebum it will feel dry and flaky. As a result there is a risk of transepidermal water loss and and the skin will be dehydrated too".
Dehydrated skin, on the other hand "is the opposite of dry skin," says Blahr, because "it lacks water but has enough sebum production. Dehydration is all about water content in the skin cells. Healthy cells need hydration to look plump and feel soft and fresh. A lack of water makes the skin look dull, rough, and tight."
"It can be confusing to diagnose your skin, as often after cleansing your skin can feel tight and dry temporarily as cleansing removes lipids until your skin releases sebum — so it can be mistaken for dry," explains Blahr over how the two are often confused.
It's important to remember that dry is a skin type, whereas dehydration is a condition/concern. We can be born with dry skin, but there are particular causes of dehydration. La Roche Posay have called out the following as being particularly damaging; the sun, how showers and baths, ageing, air conditioning, and the wrong skincare. "I see a lot of patients with very dry and dehydrated skin, especially in London where there's a lot of hard water," dermatologist Dr Ariel Haus told La Roche Posay. "Hot showers and baths can make the skin more dehydrated."
These factors are important in considering how to treat dehydrated skin. Avoid air conditioning as much as possible, wear SPF everyday, and ensure the right skincare is used. Directly target dehydration with ingredients such as hyaluronic acid, which holds over 1000 times its own weight in water. I recommend The Inkey List's purse-friendly Hyaluronic Acid Serum. Also drink as much water as you can and incorporate as many water-rich foods into your diet as possible, such as fruit. Work your hydration levels from the inside-out.
Dry skin benefits from a moisture-rich routine, especially in winter. Avoid using too many acids and apply a nourishing face oil and rich face cream each evening. The Oskia Restoration Oil is a God-send for flaky complexions, while the Kiehl's Ultra Facial Cream is super nourishing and suits most complexions.
So there you have it. First of all you need to diagnose the problem, and then treat it with these techniques.