Here's What The Future Of Birth Control Looks Like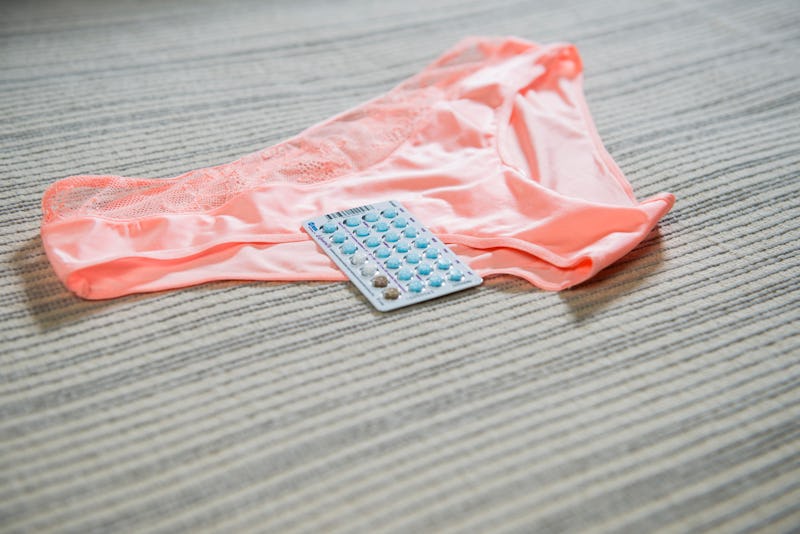 BDG Media, Inc.
September 26 is World Contraception Day. And if you've ever taken oral hormonal contraception — more commonly know as the Pill — than you know that in order to get your prescription, you have to go to see your doctor. Some doctors require a full gynecological visit once a year, while others ask that you come in every six months. For some women, the visit is a minor hassle. But for others, that visit is close to impossible. Missed doctor's appointments can result in an interruption in the hormone sequence, which can result in an unplanned pregnancy. It's primarily for those women that a group of health care professionals and advocates have created Free the Pill. Over-the-counter pill (OTC) hormonal birth control, they say, is the future of birth control for Americans.
"Free the Pill calls for an over-the-counter pill that is affordable, covered by insurance, and is available to people of all ages," Britt Wahlin, the vice president of development and public affairs at Ibis Reproductive Health, said in an audio panel on the topic. "This is because we don't merely want to create more access for people who already have it."
The idea of offering the Pill over the counter isn't particularly new or novel — OTC birth control is already available to women in more than 100 countries, including most of Asia, Russia, and South America. And four states — California, Colorado, Oregon, and New Mexico — already allow pharmacists to prescribe birth control, which isn't exactly over-the-counter access but does mean that women don't have to visit a doctor in order to get their prescription. More and more, it's looking like that doctor's visit just isn't necessary.
"California was the first state to pass this legislation, but we've been followed now by several other states that are planning similar legislation," Dr. Sally Rafie, pharmacy specialist at UC San Diego Health and Founder of the Birth Control Pharmacist, said in the panel. "Many patients find a single visit to their neighborhood pharmacy for birth control to be very convenient. The pharmacies are typically open with extended hours in the evenings and weekends, so patients are able to drop in and have their consultation and obtain their supplies with a single visit."
The Pill Is Tested And Safe Enough For OTC
Critics of the doctor's visit requirement point out that while the Pill has potential negative side effects, those negative side effects aren't any greater than medications that are currently available over the counter, including acetaminophen and antihistamines, are actually more dangerous than the Pill.
"The Pill has been around for almost 60 years and it is one of the safest and most studied medications on the market today," Dr. Daniel Grossman, Director of Advancing Standards in Reproductive Health and Professor of Obstetrics, Gynecology, and Reproductive Sciences at the University of Central San Francisco, says. "In fact, it's so safe, effective and simple to use that I believe the pill meets the FDA criteria for over-the-counter sale. There's no risk of overdose with the Pill; it's not addictive. Women determine on their own if they are at risk of unintended pregnancy and need to use contraception."
"Progestin-only pills, which will most likely be the first type of birth control pill to apply to make the switch to OTC status, are safe and easy to use for virtually all women."
In addition to the fact that it's safer than a number of current OTC medications, the Pill is also a lot safer than the thing it's trying to prevent: Pregnancy. The United States has the worst maternal death rate in the developed world, with 26.4 deaths per 100,000 live births in 2015. Deaths that can be attributed to the Pill, on the other hand, exist — but are rare.
"As with any medicine, there are potential risks but they are uncommon and especially rare for women under 35 years old," Dr. Krishna Upadhya, Assistant Professor of Pediatrics at John Hopkins Medicine, says. "And, when compared to pregnancy and childbirth the risks of birth control pills are extremely small. Progestin only pills, which will most likely be the first type of birth control pill to apply to make the switch to OTC status, are safe and easy to use for virtually all women."
One of the biggest concerns about the Pill is that it can cause blood clots, which can cause death. However, Dr. Grossman says that research has shown that women can and will "use simple charts and pamphlets on their own" to figure out if they have one of the conditions that would put them at risk of a serious complication or would make the Pill less effective. There's no need for a doctor to administer those tests.
Requiring A Prescription Makes Access Harder For Vulnerable Groups
One of the main arguments for OTC birth control is that requiring a prescription from a doctor makes accessing the Pill more difficult for certain vulnerable groups.
"Some people in our rural state are planning medical appointments months in advance. So they will not be able to obtain a prescription refill," Denicia Cadena, policy and cultural strategy director at Young Women United in New Mexico, says in the panel. "Many in our communities are not able to take time off work, put their child in childcare, and must go significant distances to obtain a prescription from their medical provider. For those without insurance, paying out of pocket for a provider and the prescription can put contraceptive and other needed healthcare out of reach. These barriers to healthcare access and contraception disproportionately hurt people living in rural communities, low income people, people of color, indigenous people, and immigrants."
"These barriers to healthcare access and contraception disproportionately hurt people living in rural communities, low income people, people of color, indigenous people, and immigrants."
Another group that has trouble getting their hands on the Pill is teenagers, who may not feel comfortable — or even safe — speaking to their parents or other adults in their lives in order to make a doctor's appointment. Over-the-counter birth control removes that barrier for sexually active young adults.
"Often adolescents who are anticipating or experiencing the start of intimate relationships don't have access to a healthcare provider who is comfortable talking to them sex," Dr. Upadhya says. "And many are also afraid to raise the subject with their parents, resulting in unnecessary risk to their sexual and reproductive health and wellbeing. It is crucial that we provide all youth with the information and tools they need to prevent unwanted pregnancies."
Women Want It
According to Dr. Grossman, the majority of American women — almost two thirds in a nationally representative survey — support over-the-counter access to the Pill. The same survey found that 37 percent of women would "likely" use an OTC Pill if it was available. "Most importantly, 28 percent of women who are using no contraceptive method — but were having sex and reported that they didn't want to get pregnant — and 33 of those currently using a method less effective than the pill said they would be likely to use an OTC pill if one were made available," Dr. Grossman says.
Not only do women want an over-the-counter pill, but in some places they're already getting it. In towns along the Mexican border, American women are crossing over the get their medication.
"We did a study in El Paso, Texas, where some women crossed the border to get pills over the counter in Mexican pharmacies," Dr. Grossman says. "We followed them over nine months and found the women obtaining pills over the counter in Mexico were actually more likely to stay on the Pill for a longer period of time, compared to women who got their pills in clinics in the United States."
Insurance Needs To Cover It
One of the biggest concerns about making the Pill available over the counter is that it would no longer be covered by insurance, making it more expensive or even cost-prohibitive for the very women OTC birth control is trying to reach. Insurance coverage, then, is something that advocates are pushing for concurrent with the push for OTC access.
"It is critical that any OTC pill be covered by insurance," Wahlin says. "Cost should not be a barrier, nor should birth control be a luxury for only those who can afford it."
Wahlin and her colleagues see the fact that three states currently have laws requiring insurance companies to cover over-the-counter contraception — notably, emergency contraception or "the morning after pill" — as a good sign for insurance covering the Pill. "Some insurance companies have begun to do this on their own, but it is critical that we continue to get more states — and more insurers — to cover OTC contraception so that when the FDA approves an OTC, progestin-only pill, all women will benefit," Wahlin says.
Over-the-counter birth control is on the horizon: Ibis is working with a company called HRA Pharma to fund research into a progestin-only pill, that will then be submitted to the FDA for OTC approval. If you're curious to learn more about Free the Pill and the movement to make the birth control pill available over the counter, head over to FreeThePill.org.