This Is What's Going On With Susan Rice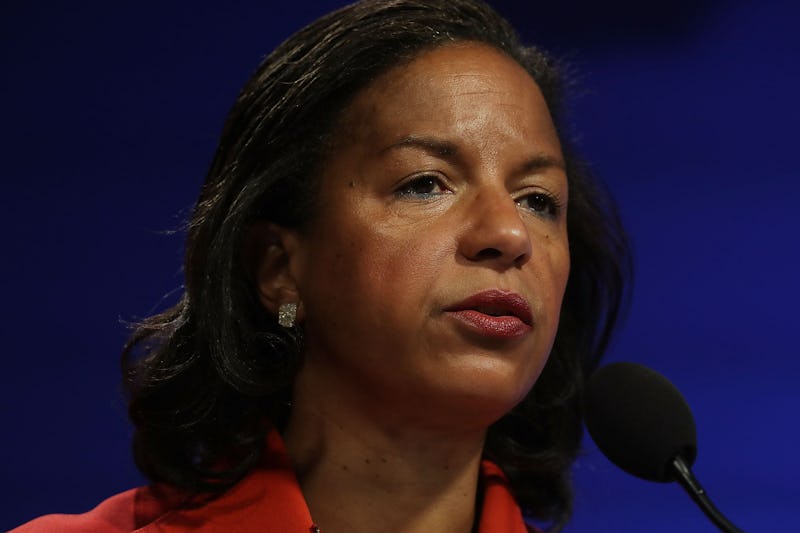 Alex Wong/Getty Images News/Getty Images
Bloomberg reports that last month, White House lawyers became aware that a top national security official requested to know the identities of Trump transition individuals. The news is causing an uproar, thanks to its timing alongside investigations into the Trump presidential campaign's connections to Russia. At the center of this story is the national security official who made the request, Susan Rice. So what's going on with Susan Rice, and why is her request so important?
The first thing to know is that Susan Rice was more than just a top national security official; she was President Barack Obama's national security adviser from 2013 until Donald Trump's inauguration in January this year. And it appears that while in that position, she made multiple requests to learn who Trump officials were. Rice did not immediately return Bloomberg's request for comment. In March, after House Intelligence Committee chairman Rep. Devin Nunes revealed that Trump and his associates may have, in passing, been included in surveillance reports, Rice responded that she had no knowledge of it and "was surprised to see reports from Chairman Nunes on that account today."
Reports of her requests were discovered during a National Security Council review on the government's "unmasking" policy, or the policy by which government officials request to know the identities of people incidentally included in intelligence reports.
There's no indication yet that Rice did anything illegal. Nor does this revelation substantiate Trump's incendiary and baseless March 4 tweet claiming "Obama had my 'wires tapped' in Trump Tower just before the victory." Nevertheless, the news has brought Rice back into the national spotlight.
You may remember Rice's name from the House Select Committee's 2016 report on Benghazi, which cleared Hillary Clinton of any culpability over the attacks in Libya in 2012. In that report, Rice was found to have made false statements about the attack during a television appearance.
In March, Rice also wrote an op-ed for the Washington Post in which she criticized the Trump administration's "disturbing pattern of behavior that poses real and potentially profound dangers to U.S. national security." She specifically cited Trump's wiretapping claims and the U.S.'s status on the world stage:
To lead effectively, the United States must maintain respect and trust. So, when a White House deliberately dissembles and serially contorts the facts, its actions pose a serious risk to America's global leadership, among friends and adversaries alike.
It still remains to be seen how much impact this revelation about Rice will have into investigations into the Trump campaign's possible collusion with Russia. But judging by one of Trump's latest tweets, he's far from backing down from his previous claims.