How Karamo Knew He'd Found The One Will Make You Sob Like An Episode Of 'Queer Eye'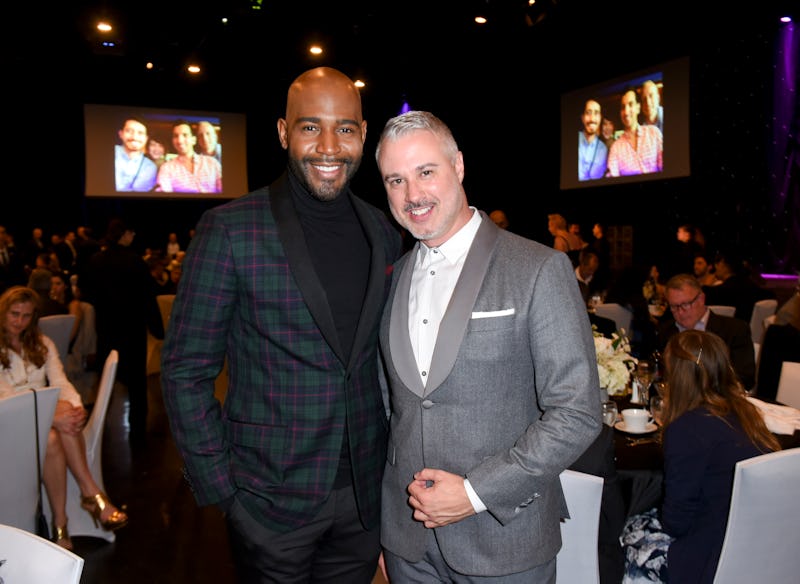 Vivien Killilea/Getty Images Entertainment/Getty Images
Netflix's Queer Eye is one of the most heartwarming and uplifting shows available right now, and that's exactly the kind of thing that everyone needs right now. So it's no wonder fans are dying to find out when Karamo Brown and his fiancé are getting married. In Queer Eye, Brown, Jonathan Van Ness, Antoni Porowski, Tan France, and Bobby Berk help a hapless person find their confidence, and sometimes they help them find love, which makes their real life love stories all the better. They're the experts, after all, and a new video by Yahoo proved just how much of a love expert Brown is. The video details his courtship with fiancé Ian Jordan, and shows off his talents crafting and executing a grand romantic gesture.
Karamo Brown's real life love story is just like an episode of Queer Eye, and it's only going to get better because Brown got engaged to his longtime boyfriend, Jordan, in early May. The story of their proposal is amazing, and the wedding promises to be just as dazzling. When discussing his upcoming nuptials, Brown said, "I want an extravaganza baby." Only the best for everyone's favorite culture expert.
Brown and Jordan met eight years ago outside of a club. Brown saw Jordan, and decided to make the first move. "I'm all about seizing the moment and so I just ran and scooped him up," Brown told Yahoo. It sounds like exactly the kind of bold move that Brown and the other Queer Eye guys are constantly motivating the show's subjects to do. The Queer Eye message is all about spreading love and betting on yourself, after all. But Brown's initial move didn't quite work out as perfectly as you might imagine. Brown said, "He started hitting my head and telling me to 'put me down.'" Jordan chimed in, to say, "It's true." But when Brown eventually put Jordan down, the latter admits his first thought was, "Who is this fine man?"
The night they met actually fell on Brown's birthday weekend, and Brown proceeded to invite Jordan to his birthday party later. Jordan admits to doing what he called, "What anybody would do" — he checked Brown's Facebook. It turned out, Brown had forgotten to change the settings on his profile so it said he was still in a relationship. Brown says, "this jack-butt over here decided not to come to my birthday party." But Brown didn't let Jordan get off that easily. "I actually called him to call him out on the fact that he did not show up."
That phone call ended up lasting over an hour, and as Jordan says, they "Haven't stopped talking since." (Seriously, can't you just imagine all of the other Queer Eye guys sitting on the couch, hugging each other and crying while listening to this adorable story?)
Brown and Jordan's connection went to a new level when the latter went home to Maine to take care of his mother after she'd been diagnosed with cancer. "In that moment family was more important to me than ever, and to meet somebody and connect with them on that level about how important family is, is so important." Everyone who follows the Queer Eye star on social media knows how important family is so important to him, especially his two sons, Chris and Jason, who, according to People, live at Karamo's house now.
Brown told Yahoo that he knew right away that they should get married. And even though he was enthusiastic about getting their relationship on the right track, he hesitated to make the first move — just like the rest of us. "But I didn't want to be the crazy guy on the first call, but literally in my mind, I knew this already," Brown said. Of course, he didn't let his fear get out of the way, and eight years later he finally got down on one knee.
For the proposal, Brown rented out a venue for Jordan's birthday, and in typical Queer Eye fashion, he went above and beyond. "I actually got videos of all of our family members saying to him 'Happy Birthday,' and I said I have another surprise for you, turn around. When he turned around, his mother and his family members were there." Jordan's eyes teared up in the video, saying, "I was just sobbing." As if that weren't enough, Brown's sons then told Jordan to turn around again, and this time Brown was on his knees, asking Jordan for his hand in marriage.
In the end, Jordan felt like the proposal happened in the most perfect way possible. "It was wonderful because family is so important and it kind of felt like we were solidified as a family," he said. It's safe to say that Brown nailed the proposal, and now all he has to do is make the wedding even more spectacular. The couple told Yahoo that they're planning to wed in October of 2020, and with some help from the Fab Five, who's to say they won't have the best wedding of all?