'Queer Eye' Star Karamo's Fiance Worked On Some Of Your Very Favorite After-School TV Shows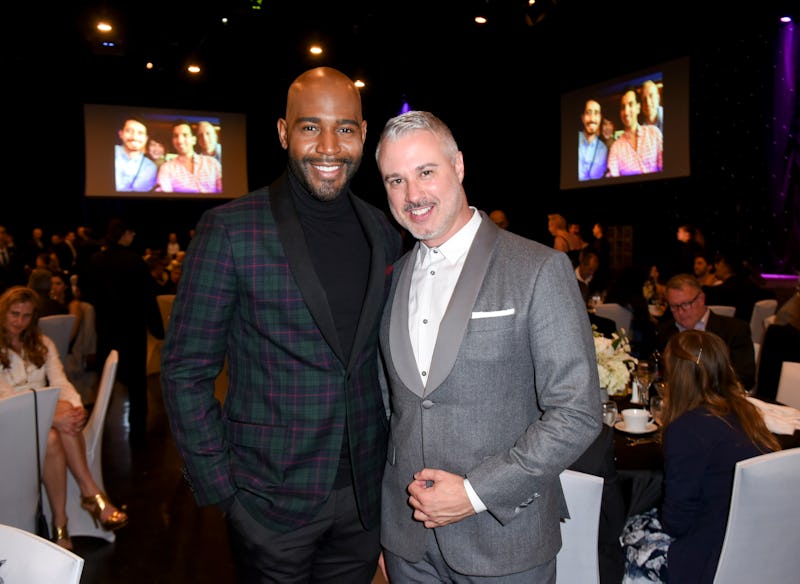 Vivien Killilea/Getty Images Entertainment/Getty Images
The Fab Five are all about helping people be their best selves, but they also have lives of their own. The attached guys make references to their own relationships on the series, and that includes the series' culture expert, Karamo Brown. Queer Eye's Karamo is engaged to Ian Jordan, as of early May. And though the former may be more familiar to you, chances are you known some of the latter's work as well.
Both men are in the entertainment industry. While Jordan isn't an onscreen culture expert like his fiancé, he has been working behind the camera at some of the shows that defined your childhood. According to his IMDb profile, he spent some time as a talent coordinator for some true classics, such as Drake & Josh, All That, and Zoe 101. So basically, he was part of the team responsible for those shows you loved to watch right after school — after you did your homework, of course.
After some time as a talent coordinator, Jordan moved into the director's chair, serving as second assistant director for other beloved kids entertainment, such as The Suite Life of Zach & Cody, The Suite Life On Deck, and the Tia Mowry show Instant Mom. So while Brown is responsible for helping people realize all their potential on the Netflix reboot series, his fiancé is responsible for creating the worlds so many of us spent our childhoods immersed in.
It makes sense that these two creative spirits have such a strong connection. And, according to Brown, he knew that he had a special bond with Jordan from the moment they first met outside a club in West Hollywood, per Martha Stewart Weddings. Brown told the publication that when he first saw his future partner, he was so drawn to him that he quite literally picked him up. "He literally started hitting my head and said, 'Put me down!'" he told the magazine. "The joke we tell now is that I swept him off his feet.''
Their connection was so strong that Brown invited Jordan to come to his birthday party the very next day, per the same interview. "I went home and told my whole family I met the man I was going to spend the rest of my life with, and that they'd meet him tomorrow,'' he said. But a small bump in the road occurred when Jordan didn't show up to the party, after seeing that Brown's social media profiles still said he was "in a relationship." Brown told Martha Stewart Weddings that it was all a misunderstanding — he just hadn't gotten around to updating his profile — and the couple was able to move forward.
After dating for eight years, Brown finally popped the question at Jordan's surprise birthday party May of this year, and Entertainment Tonight was there to capture the whole thing on video. "We have one more present for you," Brown's son Jason announced over the microphone, asking Jordan to turn around, where Brown was waiting on one knee. "I hope that we can conquer the world together for the rest of our lives," Brown said through tears, before asking Jordan to marry him. He said yes, of course.
Not to worry, Queer Eye fans— all of the other members of the Fab Five attended the party, according to People, and if the episodes of Season 1 of Queer Eye are any indication, there wasn't a dry eye among them.
It seems like Brown and Jordan could not be happier or more in love, and the engagement comes at a particularly great time in Brown's career: Season 2 of Queer Eye drops on Netflix on June 15.