Shamrock Shakes Are Officially BACK At McDonald's & Here's How Long You Have To Get One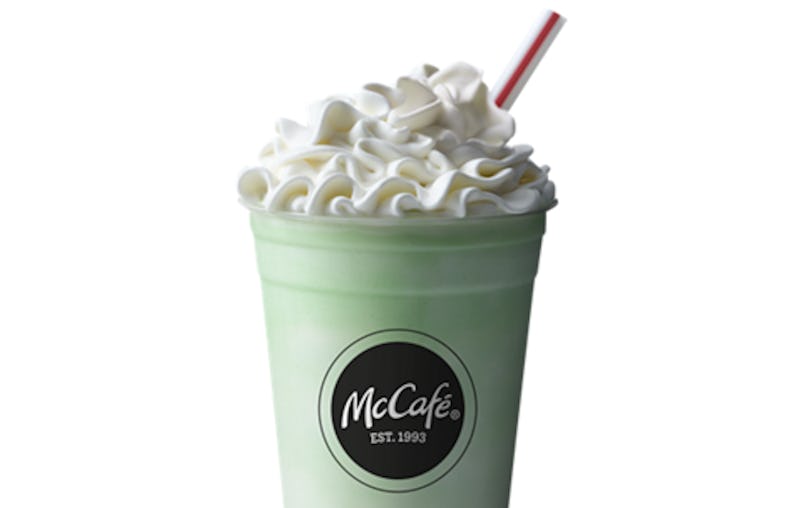 McDonalds
The best thing about spring rolling around isn't actually the warmer weather and the flowers blooming once again. No — it's all of the spring-themed seasonal food that returns to our favorite eateries around the city. Case-in-point: As the end of February approaches, you might be wondering when are Shamrock Shakes coming back to McDonald's. It's not uncommon, if you are: To date, over 60 million Shamrock Shakes have been sold, so it's safe to say that the sweet drink is fairly popular amongst anyone who has working taste buds. The arrival of the Shamrock Shake is a holiday in and of itself in America, if I'm being realistic. If you're as excited as I am about this, get ready to celebrate — because the Shamrock Shake is officially back for the 2018 season.
I'll give you a moment to jump up and down with excitement about this good news before I continue. All good? OK: According to Elite Daily, the Shamrock Shake arrived on Feb. 21, and thank heavens for that, because the wait was painful. You may not remember a time without the Shamrock Shake at McDonald's, and for good reason: It has been available as a holiday staple ever since 1970. It was originally introduced as the St. Patrick's Day shake, but the name was changed years later to what we know it as today: the Shamrock Shake.
While today the Shamrock Shake is treated as just a fun, delicious drink to buy each year, it's actually rooted in a much deeper story: According to the Huffington Post, in 1974, Philadelphia Eagles player Fred Hill was facing the tragic fate of watching his three-year-old daughter undergo chemotherapy for leukemia at St. Christopher's Hospital For Children. He decided to work with the community to raise money to give to families who couldn't normally afford hotel rooms while their children were being treated for illnesses.
Hill connected with a local McDonald's ad agency and the regional manager of the chain. They worked together to create the St. Patrick's Day Green Milkshake promotion. The sales from the promotion were put towards purchasing a home in Philadelphia that could house families with a sick child. This became the first ever Ronald McDonald House, a cause that has now spread far and wide.
What Is In The Shamrock Shake?
While the most important thing is that the Shamrock Shake tastes like pure joy, you might be wondering what's in it now that it's returned to McDonald's locations for a limited time. Well, there are four main ingredients: Ice cream, Shamrock Shake syrup, whipped cream, and maraschino cherries. I guess making something crazy delicious can be fairly easy after all.
Sadly, with the happy news of the return of the classic Shamrock Shake, there is also some news that many people will likely find a little sad: If you were one of the fans of the variations of Shamrock Shakes McDonald's released in 2017 — the Chocolate Shamrock Shake, Shamrock Chocolate Chip Frappé, Shamrock Hot Chocolate, and Shamrock Mocha — you'll be disappointed to hear that although those drinks were delicious, there's been no word of these additional flavors being brought back for 2018. Hey, as a great philosopher Mick Jagger once said: You can't always get what you want... but if you try sometimes, you get what you need.
"What you need" is the Shamrock Shake in this instance, by the way.
Has your mouth been watering the entire time you were reading this? Uh, same. There is really no other appropriate reaction at the thought of a Shamrock Shake. Honestly, I don't know what you're still doing on the internet — get in your car now and head to your nearest McDonald's.