Meghan Markle's Latest Move Could Mean It's Almost Engagement Time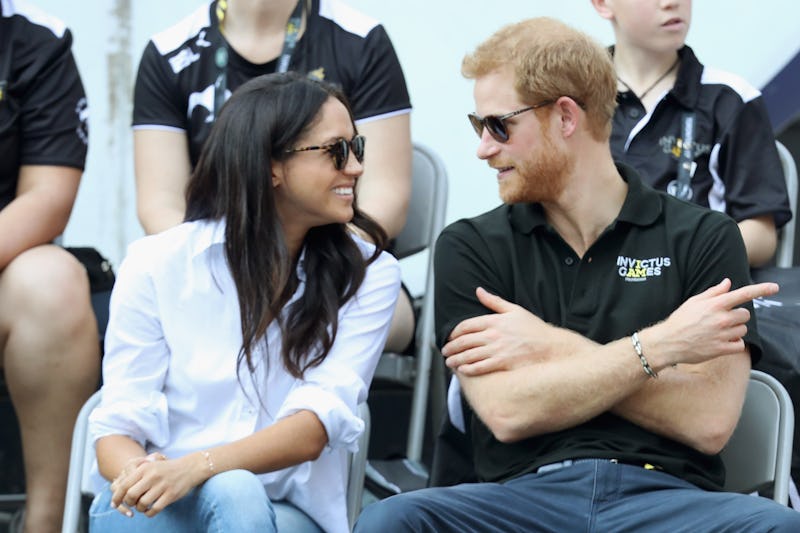 Chris Jackson/Getty Images Entertainment/Getty Images
Attention, royal watchers! There's another sign that Meghan Markle and Prince Harry may be ready to take the next step in their relationship. Markle is leaving Suits, the USA drama that she's starred on since 2011, according to a Deadline report. And this move is a telling sign that an engagement announcement may soon be on the way.
Deadline reported on Nov. 13 that Markle and her Suits co-star Patrick J. Adams are not expected to continue with the series into a possible Season 8. (Bustle has reached out to reps for Markle and Adams and to USA Network for comment, but did not receive any responses at the time of publication.) The contracts for all cast members on the series were set to expire after the current season, Season 7, finished filming, Deadline reports. Suits creator Aaron Korsh spoke about whether some of the cast would return for a potential Season 8 to Deadline in September 2017. He told the publication, "They all have things going on in their lives, we'll see what happens."
And he's definitely not wrong, especially in Markle's case. It was reported in October 2016 that the actor was dating Prince Harry. Ever since the two started dating, she's reportedly been juggling her time between Toronto, where Suits is filmed, and London, where Harry resides.
And their relationship is getting serious, as it's rumored that an engagement is on the way for them. According to Us Weekly, the two wouldn't announce an engagement until Markle was finished with her time on the USA drama. The actor, who has played Rachel Zane on the series since 2011, is set to complete her scenes for the show sometime in November 2017 based on Us Weekly's report. Now that it seems her time on the series may be coming to an end, it stands to reason that an engagement announcement could soon be on the way.
Since Markle is reportedly leaving Suits after wrapping up filming in November, it's possible that she and her royal boyfriend will announce their engagement sometime before Christmas. Multiple publications, from The Sun to Metro, are reporting that the two will announce their plans to wed in December, right before the holidays. A source at The Sun gave an interesting theory as to why December will be when the pair announce their engagement. The source said, "November is the Queen and Prince Philip's platinum wedding anniversary so they can't trump that ... December they can announce their engagement and they'd be free to marry next year." Along with the news that Markle is leaving her TV series soon and that she's supposedly spending Christmas with the Queen, according to the Mirror, it makes sense that one could see the announcement come December.
Another rumor suggests that the two may wait until April 2018 to announce their engagement. According to a source at The Daily Beast, the two may want to take things a bit slow and wait until they're not overshadowing some other important news. The source said, "There won't be any announcement until at least after Kate has had her baby in April" and that the pair may want to live together for a while before they take this next step in their relationship (which was an acceptable step for Harry's brother, William, and his then-girlfriend Kate Middleton).
This theory also makes some sense. They probably wouldn't want to take any attention away from the Duke and Duchess of Cambridge's new bundle of joy. So, as much as some royal fans may be looking forward to Harry and Markle's engagement, they may have to wait a bit longer than some originally thought.
Until Markle and Harry announce their engagement, fans will be left wondering when they'll get to see another fairytale royal wedding. An announcement could come as soon as Christmas 2017 or as late as April 2018. Only time will tell.