The 2017 Emmy Awards Will Be Worth The Wait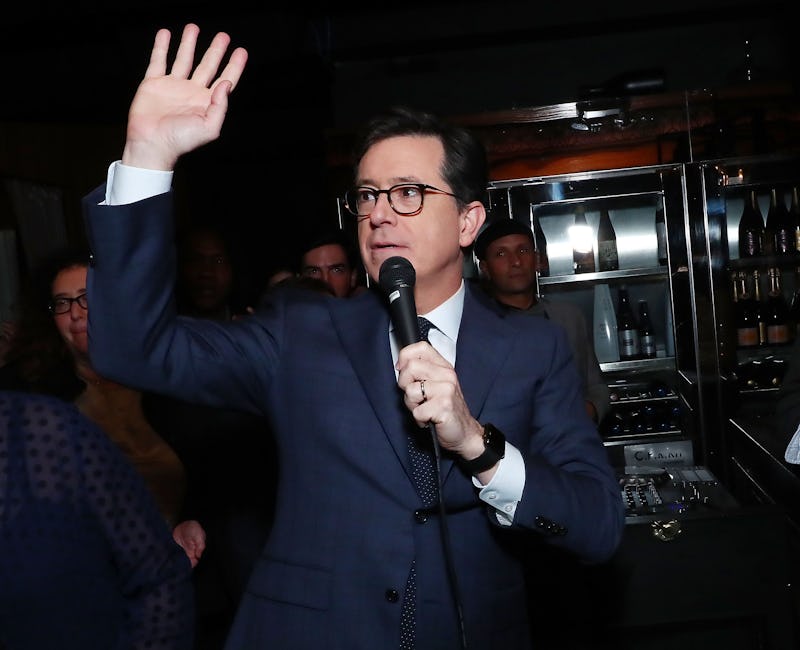 Astrid Stawiarz/Getty Images Entertainment/Getty Images
CBS announced on Jan. 23 that Stephen Colbert will be hosting the 2017 Emmys. An awards show hosted by lovable funny-man Colbert? Sign me up! I'm getting a middle school-style giggly feeling just thinking about all the hilarious jokes the comedian and TV personality is going to make this fall. But exactly when are the 2017 Emmys? It turns out the ceremony will be broadcast live from the Microsoft Theater in Los Angeles on Sunday, Sept. 17 starting at 5 p.m. ET. So it'll be a bit of a wait before fans get to see the comedian take the stage on TV's biggest night.
In a statement released by CBS, Colbert joked, "This will be the largest audience to witness an Emmys, period. Both in person and around the globe." It's a grandiose statement that refers to President Donald Trump's remarks about his inauguration attendance, but hey, Colbert could bring a lot of fans to watch the Emmys this year. "Stephen is the ultimate master of ceremonies with award-winning creative talents, and as we've seen the past few months, he has a fearless passion for live television," CBS Entertainment Executive Vice President Jack Sussman said in a statement. "We look forward to honoring television's best while entertaining audiences with the creative energy and sharp comedy of Stephen Colbert." With all of Colbert's experience — he most recently hosted The 39th Annual Kennedy Center Honors on CBS, as well as Stephen Colbert's Live Election Night Democracy's Series Finale on Showtime— he really is just the guy to step up to the plate.
We've got awhile until Colbert graces our screens along with all the best and brightest of television — but the wait will be worth it. In the meantime, we can gleefully watch the television shows that are up for nomination, casting our own votes in our hearts. Nominations for the awards will be announced Thursday, July 13 from the TV Academy's Wolf Theatre at the Saban Media Center. After that we've still got a few months to debate, discuss, and send positive energy to our favorite shows.
Don't worry guys, though the Emmys seem far away, time flies fast when you're watching way too much television — as every TV fan can assure you.