A Jessie James Decker x DIFF Aviators Collab Is Coming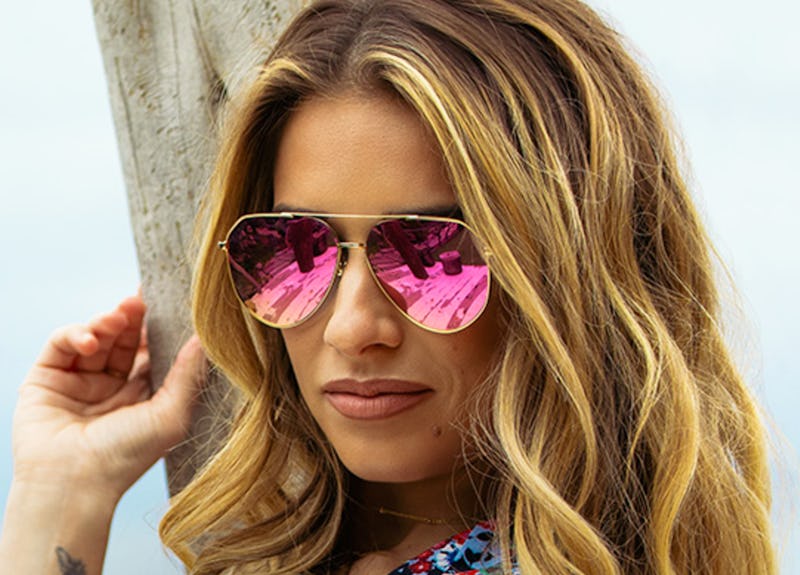 Courtesy of DIFF Eyewear
The ever-stylish singer and reality star Jessie James Decker has another fashion collab on the horizon. The Jessie James Decker x DIFF sunglasses collab is coming soon. The brand has been teasing the new collection, featuring four, oversized aviator frames with a variety of different-colored frames and lenses, from blue to pink to black and grey to gold and brown.
With summer and the brutal and unforgiving rays of the sun arriving soon, you so need new shades to protect you precious eyes and the skin surrounding them. So, when is the JJD x DIFF eyewear collection out?
The Jessie James Decker x DIFF shades, dubbed "The Dash," are out next week, according to a post on the brands official Instagram. The brand did not confirm the exact drop date of the sunnies. It instead offered the opportunity to sign up to get information 24 hours prior to the drop of this limited edition collection.
In case you are not super familiar with DIFF, let's fix that. The brand is charity-driven, donating a pair of reading glasses to someone in need for every pair of sunglasses sold. Kylie Jenner teamed up with the brand to promote pink mirrored aviators and the DIFF initiative last summer.
Let's take a look at the oversized, Jessie James Decker x DIFF aviators. They are so stylish and are classic but modern at once.
I love the punch of color provided by the lenses.
You can see all the shades in this post.
I have my eyes on the black frames with grey lenses.
The black frames and blue lenses are so sharp.
The gold frames with brown lenses pair features a gradient lens.
Think pink! If you fell in love with any or all of these frames, then sign up for the email notifications regarding when the shades will drop in the next week or so. You definitely want to be the first in line to shop.