Starbucks' 2017 Holiday Cups Are Delivering An Important & Positive Message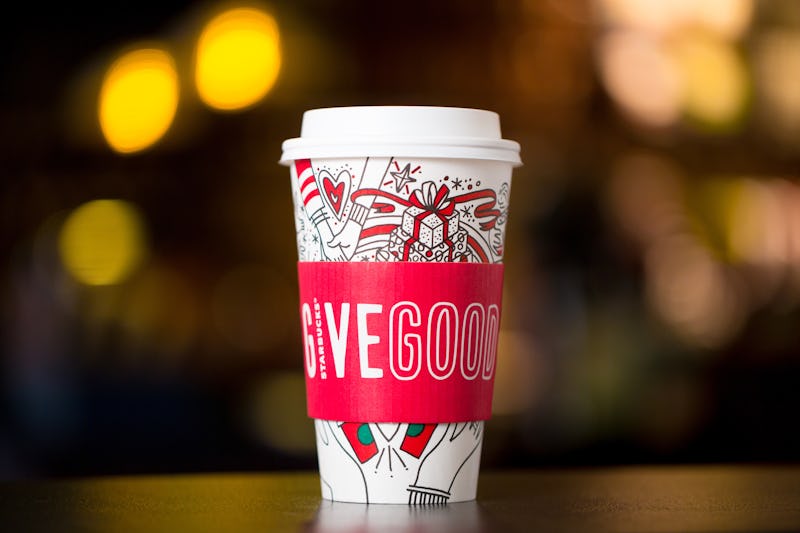 Starbucks
If you're finding yourself quietly wiping tears from your eyes as you fold up your Halloween costume and box up the candy for next year (actually, you're definitely eating the candy — who am I kidding?), don't. Resist the urge to mourn the end of this season of spookiness, because I'm about to tell you when the Starbucks holiday cups are available. And guess what? They're available now. As one good thing comes to an end, another is just beginning — and if you ask me, this new good thing is reason enough to start humming holiday tunes, even if you don't believe in actually listening to them until after Thanksgiving (same).
As of Nov. 1, the highly-anticipated Sbux seasonal cups are ready and waiting to hold your hot beverages in stores across North America. Special red cups have been part of the holiday celebrations for the coffee giant since 1997, and getting a glimpse of the new design has become a seasonal tradition for Starbucks fans in the two decades since. This year was no exception.
In late October, a now-deleted thread in the Starbucks subreddit thread titled "Just got it in our order. Holiday short cup design?" revealed an image of the rumored holiday cups. At the time, the Bux declined to comment on the image in an email to Bustle — but it seems like their silence wasn't meant to last long, because the cup design has finally been officially revealed. And I gotta say, I really, really love them.
For the first time ever, the Starbucks holiday cups are designed to be colored in. Delicious, festive, and now interactive too? Take all my money.
"This year's cup is intentionally designed to encourage our customers to add their own color and illustrations," said Starbucks executive creative director Leanne Fremar in a press release. "We love the idea of everyone making this year's cup their own."
The color-in cups aren't the first example of Starbucks using their signature cups as a way to encourage creativity among their customer base. Last year's seasonal cup selection featured 13 different designs created by Starbucks fans, and the chain has previously run contests prompting people to decorate their white cups. This year's "red cup" was inspired by these efforts.
There's more to the Nov. 1 holiday rollout than the cups alone, though. This season's "cup sleeve" (the cardboard ring put over the cup to prevent you from burning your hand when you reach for a coffee or hot chocolate) is also a major piece of the seasonal festivities at Sbux. The sleeve is red and invites customers to "Give Good," which also happens to be the theme for the chain's overarching holiday campaign.
"Giving good can be as small as someone opening the door for you, or recognizing the people that enrich your life... " Fremar said in the press release. "The holidays are a time to celebrate all the good we give to each other and our community."
Amid the chaos and destruction we see so often in our world today, Starbucks hopes that their holiday cups will be a good reminder for people to spread a little extra positivity this season. The Bux even released a list of 17 suggestions for how to "give good" in 2017 and beyond. Among other things, Starbucks recommends inviting a friend you haven't seen in a while for coffee or tea and getting to know a local refugee family.
Given the tumultuous state of the world in 2017, I personally am pretty happy to see that this year's campaign is all love and positivity. What's better than a beautiful cup of coffee that promotes giving back?