Chrissy Teigen's New BECCA Highlighter Smells EXACTLY Like Cinnamon Buns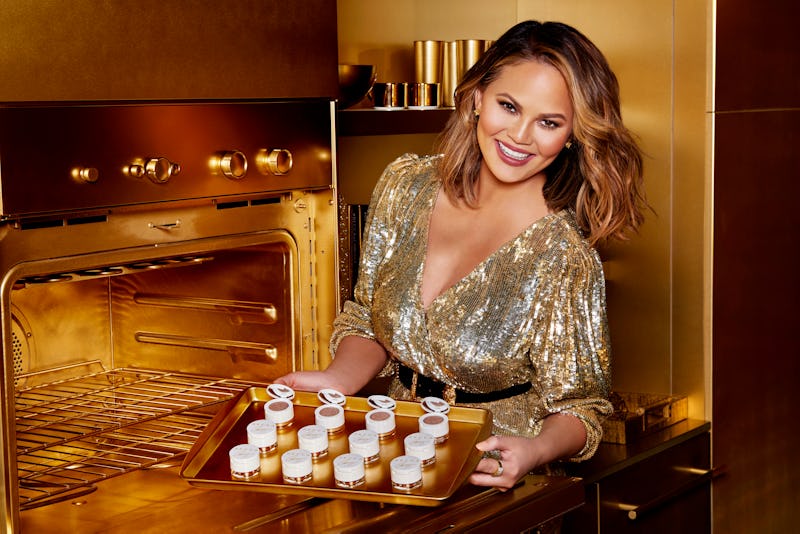 Courtesy of BECCA Cosmetics
Does Chrissy Teigen walk around with a bevy of recipes brewing in her head? Probably. She is the author of two cookbooks. However, she also walks around with one hell of a stunning glow, and now her passions for food and beauty are coming together in her BECCA X Chrissy Teigen Cravings Collection. Teigen and BECCA are teaming up again this holiday season to bring fans a collection of products that smell good enough to eat (but please don't).
The BECCA x Chrissy Cravings Collection is a set of two kits perfectly curated by the master beauty chef herself, and they've got everything you need for a glowing and flawless holiday look, but don't worry, these goodies are great long past your holiday dinners. In fact, when I spoke with Teigen about the collection, its wearability was part of her focus. She explains that her Cinnamon Churro highlighter in the Glow Kitchen Kit is a staple product for her no matter the time, and it's something she extended into both of the kits she created.
Teigen says, "This is what I love most about the collection is that even though it's holiday and holiday inspired and has scents of holiday, it's really full of colors and things that I would use year round...I wanted things to be able to be used not just at a big holiday party but you know, during the day, too."
Like the Glow Kitchen Kit, Teigen carried over the idea of everyday effortlessness into her Lip Icing Glow Gloss Kit, a collection of four distinct holiday glosses that all smell like you've just walked into the most fabulous holiday bakery you can imagine. Teigen explains that while the four lippies do smell distinctly holiday (like the warmest, most delicious vanilla thing you've ever had), the colors in the kit were meant to be worn no matter what the occasion.
When looking at the kit, you may be thinking that the vibrant red gloss was made for your next holiday party (and it was), but Teigen explains perfectly how the shade can be incorporated during the season and outside of it.
Teigen explains that the shade was inspired by stylist Monica Rose, a woman she calls one of the "busiest women on the planet." She goes on to tell me that Rose always comes in with sunglasses and a hat, and that she's always rocking a bold lip. The cookbook author says, "It just makes her look so pulled together and so incredible and so awake, and so done, it's so easy. So I wanted to make sure we had a color like that for people where they could feel like, 'Damn, like I look hot,' and it took very little effort."
Imagining a collection more perfect for Teigen is hard. After all, her latest cookbook is on the New York Times best-sellers list, and while her latest BECCA collection is totally wearable at any time of year, it's the holiday spirit in it that Teigen loves. The Cravings writer explains, "Like, when you think of the flavors around the holidays, you kind of hone in on really distinct flavors and things that you love smelling that take you back. And I wanted everyone to smell these things immediately, or to put them on their lips and just look and feel the holiday spirit."
If you want to get a glow like Teigen or want to smell like you're fresh out of the oven (in the best possible way), the new BECCA x Chrissy Cravings Holiday Kits launch tomorrow, Oct. 20, and it's not just any day. The collection is debuting on National Dessert Day nonetheless, and inside each kit, you'll get a Cravings recipe from Teigen. Head to the BECCA and Sephora websites to shop the collection, and get ready to glow like Teigen, and maybe, just maybe cook like her, too.