H&M's Latest High-End Designer Collab Features A LOT Of Disney Merch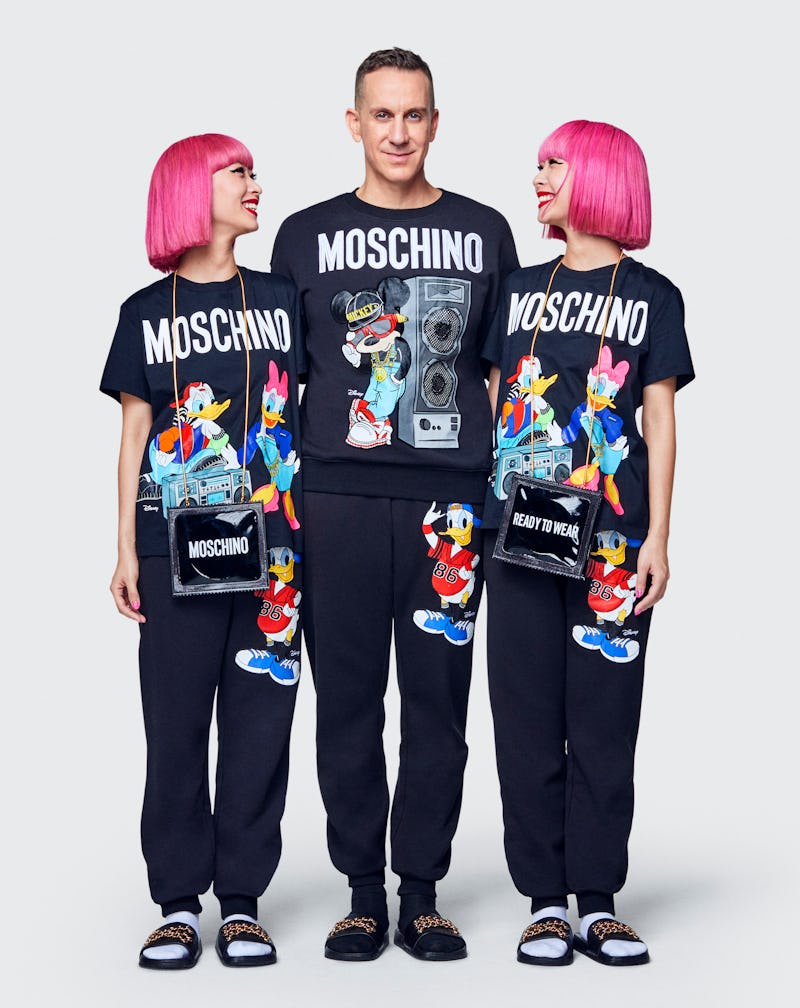 Courtesy of H&M
When most people think high-end designs, they don't often think of Mickey Mouse. However, given the sheer amount of nostalgia-themed clothing and beauty items, why not? The new H&M x Moschino collection look book is filled with Disney merch, and it may just be the most fashionable way to relive your childhood in style.
Back in April, Moschino designer Jeremy Scott announced his partnership with H&M at Coachella with non other than super model Gigi Hadid wearing a piece from the collection. The theme of the collaboration centers around television which makes total sense for Moschino. They're a brand that's known for their pop culture references. From McDonalds themed apparel to Barbie, the design house is known for bringing pop culture into high fashion, and they're doing it again with their H&M collection.
The brand and design house released their entire look book for the upcoming collection on Thursday, Oct. 11, and it's filled to the brim with some of Disney's most memorable and classic characters. From the staples of Mickey and Minnie Mouse to characters like Goofy and Donald Duck, if you're a fan of OG Disney characters and over the fascination with princesses, the Moschino x HM collection is going to be perfect for you.
While the collection does have items that mirror the classic Moschino aesthetic as designed by Scott, it's the retro Disney items that may surprise people most. From joggers to sweatshirts to some old school 90s era hockey jerseys, the collection is an homage to classic television like MTV and Disney. Given the fact that many of the pieces revolve around tv, the design choices make total sense.
In an interview with W, Scott explained his decision to incorporate so many nostalgia-inducing characters saying that the phenomenon is something everyone experiences no matter where they are and it provides a sensation of joy.
"Globally, you see a circle and then another two circles and nothing else—and it's like Mickey Mouse. It makes you think about happiness and joy, and that is something that I think is really great and something I always try to put into all of my designs," Scott said in the interview.
It's not simply the designs that Scott wanted to be understandable and meaningful to the H&M audience. He also wanted people who may not have access to the designs financially to be able to connect to the pieces and explained that having more and more people able to wear his designs is the ultimate compliment for the creator. He explains that that clothes can build memories, and its those moments involve his designs that he loves. Whether it's just as simple as someone giving a person wearing a piece from his collection a compliment.
If you're already in love with Jeremy Scott and Moschino or have fallen in love thanks to the H&M x Moschino look book, mark your calendar for Nov. 8. The collection will be offered in select stores and online at the H&M website, and this is one affordable meets high-end collection your nostalgic heart won't want to miss.