Kendall + Kylie Sunglasses Are Finally Dropping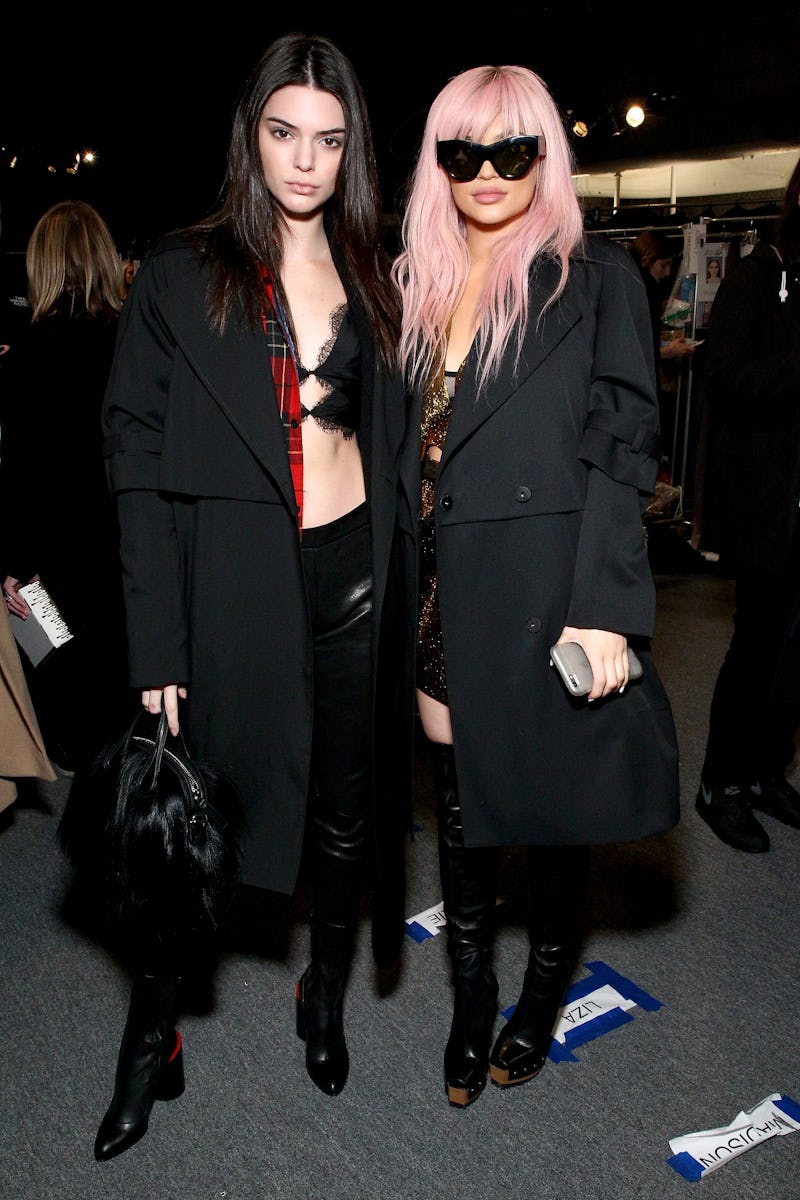 Astrid Stawiarz/Getty Images Entertainment/Getty Images
We may be smack dab in the middle of winter, but that doesn't mean we're not in the market for new sunglasses. The sun is still bright during the bitter cold months and your peepers and the delicate skin surrounding them still need protection. Kendall + Kylie sunglasses drop online on Monday, Jan. 23, according to Refinery 29. That means shades junkies can grab a new pair for winter or to prep for the oncoming spring and summer seasons. These are the shopping dates and locations, which are staggered.
Refinery29 reports that eight pairs of the Kendall + Kylie sunglasses will first be available via Revolve and that the sunnies start at $145 and go up to $220 in price.
It's just a sneak peek, since the entire collection is schedule to cruise into Nordstrom in early March. The brand teased that sunglasses were coming soon in a November Instagram post in which Kendall rocked mirrored aviators.
Bustle reached out to Kendall + Kylie PR for additional details about shopping locations, dates, and prices.
UPDATE: Bustle heard back from Kendall + Kylie PR who told us via email that the brand's full eyewear collection will debut early March at Nordstrom retail locations and Nordstrom.com. T"he assortment will also deliver to Bloomingdales, ShopBop, Lord & Taylor, as well as additional Better Department and Specialty Stores this Spring 2017," they wrote.
Since both Kendall and Kylie have unique sunglasses games, I am stoked about the first eight pairs, which include cat eye silhouettes and geometric shapes, among others, as well as the rest of the collection coming to Nordstrom.
As Women's Wear Daily reported, the duo is happy to add shades to the K+K repertoire, since "eyewear is the finishing touch that elevates any look. We can't wait for our customers to see the world through our eyes."
Something tells me that seeing the world through Kendall and/or Kylie's eyes would be better than any Snapchat filter.
Kylie once rocked this wiry pair.
This rectangular white pair was cool AF.
Her pink and gold mirrored aviators by DIFF were for a good cause.
Kendall slayed these pink wire frames.
She clearly loves a mirrored frame.
Charli is my fave so far. It's feminine and feline.
Jules is a modern take on the aviator silhouette.
Happy shopping the K+K shades on Revolve today. There are lots of matte black and liquid gold options.
There are thin, wire-like frames and thicker options. Choices are good.
Images: Kendall + Kylie/Instagram (1); Kylie Jenner/Instagram (2); Kendall Jenner/Instagram (1); Courtesy of Kendall + Kylie (5)