Get Ready For Another 'Crazy Ex' Transformation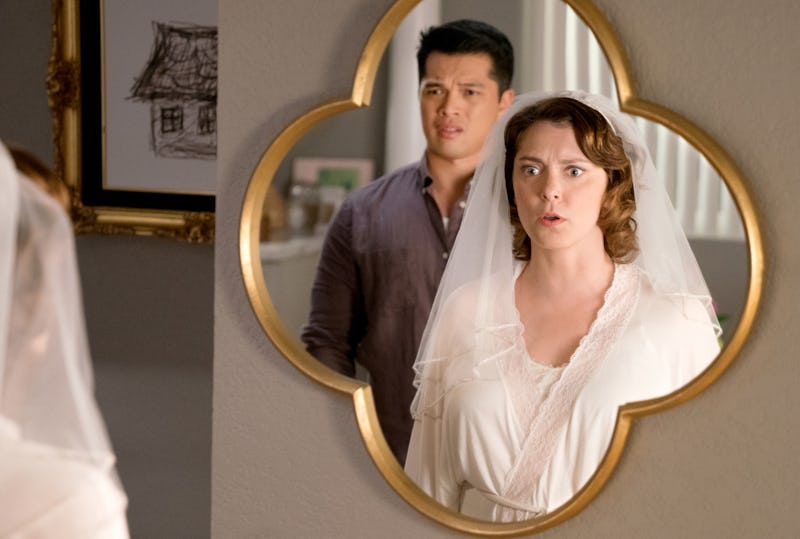 Michael Desmond/The CW
Season 2 of Crazy Ex-Girlfriend is about to come to a close, and I don't know what's more mind-blowing: the fact that it's only February, and the sophomore installment of The CW's musical dramedy is almost over, or that Rebecca Bunch (Rachel Bloom) might finally tie the knot with her longtime love Josh Chan (Vincent Rodriguez III) in this season's grand finale. I think we're all going to need some time to take all of that in. But once you've come to terms with those truths, you're probably going to want to know when Crazy Ex-Girlfriend will return for Season 3.
Let's all just take a moment to be thankful that Crazy Ex-Girlfriend is definitely going to come back for Season 3. It was a little unclear if that was actually going to be the case since Crazy Ex-Girlfriend is one of those shows that is critically acclaimed but has famously low ratings, which got even lower in Season 2, according to data from The Nielsen Company, as reported by Screener. But The CW announced in January that it had renewed Crazy Ex-Girlfriend for Season 3 for its 2017-2018 TV schedule, Deadline reported.
However, that announcement did not come with any news regarding the number of episodes the network ordered for Season 3 of Crazy Ex-Girlfriend or a specific premiere date. Hopefully, that will be announced when The CW and other networks release their schedules for the next TV season during the Upfronts, typically held in May. So it's possible that Season 3 of Crazy Ex-Girlfriend could kick off in the fall in a month like October, when the first two seasons of the show have bowed, but since a lot about this series has been fairly unpredictable thus far, you're better off waiting for The CW to make the official announcement about the premiere date before you mark your calendar.
Unfortunately, we'll have to wait until we get closer to that premiere date of Season 3 of Crazy Ex-Girlfriend to know anything about it because the cast and creative team are keeping pretty mum on what we can expect from the next installment of the series. For example, when asked if she had any ideas for next season yet on Twitter recently, Crazy Ex-Girlfriend co-creator Aline Brosh McKenna couldn't give specifics, but she did tease that "every season is going to be a bit different."
McKenna also revealed on Twitter that Crazy Ex-Girlfriend's writers always write as if the show is going to return for another season. Perhaps that means the Season 2 finale has the potential to be more open-ended and possibly leave us on a cliffhanger with storylines that will need to be resolved at the start of Season 3.
But the end could be near for Crazy Ex-Girlfriend. Bloom has often said in interviews, such as this one with Vanity Fair, that she and McKenna initially envisioned and pitched the series as containing four sections of the story. Bloom also told The Hollywood Reporter last April after the show's Season 1 finale that she thought the "ideal" number of seasons for Crazy Ex-Girlfriend would be four, but "that could change." "We're a show about a very specific journey in a person's life. And it's not really a sitcom meant to spit out copies of itself. Very early on, we called it a 50-hour movie," she said during the interview. "I think we're beyond that now. There's always going to be plot movement, so there's only so far I think you can go with that. It could be five, but I think around four would be ideal for us creatively."
So fingers crossed that Crazy Ex-Girlfriend makes it to Season 4 — and beyond.