Here's What's Happened With Angelina Jolie & Brad Pitt Since Their Split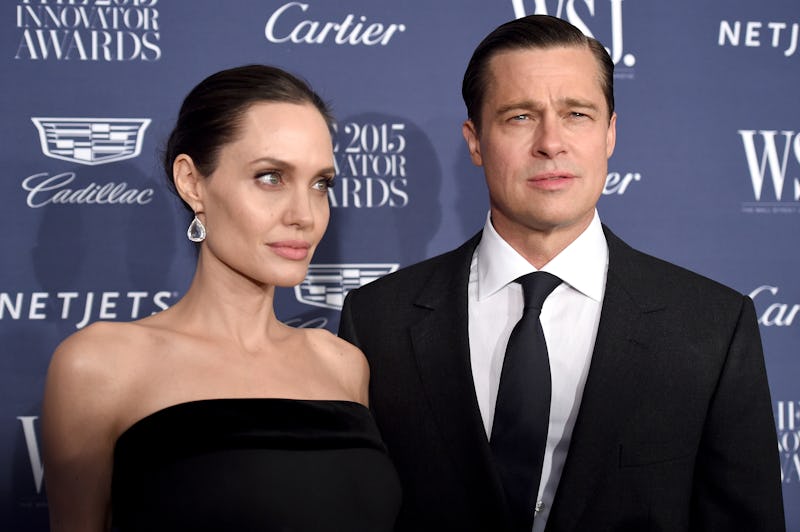 Dimitrios Kambouris/Getty Images Entertainment/Getty Images
On the heels of a year that saw the demise of Anna Faris and Chris Pratt's relationship, it may be difficult to remember when Angelina Jolie and Brad Pitt broke up. They, too, were once one of Hollywood's most steadfast celebrity couples, and the announcement of their divorce left much the world slack-jawed. But there's nothing like an awards show to dredge up old wounds (Jolie is set to present at the 2018 Golden Globes), so let's bring things up to speed.
By the time Jolie and Pitt officially split, they'd been together for over a decade. They famously met on the set of spy thriller Mr. and Mrs. Smith, in which they both starred, while Pitt was still married to Jennifer Aniston (who is also presenting at the Globes). They denied relationship rumors at the time, but Jolie later admitted to The New York Times that that was when they "fell in love." Aniston and Pitt, who'd been married for five years, announced their separation in January 2005 and filed for divorce in March, citing irreconcilable differences. One month later, Pitt and Jolie were spotted vacationing in Kenya with Jolie's then-3-year-old son, Maddox, and by July, they'd confirmed their relationship via a spread in W magazine (According to Glamour, the photos were shot in March, around the time of Pitt and Aniston's filing).
In the 12 years that followed, Brangelina's romance was documented heavily in the press. They adopted two more children (Zahara, 12, and Pax, 14) and had three of their own: Shiloh, 11, and twins Knox and Vivienne, 9. They held off on wedding plans for quite some time, with Pitt telling Esquire in 2006 that he'd only "consider tying the knot when everyone else in the country who wants to be married is legally able," but by April 2012, they'd confirmed their engagement, and in August 2014, they wed.
Just over two years later, however, things came to a sudden halt: Jolie filed for divorce from Pitt, citing irreconcilable differences and seeking physical custody for all six of their children. She asked for Pitt to be granted visitation, but did not request child or spousal support. Jolie's lawyer provided a statement to Reuters at the time reading, "This decision was made for the health of the family. She will not be commenting, and asks that the family be given its privacy."
The move reportedly stemmed from an alleged altercation between Pitt and Maddox, then 15, that allegedly ended with physical contact. It prompted an FBI and Los Angeles County Department of Children and Family Services investigation, but Pitt was ultimately cleared. Last year, after many months of silence, he opened up about the incident — and the dissolution of his marriage — in a surprisingly forthcoming interview with GQ. He told the outlet that he'd been drinking too heavily around the time of he and Jolie's split, that he'd since abandoned all substance use, and that they were now focused on co-parenting:
"I was really on my back and chained to a system when Child Services was called. And you know, after that, we've been able to work together to sort this out. We're both doing our best ... You spend a year just focused on building a case to prove your point and why you're right and why they're wrong, and it's just an investment in vitriolic hatred. I just refuse. And fortunately my partner in this agrees. It's just very, very jarring for the kids, to suddenly have their family ripped apart."
Jolie, for her part, hasn't been as candid, but she did praise her children's strength while speaking with Vanity Fair last July — her first interview since the filing. "We're all just healing from the events that led to the filing," she told the outlet. "It's just been the hardest time, and we're just kind of coming up for air ... We're all trying to do our best to heal our family."
Beyond that, details are still murky, but it sounds like Pitt and Jolie are doing their best to make things work. And just over a year after the divorce heard 'round the world, that seems like a promising start.