Ariana Grande & Mac Miller Reportedly Split Over A Very Hollywood Reason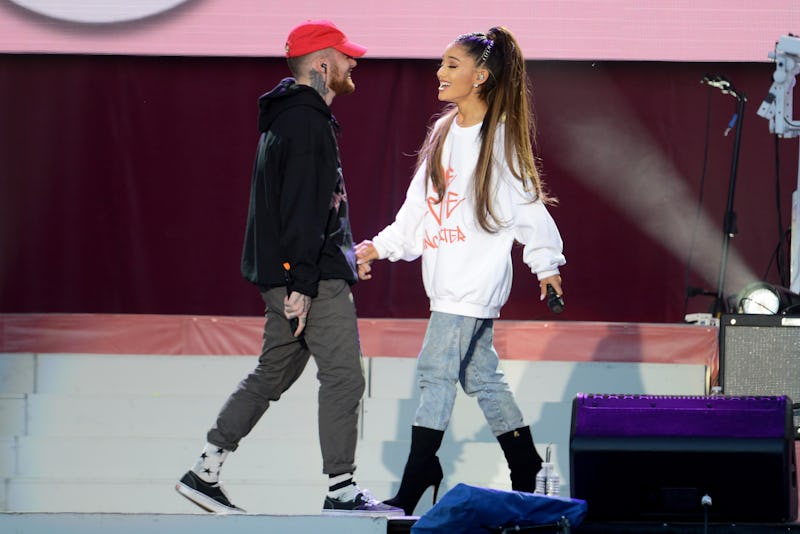 Getty Images/Getty Images Entertainment/Getty Images
It looks like another celebrity couple has called it quits. On Wednesday, TMZ reported Ariana Grande and Mac Miller split up. It appears the two chose to go their separate ways for a reason many celebrity couples are very familiar with — busy schedules. According to sources "close" to the singer and the rapper, they couldn't keep their relationship afloat due to their work. But, there is good news. They are reportedly still "the closest of friends" and still "love each other dearly," per TMZ. Bustle has reached out to reps for Grande and Miller, but didn't receive a response at the time of publication.
UPDATE: Grande confirmed the breakup on her Instagram story with a post about how she'll always love him and support him regardless of how their "relationship changes."
EARLIER: People also reported Wednesday the "Side To Side" singer and Miller broke up "amicably". Grande also showed up to the 2018 Met Gala solo, which may have been the first clue she was no longer with Miller. The last time they were seen together was in April when the rapper was by Grande's side at Coachella.
Grande posted a photo of the two at the music festival on Instagram on April 21. It shows Miller holding onto the singer while her eyes are closed. They appeared to be very much a couple here. Grande also shared a video taken by Alfredo Flores, which features Miller.
Also in April, Miller posted the following tweet in response to the singer announcing her newest single, "No Tears Left To Cry": "very proud of this girl right here [heart emoji] Welcome back. We missed you. One of a kind."
Grande and Miller first started dating in 2016 and were together for nearly two years. However, they met way before their relationship turned romantic. While speaking with Cosmopolitan in March 2017, the 24-year-old said, "I met him when I was 19. We have loved and adored and respected each other since the beginning, since before we even met, just because we were fans of each other's talent."
She explained it wasn't the right time for them to be together in the early stages of their friendship, but they truly did admire each other when they weren't dating. "We both needed to experience some things, but the love has been there the whole time," Grande said. "There were times over the years when he would call me and hear that I was stressed or overwhelmed or not doing well, and he would call my mom. There were also times when he was really broken and sad — this was years ago — and I would come take care of him, because we love each other as best friends first and foremost."
But, Grande said "the universe" was telling them to date and eventually they listened.
In September 2016, Miller briefly opened up about dating Grande. Not only did he tell Power 105.1's The Breakfast Club she was his "dream woman", but, "That is a true thing in my life, she's amazing." He also said, "Just because we are two people who are in love and have a great relationship doesn't mean that I'm gonna get weird about this incredible music that we also make together." He added, "All I'm saying is, 'Yeah we're together, cool.'"
Of course, their shippers are reacting strongly:
Love Doesn't Exist
The typical reaction upon hearing a celeb couple has split.
Nope, Don't Believe It
Fans are going to need a statement from them, stat.
It's Seriously Heartbreaking
It's just too much.
Calling Out TMZ
Yeah, this person totally isn't buying it.
"So Many Tears Left To Cry"
The perfect time to listen to Grande's new song — and to quote it.
Everyone Is Doomed
Love is cruel.
Grande and Miller have yet to comment on the breakup reports, but they would really be doing their fans a favor if they released some type of response as soon as possible.