This Look At Cardi & Offset's Relationship History Shows What A Whirlwind It Has Been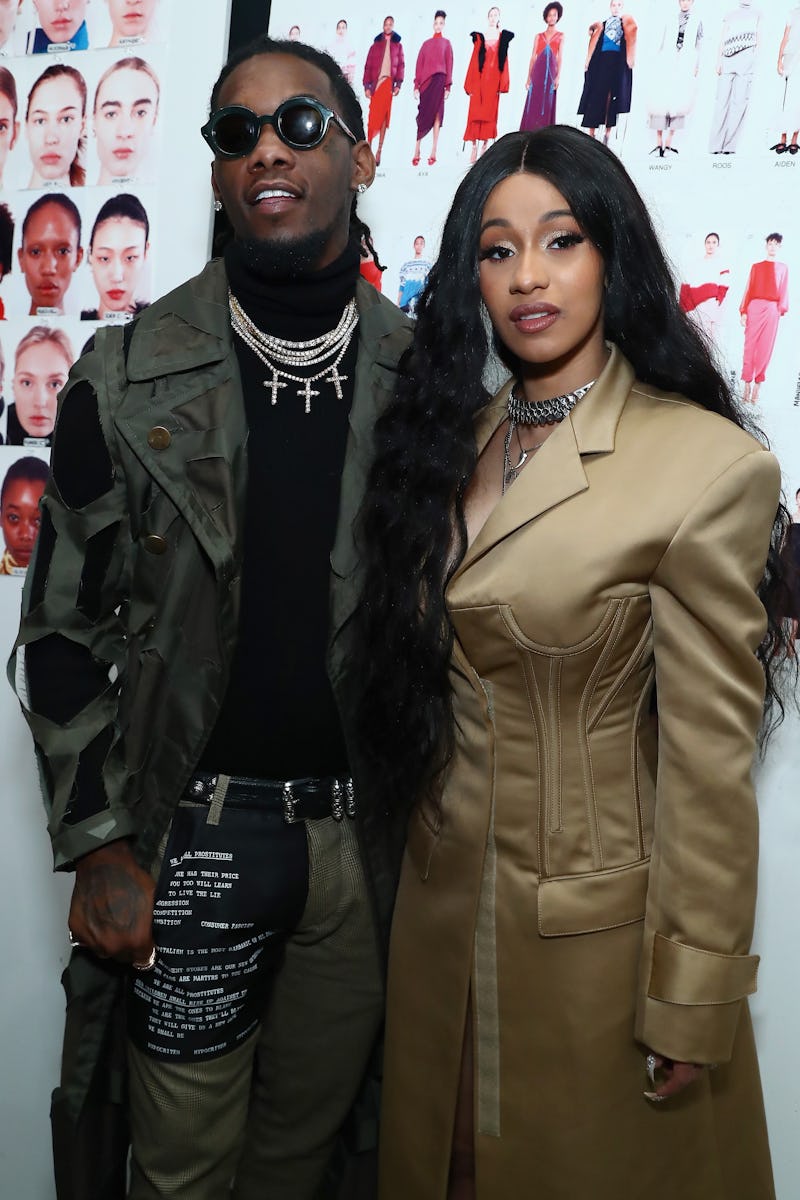 Astrid Stawiarz/Getty Images Entertainment/Getty Images
Cardi B and Offset have had a somewhat whirlwind romance since they first got together. And now, they're set to take a big step in their relationship by welcoming a child together. Where did it all begin for the soon-to-be-parents, though? And when did Cardi B and Offset start dating?
Cardi and Offset have been dating since around February of 2017. The two hit if off at the Super Bowl on Feb. 5, and Cardi confirmed that the two started dating "around" the time of the Super Bowl during an interview with 99 JAMZ's Uncensored in September 2017.
While the two rappers started dating around February 2017, they were in contact with each other well before that. In an interview with Yard, Cardi related that she first met her beau at an industry event in 2016. The pair collaborated on the single "Lick," which they released on Jan. 20, 2017. So, they were definitely in each other's lives before they officially started dating.
As previously mentioned, Cardi was open about how and when her relationship with Offset started when spoke to 99 JAMZ's Uncensored show. When asked how her love story with the rapper started, she said, "We met and he asked me about my story and what I want. It's like, 'I want to be taken serious from these artists,'" she explained, "And I used to tell him 'I'm so frustrated, I'm never gonna make it' ... And he used to tell me, 'You're gonna get there.'" Well, it definitely sounds like Offset is super supportive of Cardi, which is obviously so important.
When asked during the interview if it was "studio love," Cardi responded, "No. It was just, I'm cute and you cute."
The couple have been known to show off their love via their music. As previously mentioned, Cardi released her single "Lick", which featured Offset on the track. The two starred in the glamorous heist music video for the single and put their relationship on full display. On her new album, Invasion of Privacy, Offset was featured (along with his group Migos) on her track, "Drip."
The rappers got engaged in October 2017, per People, and Offset proposed in grand fashion. During Power 99's Powerhouse concert in Philadelphia, he got down on one knee, which sent the entire stadium of concertgoers into a tizzy. Cardi obviously said yes and he then slid the gorgeous 8-carat diamond ring on her finger.
They're also set to welcome their first child together (a girl, as she revealed on The Howard Stern Show). The "Bodak Yellow" singer first revealed the happy news on Saturday Night Live on April 7 after much speculation. And she made the announcement in style.
During her moving performance of one of her latest singles, "Be Careful," Cardi donned a gorgeous white dress that put her growing baby bump on full display. She later said on The Ellen DeGeneres Show on April 18 that she was kind of nervous prior to her big reveal. She told the host that she was "sweating, my underarms started itching a little bit because it's like, 'Oh my God, the world is gonna know I'm pregnant.'"
She doesn't have to worry any longer, though, as the news about her little one is out in the open. And now, Cardi and Offset can simply focus on their growing family.