Cardi B & Offset Met In The Most Perfect Way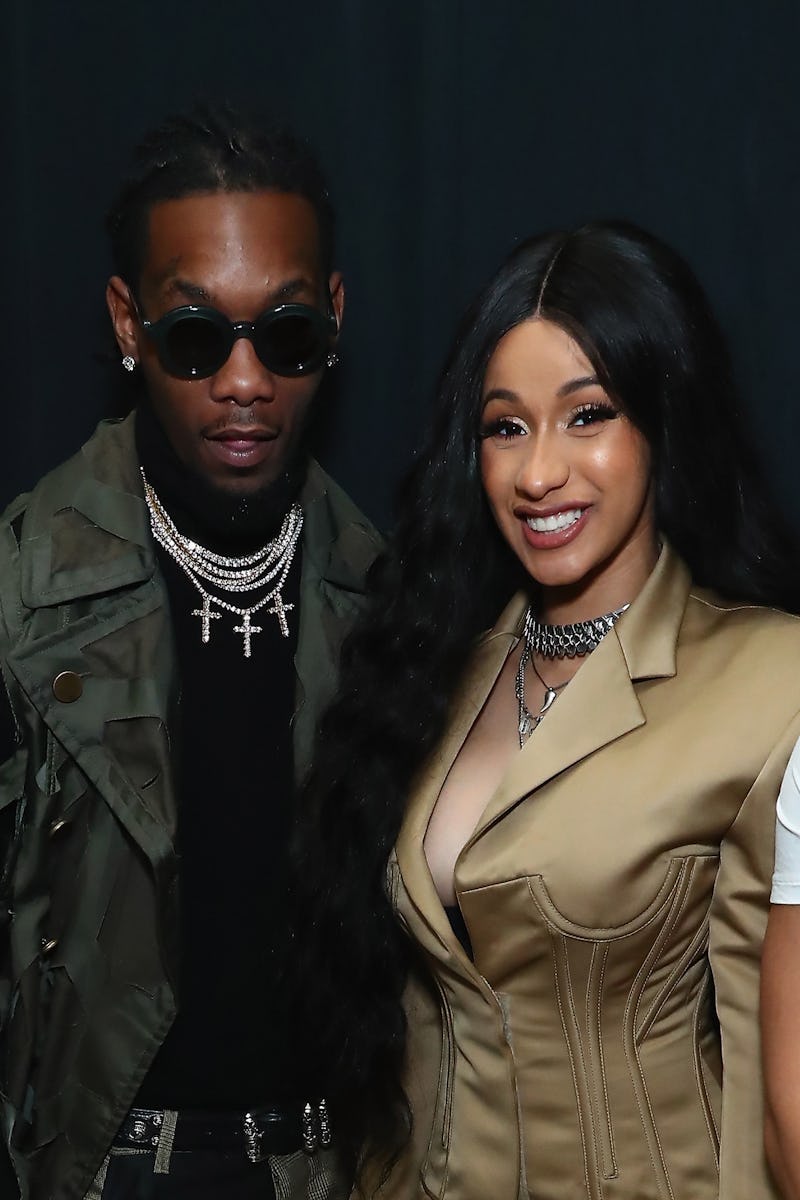 Astrid Stawiarz/Getty Images Entertainment/Getty Images
After months of dodging speculation, Cardi B finally blew the lid off those swirling pregnancy rumors Saturday night during the singer's markedly liberating — and revealing — Saturday Night Live debut.Now that her pregnancy has been confirmed, fans are asking how did Cardi B and Offset meet? Her pregnancy reveal confirmed that the soon-to-be mom is expecting her first child with the Migos rapper, following the pair's public engagement announcement last October.
Ever since Cardi's famous beau first put a ring on it (in what might be one of the most swoon-worthy romantic gesture in recent history), enthusiastic supporters of their star-powered relationship have been hankering for more details as to how and when the two first met. Because while the duo only began to publicly acknowledge their relationship in early 2017, it seems plausible that romantic sparks had been flying well before the pair's now-notorious Super Bowl date rocked social media.
While neither Cardi nor Offset has spoken too specifically about their relationship's origin story, here's what we do know: In December of 2016, Cardi B and Offset teased their first-ever musical collaboration, the joint track, called "Lick." The track debuted in January 2017. So, conceivably, she and Offset met prior to that. Both rappers kept pretty hush-hush about the details of their first meeting for the better part of 2017, as their respective careers soared to A-list status. But, following their distinctly public engagement, Cardi finally shed a bit more light on the "how did you meet?" question. With that being said, the details remain a bit fuzzy.
Courtesy of a video posted to Twitter last November, Cardi explained that she and Offset first met sometime during 2016 at an "industry event." The nature of said event continues to remain unclear; but still, the 25-year-old shared the important bits of the almost new parents' early rendezvous. And, according to the rapper, it was Offset who pursued her at the event's nightclub-esque locale. "He was very consistent," Cardi said of her fiancé's early attempt to woo her in the video interview. "He really wanted to talk to me," she continued.
Per the rapper's newly-minted pregnancy reveal, it seems the couple is still going strong, even two years later. After performing on the SNL stage for the first time, Cardi launched a surprise-filled performance that touted more "firsts" than just one. In addition to unveiling her new single, "Be Careful," during SNL's opening musical act, the rapper also managed to divulge an even more jaw-dropping tidbit of personal info.
The personal tidbit, as swooning fans across the internet now know full-well, was the news of her soon-to-be mom status. For anyone who's yet to see Cardi's SNL performance, the fiery musician managed to confirm the long-circulated pregnancy rumors in the most distinctly Cardi way: proudly, wordlessly, and with a whole lot of cool. Because who does she really owe an explanation to, anyway?
Inquiring Cardi enthusiasts (including all those fans who've been rendered veritably smitten by the evolution of her and Offset's perennially adorable public displays of affection) have been buzzing about a potential baby on the way for months now, promptly catalyzed by the couple's engagement announcement back in October, which will probably be forever memorialized in hip-hop history as the on-stage proposal that broke the internet. Although Offset wasn't in attendance during his wife-to-be's SNL act, the Migos rapper — who is currently father to three children from previous relationships — made sure to flex some "good dad" (or, alternatively, "good fiancé") muscles via Twitter later on Saturday night.
"Cardi and I look forward to our next chapter together," the musician wrote, penning an all-caps tweet that seemed to pretty clearly acknowledge his fiancée's big reveal. Judging by the post's part-tender, part-giddy tone, it seems safe to say he's just as excited as Cardi is.
And, in what seems to be classic Cardi-Offset fashion (these days, at least), the Migos rapper's supportive tweet also featured an unbelievably sweet snapshot of the parents-to-be looking particularly sweet — and, as usual, well-dressed. Seriously, did they intend to color coordinate their ensembles in that photo? Who's to say, really. But for a fashion-forward power couple like Cardi B and Offset, perhaps casual coordination — coupled with some hearty bouts of show-stopping romance, of course — just comes with the territory.