Prince Harry & Meghan Markle Began Dating In This Surprisingly Normal Way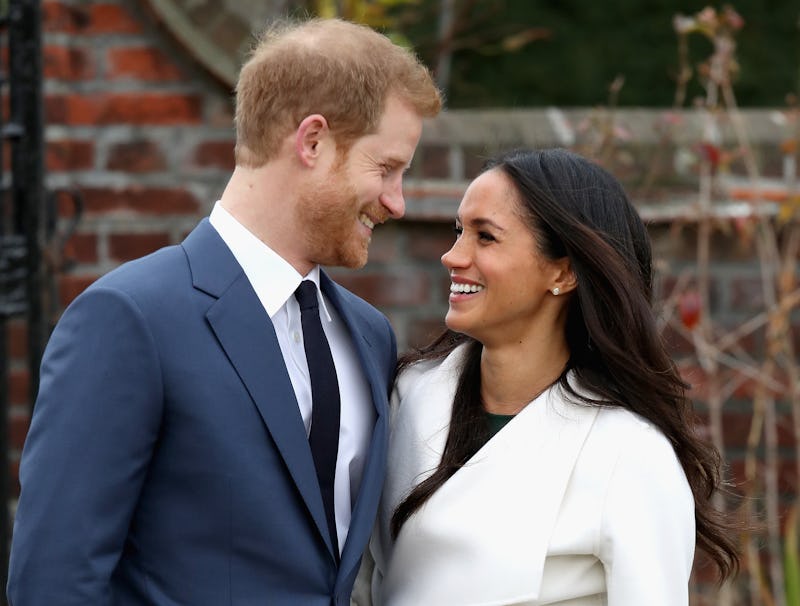 Chris Jackson/Getty Images Entertainment/Getty Images
Ever since word of Prince Harry and Meghan Markle's upcoming nuptials first steamrolled through the morning news circuit on Monday, Nov. 27, it seems safe to say that the Internet has been waxed obsessed with the need-to-know's of his newly-minted engagement. The question of the hour? Probing admirers need to know when Prince Harry and Meghan Markle started dating. Piecing together the specifics is certainly no small feat — especially given the couple's efforts, over the past year-and-a-half, to keep the details of their relationship at least partially under wraps.
Though whispers of a potential burgeoning romance between Prince Charles' youngest son and the 36-year-old Suits actress have been brewing since October of last year, it wasn't until Markle graced the cover of Vanity Fair's September issue this past fall that she finally opened up about their relationship. In her interview, Markle confirmed that the two had met in July of 2016, and had somehow managed to lie low for the first several months of their relationship — until the media caught on, of course.
Because, as is customary when it comes to the happenings of Britain's royal family, dedicated enthusiasts "need to know" pretty much everything. Since Prince Charles officially announced the engagement via Twitter Monday morning, social media has been abuzz with questions of every variety, including but not limited to the couple's origin story: When did they meet? How did this latest iteration of swoon-inducing royal love affairs come to be?
Almost immediately following the news of impending royal wedding bells, Prince Harry and Markle sat down with the BBC for a sweet interview in which the couple shed a bit more light on the details of their engagement (Prince Harry got down on one knee during a cozy night in, in between "trying to roast a chicken") as well as their first meeting. They were introduced by a mutual friend, Prince Harry told the BBC. "We met once and then twice back-to-back two dates in London, last July," he said.
"I think about three, maybe four weeks later that I managed to persuade her to come and join me in Botswana," he continued in the video. "And we camped out with each other under the stars ... she came and joined me for five days out there, which was absolutely fantastic."
Rumors about the duo's budding romance first surfaced several months later in October of 2016, when the UK tabloid newspaper Sunday Express reported that Prince Harry (who, it noted, had historically assumed the title of "world's most eligible bachelor") might not be quite so eligible after all. The newspaper reported claimed that a then 32-year-old Harry had "fallen for" Markle, whose legal drama, Suits, was halfway through its sixth season on the air.
Still, both Prince Harry and Markle remained mostly tight-lipped on the issue, though Markle did drop a caricature-laden hint via her Instagram account just hours after the news was reported.
Whether a pair of spooning bananas was Markle's way of confirming the royal relationship rumblings is still up for interpretation — but fans certainly noted the actress' potentially fortuitous timing.
Either way, the report ignited a firestorm. Pestering social media trolls came after Markle in droves, as did hordes of paparazzi , who had supposedly set up temporary shop outside her mother's front door. The whirlwind of scrutiny escalated so quickly that, less than 10 days after the Sunday Express story emerged, Prince Harry released an official statement via the Royal Family's communications secretary that confirmed his relationship with Markle and called for an end to the "wave of abuse and harassment" that Prince Harry felt had been levied upon both Markle and her family.
Prince Harry is worried about Ms. Markle's safety and is deeply disappointed that he has not been able to protect her. It is not right that a few months into a relationship with him that Ms. Markle should be subjected to such a storm. He knows commentators will say this is 'the price she has to pay' and that 'this is all part of the game'. He strongly disagrees. This is not a game — it is her life and his.
Once again, Markle may or may not have acknowledged Prince Harry's statement via a well-timed Instagram post after the statement was released, in which she shared one of Mahatma Ghandi's famous wisdoms.
Either way, besides a handful of public appearances, both Markle and Prince Harry remained pretty hush-hush about romance until Markle's Vanity Fair interview — almost a full year later.
Though Markle did express the couple's continued interest in keeping some elements of their private life, well, private, she assured anxious fans that their mutual discretion is only in the best interest of their budding relationship.
"This is for us," Markle told Vanity Fair. "It's part of what makes it so special, that it's just ours. But we're happy. Personally, I love a great love story."
The couple's adoring fans, it would seem, might be inclined to agree with her.