How The Original '80s 'GLOW' Made An Impact In Just A Few Seasons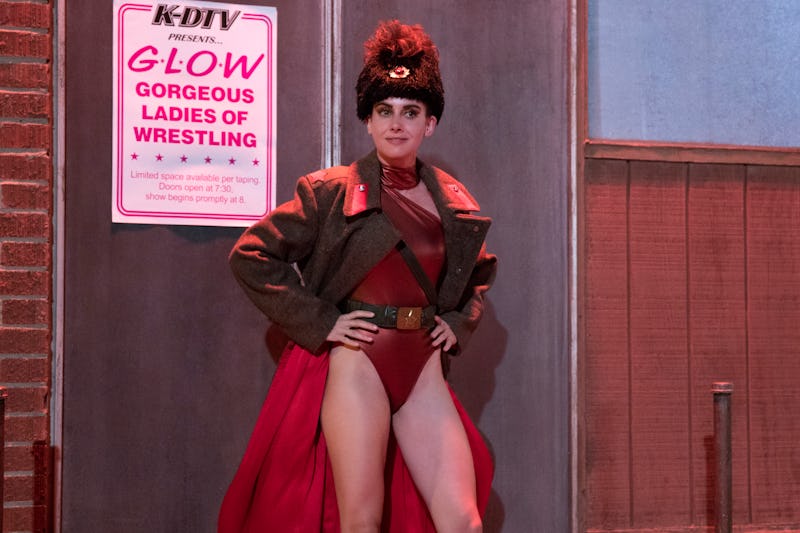 Erica Parise/Netflix
Ladies, imagine this. It's 1986. You're wearing spandex, your hair is huge, you're gorgeous, and you're wrestling. It's GLOW. The original version, that is. And since the Netflix show of the same name — a fictionalized account of the creation of the '80s wrestling program — returns for Season 2 on June 29, it can be helpful to have some context about the series that inspired it. As fans watch similar events play out onscreen, they'll want to know it all, from when the original GLOW was canceled to who its stars were.
As a primer, the original Gorgeous Ladies of Wrestling was created by David McLane and began airing in 1986. McLane told Vulture about the moment he had the idea for GLOW, which occurred at a World Wrestling Association live show that he was announcing:
"We had two women in the ring: Princess Jasmine vs. Candi Devine.... I told [Candi] to pick up a bottle of water — it was a pretty big one — next to my table and… throw it in Jasmine's face.... They proceeded to wrestle, and that was the very first time in the history of my life I was yelling, 'Security! Security!' The crowd was hysterical. I asked the crowd, 'How would you like to see these two girls wrestle in a rematch?' [They] went wild. Then I yelled, 'How about we put them in a steel cage? Two women in a steel cage for the first time in the history of wrestling!' The crowd went even more wild."
Per Vulture, he found a home for GLOW with distributor Independent Network Incorporated and was introduced to both co-owner and financier Meshulam Riklis and GLOW director Matt Cimber. The Las Vegas Review-Journal reported that McLane was only 24 when he began shopping the women's wrestling show around. However, he ultimately left GLOW after two years due to creative differences, per the Review-Journal, and many of the women left along with him in solidarity.
According to Inverse, GLOW was financed by Meshulam Riklis, who owned the Riviera Hotel in Las Vegas, where the show was filmed for the first three years. However, in 1990, about two years after McLane's departure, GLOW hung up its sparkly leotard for good. Per Inverse, Riklis suddenly pulled his funding, and the gorgeous ladies wrestled no more. The show and all its glitz and sweat were later captured in Brett Whitcomb's 2012 documentary, GLOW: The Story of the Gorgeous Ladies Of Wrestling.
Although the show only aired for four years, GLOW still introduced audiences to female wrestlers like Hollywood (Jeanne Basone), Mt. Fiji (Emily Dole), and Babe the Farmer's Daughter (Ursula Hayden), among others. What's more, GLOW also featured Sylvester Stallone's mom, Jackie, who appeared in the show as herself. "I'm Mama Stallone, listen to me sing," she raps in one of GLOW's bizarre opening numbers. "My girls are champions in the ring. They're on the go, they never stop. That's why they're headed for the top."
However, as the Netflix show implies, the original GLOW was filled with racist stereotypes and sexist, one-dimensional portrayals of women. "I would have turned the clock back on several of the characters and plotlines," McLane told Vulture. "But the wheel was rolling at such a fast pace that there were some things I couldn't keep a finger on."
Although Netflix depicts the wrestling women as feminist trailblazers, the original show wasn't always challenging the status quo. "Maybe because I looked at it through a 25-year-old kid's eyes, I did not see the costumes that we were putting the talent in as overly sexual or exploiting sex really at all," McLane told Vulture. "The climate of the '80s was the Jane Fonda, high hip leotard.... If you look at it, every girl had the big hair and the leotard that went straight up their butt."
And even though many of the wrestlers were portrayed as offensive stereotypes in skimpy outfits, the co-creators of Netflix's GLOW, Liz Flahive and Carly Mensch, still took inspiration from the women. "Empowerment versus exploitation: they were both there," Flahive told Vanity Fair. "That's what makes it interesting."
Even so, the female stars still wielded a lot of power. "The male gaze, how it was shot, or decisions that were made: that was all happening alongside the fact that these were badass women doing very cool things," Mensch said in the same Vanity Fair piece. "But we like that it's messy, that it's not completely clear how to feel about it."
That power is not lost on the stars themselves, either. "I can't tell you how many times I've heard 'You changed my life,'" Deanna Booher (Matilda The Hun) told the Huffington Post about the effect that GLOW had. "We were the first time they'd seen powerful women in all the shapes and sizes and races that they saw them in that were beautiful, feminine, strong, smart, and funny."
The original Gorgeous Ladies of Wrestling has been off the air for 18 years, but its small outfits, big hair, and bigger personas live on in Season 2 of GLOW on Netflix.