ColourPop Is Launching Eyeshadows That Basically Look Like Jiggly Pudding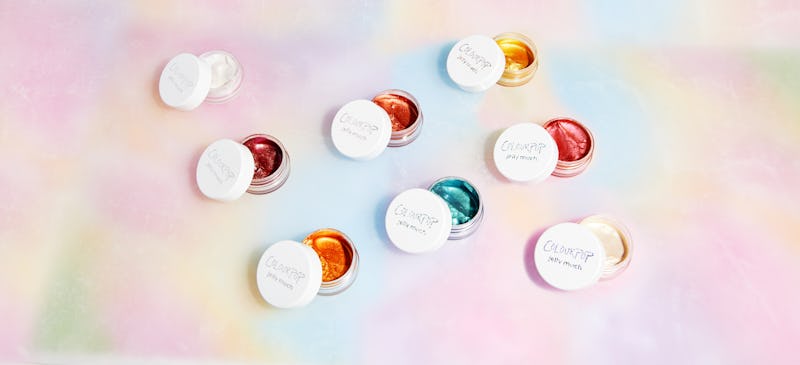 Courtesy of ColourPop
Sometimes, the beauty industry just feels saturated. Whether it's pressed highlighters or a plethora of brow products, there's a lot of overlap. One brand, though, is changing up the eyeshadow game. ColourPop's new jelly eyeshadows are the ultra cool and kind of quirky beauty products you've been longing for, and you won't have to wait too long before you can get your hands on them.
UPDATE: According to ColourPop, the brand has moved up their launch date to Aug. 16, and shadows will retail for $8 a piece.
Like highlighters, eyeshadows and eyeshadow palettes are kind of a dime a dozen. From YouTubers' brands to luxury beauty, it seems like a new palette or set of shadows is dropping every single week, and they're almost always pressed powder. Perhaps that's why ColourPop decided to throw a wrench in the eyeshadow game and get their innovation on.
What was the inspiration for a jelly eyeshadow, though? After all, it's not something you see every day. ColourPop actually has a great reason. Have you ever wet your brush to get greater color pay-off on a metallic, duo-chrome, or holographic eyeshadow? If you have, ColourPop's new Jelly eyeshadows basically let you skip that step and go straight to intense pigment. Kind of brilliant, right?
One swipe of these new jelly beauties, and you've got the pigment of your dreams.
How? The new Jelly Much eyeshadows are actually 50 percent water. However, it's so much more than that. The new ColourPop creations also feature reflective pearls to give them their intensity. Plus, they're infused with the brand's long-lasting secret: their non-creasing, transfer-proof formula that will have you slaying your eyeshadow look all day long.
When can you get the new creation from ColourPop? It's coming so soon! According to the brand, the Jelly Much eyeshadows are set to launch on Aug. 17 which means you don't even have to wait a week before you get to purchase these ultra-fun shadows.
As for the price, there's been no word. However, if you've shopped ColourPop in the past, you know that they've got a reputation for creating bomb products at an ultra-low price. Their Super Shock Shadows and Pressed Powder Shadows retail for $5 each, and their liquid shadows are only $7. If you're curious, you can probably expect Jelly Much to retail for around this same price point.
How do fans feel about the latest creation from ColourPop? They're definitely intriqued.
Even those who don't often wear eyeshadow are longing for these beauties.
People are stoked to try applying them, too.
Plus, they've already got some favorite colors.
If you're already a fan of funky, fun products (like other jelly goods like Farsali's Jelly Highlighter), then the new Jelly Much shadows from ColourPop are going to be right up your makeup alley. With eight shades in duochrome and holographic colors, they're a serious party on your eyes, adn the best news, you don't have to wait long to snag them.
Mark your calendars for Aug. 17 because these beauties are coming at you fast, and you don't want to miss them.