Shop Kylie's Velvet Liquid Lipsticks On This Day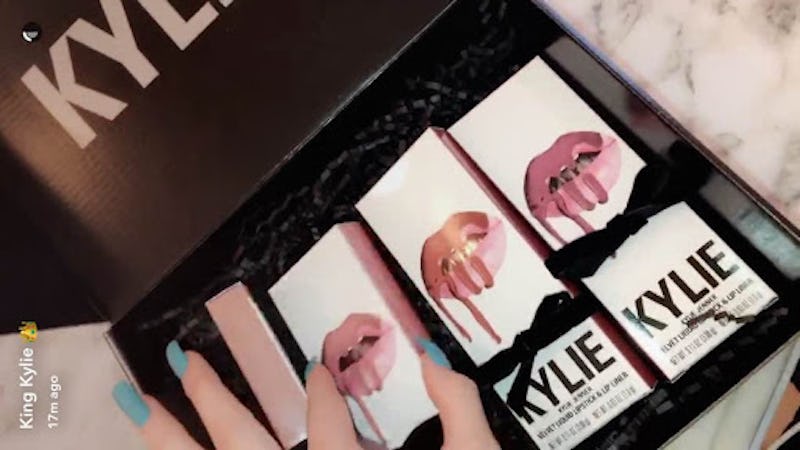 If you aren't already following Kylie Jenner on Snapchat, then you need to add her now. The makeup mogul, known as @kylizzlemynizzl on the social media app, has been known for making her Kylie Cosmetics announcements on the platform, and Friday night was no exception. Jenner just announced the release of her Kylie Cosmetics Velvet Liquid Lip Kits, and you can bet fans are going to go wild over them.
If you're a fan of the original Kylie Cosmetics Matte Lip Kits, but aren't a fan of how they leave your lips a little on the dry side (a side effect of any matte lipstick, naturally), then these are the lip kits for you. You can get your hands on these creamy, non-matte lippies on March 16 at 3 pm PST online at Kylie Cosmetics.
The Velvet Liquid Lip Kits are definitely not matte by any means, and they're not glossy either. They've got more of a satin finish, but aren't sheer. Jenner expressed in her announcement that she created them for all her girls who prefer to wear something with a little shine. Starting out with four perfect shades including Charm, a neutral pink hue, Harmony, a little bit of a darker pink, Dazzle, a neutral berry, and Rosie, a muted burgundy.
If you've been stocking up on all her products, whether it's her original lip kits, the Kyshadow, Kylighter, or any of her bundles, you definitely don't want to miss out on these.
A little preview of the packaging.
Who's pumped for these?
Almost like a mauve.
The perfect everyday pink.
Add a little drama with Dazzle without getting too dark.
The Rosie shade is just everything for me.
Here's the announcement straight from her Snapchat! Set you alerts!