This Is The Precise Time You Need To Be Ready To Score Spice Girls Tickets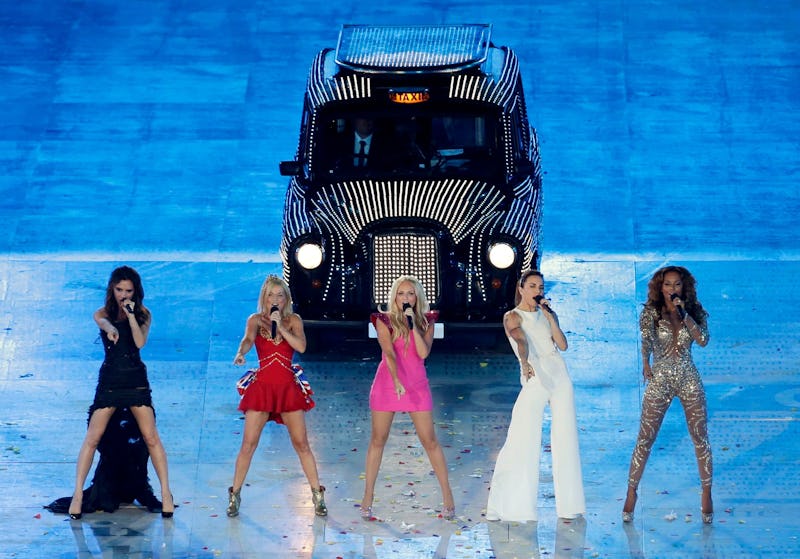 Hassan Ammar/AP/Shutterstock
Stop what you're doing and stay calm — the Spice Girls reunion is actually happening! After countless rumours over the past few weeks — and Mel B's jokes Halloween costume — a tour announcement was made at 3 p.m. on Monday 5 November. Kinda brings a whole new meaning to "remember, remember, the 5th of November," am I right? But what I really really want to know is when do Spice Girls reunion tour tickets go on sale?
Speculation was at a fever pitch after rumours had been swirling for days. Just this morning, The Sun published the first picture of the girls together, and that alone sent the internet into a frenzy of excitement. Then came the confirmation that the reunion tour was actually happening, made via this hilarious video, and it was at that moment that fans across the country — and the world — collectively lost their minds, including yours truly.
The Spice Girls will embark on a 6-date tour across the UK, including one night at Wembley Stadium. I mean, talk about iconic. Tickets will go on sale at 10:30 a.m. on Saturday (Nov. 10) via Ticketmaster, so set your alarms because I'm more than certain these tickets will sell out in a flash.
Emma Bunton was the first spice girl to comment on the news, revealing that "everything will be announced just after three o'clock today on social media," during Heart Radio's morning show with co-host Jamie Theakston. You've gotta commend her for keeping her cool while Theakston was trying to get her to reveal more info — I would have totally blurted everything out there and then thanks to my lack of self control.
The Spice Girls are known for making a spectacle — I mean, who could forget their performance at the 2012 Olympics — so the fantastic video that came with the announcement certainly didn't come as a surprise. Even though Posh Spice's absence is pretty noticeable (more on that later), the humour in the mock news bulletin brings some serious Spice World vibes for sure.
The end of the video then revealed the dates across the UK, and that tickets will go on sale at the end of this week. The dates are as follows:
Saturday 1 June: Manchester Etihad Stadium
Monday 3 June: Coventry Ricoh Stadium
Thursday 6 June: Sunderland Stadium Of Light
Saturday 8 June: Edinburgh BT Murrayfield Stadium
Monday 10 June: Bristol Ashton Gate Stadium
Saturday 15 June: London Wembley Stadium
But what's all this about five becoming four? The speculation that Victoria Beckham would not be a part of this reunion seems to sadly be true, as The Sun reported that she will be focusing on her fashion label instead of embarking on the reunion tour with Scary, Sporty, Baby, and Ginger Spice.
Even though Posh didn't take part in the tour announcement, that doesn't mean that she won't officially be taking part in the long run. Who knows, maybe all the excitement surrounding girl power making a comeback will change her mind. C'mon, Victoria, say you'll be there.
Whatever happens, the fact that four of the five flavours of Spice are coming back is more than enough to fulfil my nostalgic needs. Plus the video revealed Jess Glynn while be joining them, so sign me up.