Arizona's Last 'Grey's' Episode Is Quickly Approaching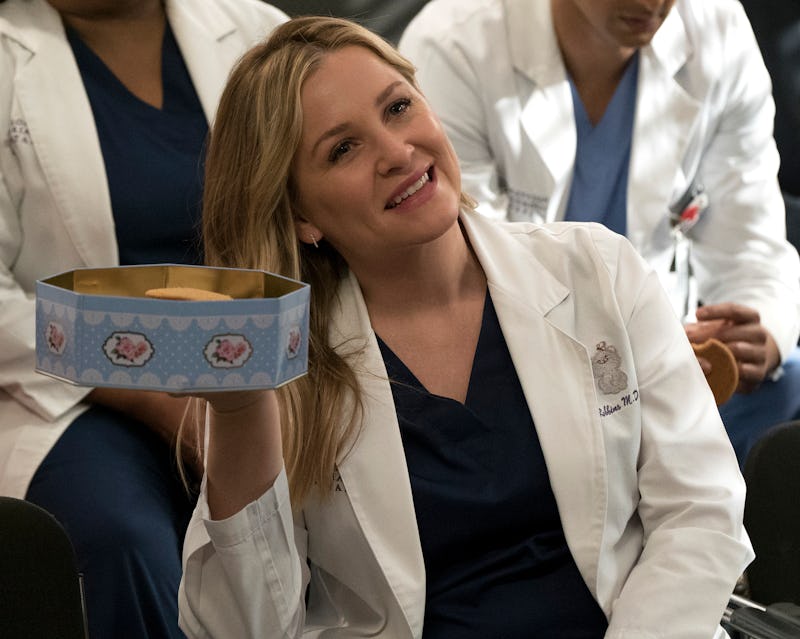 Byron Cohen/ABC
Us Grey's Anatomy fans are all still grappling with the news that Arizona Robbins and April Kepner are leaving the show at the end of Season 14, and then, as every episode inches closer to the finale, we get a better idea of where our favorite characters will end up. When does Arizona leave Grey's Anatomy? Well, right now, that's a bit of a blurry answer.
On the April 19 episode of Grey's Anatomy (which is the 20th of 24 episodes for Season 14), Arizona had this big revelation that she loved Carina. Everyone got high (accidentally) off of some marijuana cookies that a patient accidentally brought in for Arizona, and, during the time in which all of the doctors were letting their highs wear off (they obviously couldn't continue with their surgeries), there were some interesting conversations. Bailey talked about how she sold her entry into the medical contest, dubbed the Trailblazer, to a sex toy company (get that money, girl!). Alex ate Cheetos and looked for rickets in a baby, Deluca cried about Sam, Maggie waxed poetic about cheese, and Arizona accidentally said "Callie" when she meant "Carina." But don't get excited, Calzona fans.
Arizona muttered Callie's name in a soliloquy about relationships — who she loves, how she feels, who makes her feel what. And it turns out that, although Callie and Carina are very different people, they both make Arizona feel the same way — in lurve. The whole thing ended with Arizona sharing a passionate smooch with Carina, which doesn't seem like an obvious way for a character to end 10 years on a show, but then Jessica Capshaw, who plays Arizona, sent this mysterious tweet.
Uh, can we get a clarification here? This one tweet sent fans into a tizzy.
It's totally fair to be confused, because Season 14 Episode 20 is not a place where Arizona can end her story — she needs to go until the end of the season. Or at least when we have some verbal explanation of where she's going! There's no official word on when Arizona's last episode is, let's say that. But as it stands right now, it seems it was her series wrap on filming Arizona Robbins and not airing Arizona Robbins. After all, according to Entertainment Tonight, Capshaw was filming all the way up until April 19.
Shonda Rhimes confirmed as much on Instagram:
"Today, in the midst of scheduled mania of #scandal series finale, two beautifully talented women filmed their last scenes at #greysanatomy. Having these things happen at the same time is almost impossible to process. I need to devote a whole day just to celebrate Jessica and just to celebrate Sarah. To tell you stories about their talent and to tell what I know about what their roles have meant. A social media post won't cut it and I will not minimize their magic by pretending it will. I have more to say. I will do so. For now I will just say how lucky we were to witness their talents and the magic they brought to their characters."
Arizona deserves a sendoff worthy of her character, one of the most important and relatable LGBT characters in television history. When April and Arizona's departures were announced, Grey's Anatomy creator Rhimes made it seem like these two characters would get their due. In a statement, according to Deadline, she said:
"It's always hard for me to say goodbye to any of my characters. Both Arizona Robbins and April Kepner are not only beloved but iconic — both the LBGTQ and devout Christian communities are underrepresented on TV. I will be forever grateful to both Jessica and Sarah for bringing these characters to life with such vibrant performance and for inspiring women around the globe. They will always be a part of our Shondaland family."
Showrunner Krista Vernoff echoed these sentiments, via Deadline:
"The characters of Arizona and April are permanently woven into the fabric of Grey's Anatomy thanks to the extraordinary work of Jessica Capshaw and Sarah Drew. As writers, our job is to follow the stories where they want to go and sometimes that means saying goodbye to characters we love. It has been a joy and a privilege to work with these phenomenally talented actresses."
So show off that joy and privilege with one heck of a sendoff! Arizona deserves more than a big smooch as her endgame — she has to say goodbye to Alex and Bailey and Richard! We have to know what's going to happen with Sofia! There are just so many ends untied right now, and although Arizona's last episode of Grey's Anatomy is quickly approaching, the April 19 episode could not have been it.