All The Questions 'Arrow' Needs To Answer When Season 7 Returns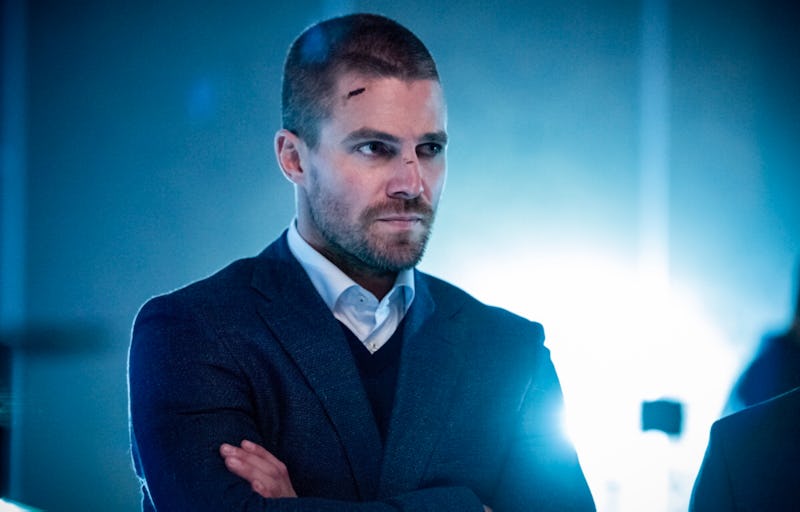 The CW
The Arrowverse Elseworlds crossover is upon us, which means that, after its three-night run, it'll be another year before we see all the heroes in one place. That being said, Arrow Season 7 will return after the holidays, as many of the other Arrowverse programs will. So, there won't be too much of a lull for fans desperate for the next chapter.
ComicBook.com reports that Arrow will return on Jan. 21 at 8 p.m. Supergirl and The Flash will be back on-screen around that time as well, hitting the schedule on Sunday, Jan. 20 and Tuesday, Jan. 15, respectively.
Viewers will likely be chomping at the bit to see what happens next on all of these shows, and particularly on Arrow. In a huge midseason twist, it was revealed that the new Green Arrow is Emiko Queen, Oliver Queen's half-sister. Her name isn't explicitly mentioned, but according to ScreenRant, a previously leaked title for the midseason finale revealed that it was meant to be called "My Name Is Emiko Queen," so it's safe to assume her identity.
Entertainment Weekly called the midseason finale the strongest episode of the season, and fans on social media were similarly excited by the appearance of Emiko.
Also per EW, Emiko is Robert Queen's daughter, which means she shares a dad with Oliver. Emiko is apparently a relatively new addition to the DC comic books on which Arrow is based — in the source material, she's the result of an affair Robert Queen has with Shado. Emiko in the comics is raised by Robert's enemy, Simon Lacroix (aka Komodo), who instilled in her a hate for the Queen family. Eventually, though, she and Oliver became allies.
Emiko's story in Arrow, however, will likely vary from what the comics originally intended. EW reports that because Robert died before Shado was introduced, it doesn't appear that Emiko could be the result of the same affair. Fans learned very little about Emiko's character on the show through the few times she was on-screen in the midseason finale, so plenty of questions, including who her mother is, are still up in the air.
The midseason finale seems to have people excited, and fans are thrilled to see more of the comic book lore making its way into the series. "Really good episode. I love seeing characters interact more intimately with each other. The ninth circle is exciting and I hope they give them the scary look they should have," wrote Reddit user lucastripp. "I really like that they are pulling from more recent comics some [because the] Green Arrow run has had some really good stuff the past few years."
And Emiko and Oliver's relationship is one that people are eager to see pan out. "I'm excited about the prospect of a [Green Arrow vs. Green Arrow] fight, but in terms of their relationship, I have a feeling that they might start off with some bad blood because of their parents," wrote another Reddit user, Flippant-Penguin. "But I'm excited to see what kind of developments we can see between them."
Once the dust settles after the Arrowverse crossover, fans will just have to wait a little over a month to see how Oliver and Emiko's story will evolve. No matter what happens, it's bound to be interesting.