Jojo Fletcher Is Launching A Clothing Line So You Can Dress Like A Bachelorette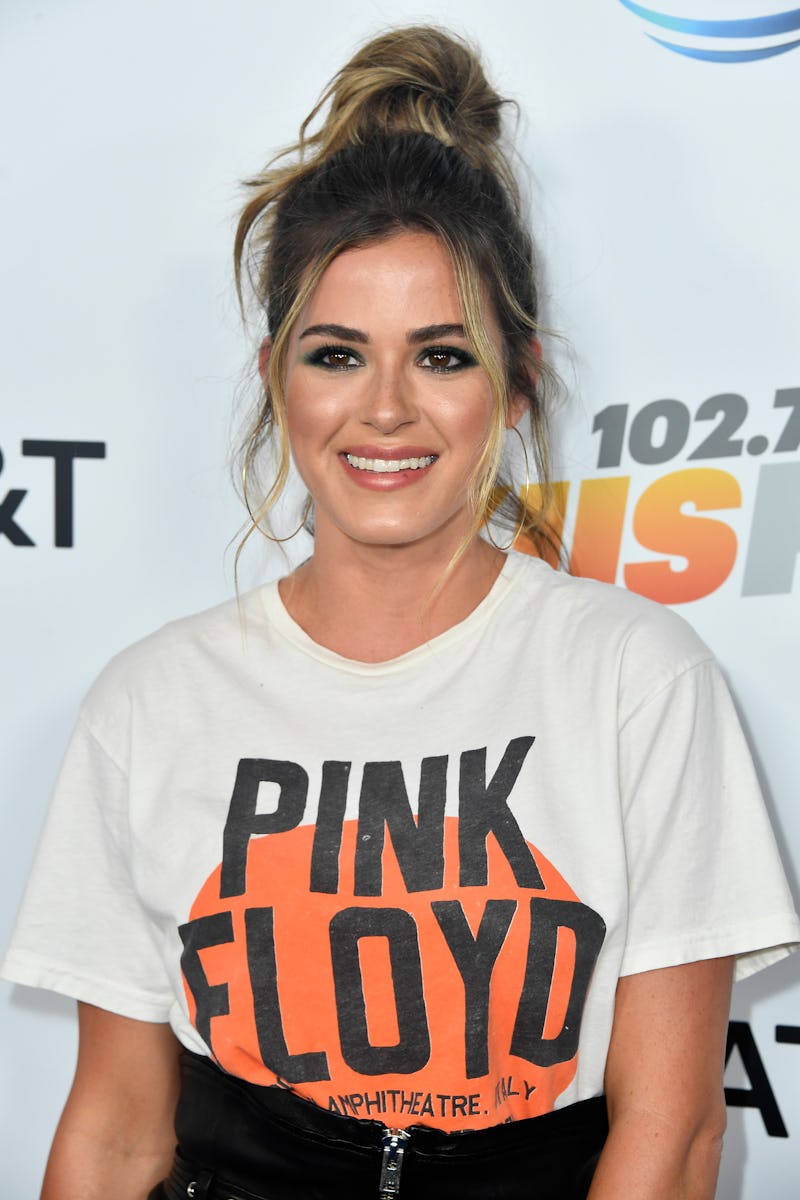 Frazer Harrison/Getty Images Entertainment/Getty Images
There's no better way to head into summer than with a new fashion brand to shop. According to her Instagram announcement, Jojo Fletcher created a clothing line called Fletch, and it will be here before you know it. The line shows sneak peeks of summer prints and flowy tops, so you might as well just get your wallets ready now.
Let's just get this out of the way right now. Fletch will be available to purchase on June 13.
The Bachelorette star hasn't shown off any full looks yet, but the sneak peek print on the brand's Instagram page is very promising. The nine-square Instagram photo shows Fletcher wearing a pink, yellow, and blue floral print, one-shouldered top completely with ruffles and ties and everything nice.
That's not the only outfit that Fletcher has given a sneak peek on, either. The welcome message on the brand's website shows a bright red, strappy dress that is guaranteed to get you a rose at any rose ceremony.
Pretty much everything else is under-wraps for now. The price and full spread of items is being kept a secret. In fact, Fletcher has yet to post about the line on her personal Instagram account. She has shared a tiny sneak peek announcement in her Instagram Stories, though.
"Each piece was designed with so much thought and love and I am so excited to get to share it with you all," she says in her Instagram Stories caption.
From the first looks of the line, this seems to be a collection os super feminine prints, flowy tops, and a sprinkle of structured evening looks. Basically, the classic Fletcher style that you already know and love. Typically, the Bachelorette star sticks to DIYs and home renovation posts, but a clothing line is not too far-fetched.
If you're looking to get more information on the brand, you can sign up for the Fletch news letter on the brand's website. The site hasn't officially launched yet, but, according to the message on the site, people that have signed up for the newsletter will be the first to know about launches and new items.
The photos that haven been posted on the website have show clothing and accessories all in one shot. Fingers crossed that this means both are on the way from the Bachelorette boutique. Fletcher did show a photo of clothing swatches and sketches that could give a little more info about the line.
If the above sketches are any indication, there are plenty of casual and chic outfits to come from the brand. While the colorful outfits are eye-catchers, there's a good chance that those black and white "Fletch" shirts will become a whole lot of peoples' summer staples. After all, who doesn't love a good graphic tee.
Celebrity clothing lines are nothing new to the fashion world. It seems like almost every day a new celebrity-centered fast fashion brand pops up. It's unclear to see how Fletchers will stand out from the rest with just a few items. Bustle reached out to the brand to see how much say Fletcher had in the collection as well as what plans are for the brand in the future.
This is one fashion line that isn't based on the television show. Instead, it's a creation that bloomed as a result of her being on the show. Unlike your typical punny tees that you can buy on Etsy, this is a a full-fledged clothing line.
Bachelor Winter Games contestant Dean Unglert also has a clothing line. Instead of it being a boutique-style layout, he just sells shirts that feature his dog. His pet has become well-known with his fans, so the theme makes complete sense.
Mark your calendars, my friends. Because there's a whole lot of adorable looks on the way.