'Baskets' Fans May Have A SUPER Long Wait For Season 4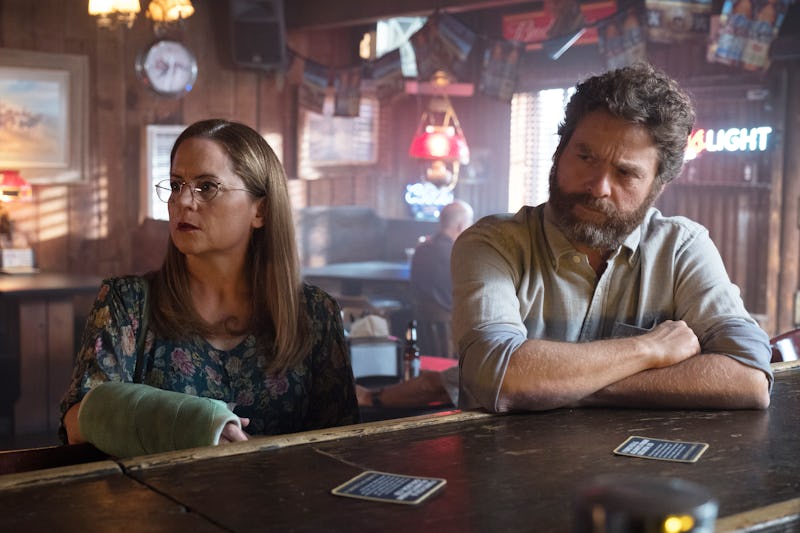 SOURCE: Colleen Hayes/FX
For fans of TV shows with smaller audiences, the wait to hear whether or not your favorite show will make it to another season can be tough. But viewers who love Zach Galifianakis' FX sitcom can breathe a sigh of relief. Baskets will return for Season 4, Galifianakis shared in an interview with Collider earlier this month. A good portion of the conversation was devoted to the actor's appearance as the Happy Medium in A Wrinkle in Time, but the comedian also shared good news about his show's future.
"We're gonna do Baskets again. That's coming back," Galifianakis said to Collider. "I don't know if they've let that be known, but that is coming back." Based on what else the actor shared with Collider, it sounds like further details about Season 4 are still up in the air. Here's what he said to Collider about the new season:
"I know what I want to do for the next season. Whether that will survive in the writers' room, I don't know. I come in with my ideas, and they talk me out of it, even though it's my show."
The comments were likely part of Galifianakis' sarcastic humor style, and not an actual dig at the show's writers. Baskets has a knack for taking its characters in unexpected directions, and there are any number of ways Chip and Dale's (the twins Galifianakis plays on the show) storylines could go in Season 4. (It also looks like Galifianakis might know more than his costars about the show's future. In a Los Angeles Times interview published last week, Baskets actor Louie Anderson said "they haven't picked up Season 4 yet.")
Baskets' third season was also the first in which Louis C.K. didn't serve as an executive producer. FX severed ties with C.K. after he confirmed in November that the sexual misconduct allegations against him were true.
Tuesday's episode will be the Baskets Season 3 finale, with each season of the FX series having 10 half-hour episodes. There's a lot of unresolved tension in the Baskets family ahead of the finale, so there's no shortage of directions the show could decide to take things moving forward. Dale has decided to leave Bakersfield, only to return with a new fiancée. Ken is reluctant to go back to Denver, though Christine asks him to after he slaps Dale. And Chip is working on a new character, Dill Pickles, after his French clown persona, Renoir, fails to connect with American audiences. So there's a lot for the show to work with moving forward.
As far as Season 4 goes, at least one thing is for sure: The upcoming set of episodes is bound to include plenty of references to Costco (and probably Arby's, too). Christine's favorite store — and Martha's place of work — always seems to find its way into the show's storylines. Last week found Christine and Chip buying a fake Christmas tree at the warehouse club and deciding to throw Martha a birthday party upon learning her coworkers don't know who she is. And even though Christine chose to open the Baskets Family Rodeo instead of an Arby's franchise, the fast food chain still makes its way into the show from time to time.
The bad news, though, is that fans might have to wait longer than they'd like for the fourth season. Sources claimed to RenewCancelTV that Baskets Season 4 likely won't air until 2019, which makes sense, given Galifianakis' statements in the Collider interview. Still, a renewal is good news for fans of the show. And if the first three seasons are any indication, Baskets could go in a whole new direction for the fourth season, depending on how Tuesday's finale goes. Anything's possible in Bakersfield, at least for the Baskets family.