Get Ready For Benefit's Galifornia Pink Blush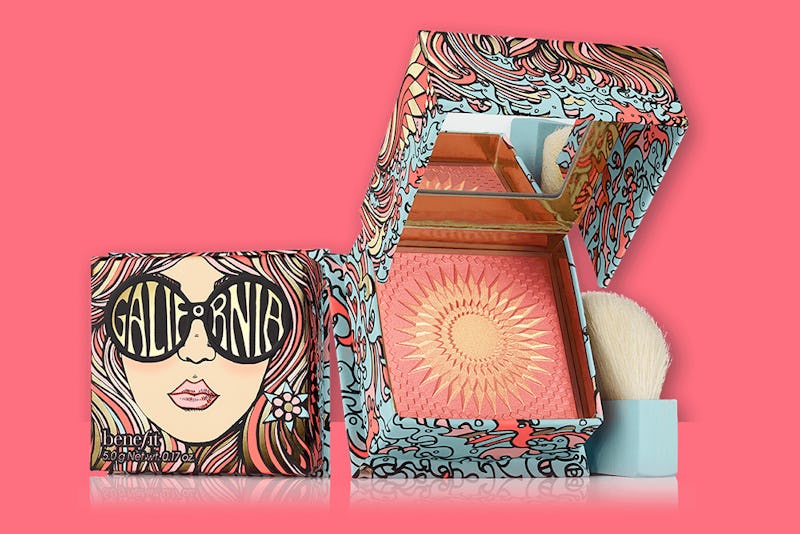 If you're dreaming of something that reminds you of summer during this cold weather, you're going to love Benefit Cosmetics' new Galifornia Blush, a new golden pink blush reminiscent of '70s California vibes. How cute is that name?
With a mixture of the perfect amount of shimmer and warmth, this blush will give you that summer-inspired glow that seems so far away. It's a powder blush that Benefit is calling "California sunshine in a box," and I can only imagine why!
GALifornia Sunny Golden Pink Blusher, $29, Sephora
But when will you be able to buy the Galifornia Blush? Unfortunately you're going to have to wait for that fresh glow for just a few more months as this new blush isn't launching online until March 21. However, you will be able to get the blush much earlier online because it won't be released to Sephora, ULTA Beauty, Macy's, or Belk stores until April 7. There's no word on pricing yet, but the blush is already listed on the Benefits Cosmetics UK website for £24.50 so it will probably be around $30 USD.
What's even better about this blush is that it comes with a custom rounded blush brush and a mirror inside the blush's box, which makes applying it that much easier.
Fans are freaking out with excitement!
I can't wait!
It looks gorgeous on!
Even other people in other countries are in love!
While you wait for what looks like one of the best blushes to try, keep up with Benefit Cosmetics on social media because you never know when products may be released earlier!