Benefit's New Brow Collection Is A Gamechanger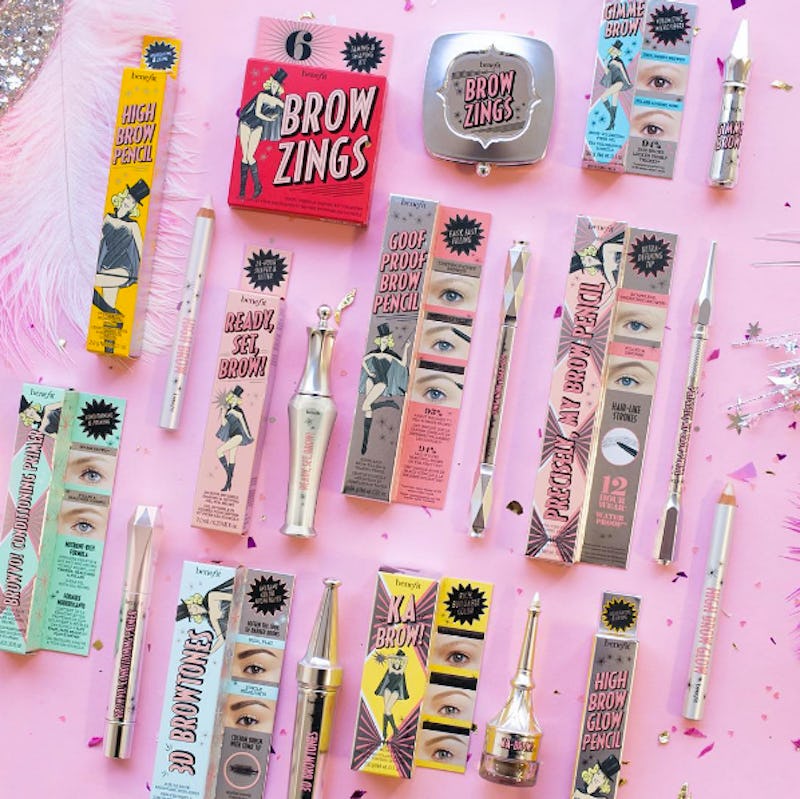 Eyebrows are undergoing a beauty renaissance right now, and long gone are the days of over-plucked '90s brows. Right now it's all about bold, full brows, and I've been on a years-long quest to make my super light, sparse brows look more dramatic using the aid of everything from brow tinting to what feels like every brow product under the sun. I've always been a fan of Benefit's cosmetics, but their brow products in particular are amazing. So when the cosmetics company announced it was coming out with a revamped brow line full of new products, I had to know: Is Benefit's new brow collection worth it? I'll save you the suspense — it's totally amazing, and I'm going to tell you why.
Click Here To Shop Benefit's Brow Collection
In case you missed the launch of Benefit's new brow collection, I'll fill you in on the details. The cosmetics company has always been dominant in the brow industry, particularly with its cult favorite Gimme Brow volumizing eyebrow gel, which I've been obsessed with for a couple years now. But this summer, Benefit released an entirely revamped brow line, and it's seriously amazing. From new packaging for classics like Gimme brow to all new products, it's seriously the complete package.
It includes a whopping 16 products, and I promise Benefit has a solution, no matter what your brow dilemma is. From clear brow gels for those of you lucky enough to have naturally dark brows (jealous!) to a bunch of pencils, gels and volumizing products for those of us a little less eyebrow endowed, you'll find what you need.
I mean, look at all of that. When I visited a New York Benefit Brow Bar a few weeks ago to try out brow tinting for the first time, I was lucky enough to try out a few items from the collection, and I have to say — I'm hooked. For some context, my brows are naturally blonde thanks to being a childhood blonde (which has slowly faded to light brown), and they have some sparse patches. In other words, I wear some sort of brow product nearly every day so that my brows don't disappear into my face.
When I turned to the experts at Benefit to help out with my too-light brow situation, they shaped, tinted and applied product to perfection, so I actually looked like I had the defined, full brows of my dreams.
Three or so weeks later, the brow tinting has started to fade, but I'm still just as obsessed with the brow products from the new collection they sent me home with to try out. As someone who used to be a "swipe of brow gel and go" gal, I've turned my brow routine into a three-step process, and I have zero regrets. Here's what I've been using every day to transform my brows.
Goof Proof Eyebrow Pencil, $24, Benefit Cosmetics
I love the angled tip on this new brow pencil, which has a thin edge for making super light strokes and a flat edge to fill in. I use the "3" shade, which is designed for light to medium brown hair and redheads, and it's the perfect shade for me. Because my brows are so light, I always used lighter brow products for a more natural look, but it makes such a difference to use a product that's actually the same color as my hair. The brush on the other end of this pencil is perfect for brushing your brows, distributing color evenly and getting ready for the next step.
Gimme Brow Volumizing Eyebrow Gel, $24, B enefit Cosmetics
Gimme Brow is a longtime beauty junkie favorite for a reason, and this formula (of course) doesn't disappoint. You can use a light touch with this super pigmented formula, but it somehow manages to tint, define and volumize your brows all at once. Again, the "3" shade, for light to medium brown hair, is perfect for me (despite me thinking it may be too dark at first).
High Brow Eyebrow Highlighter, $22, B enefit Cosmetics
This highlighting pencil was my surprise favorite from the products I tried, and I still can't believe how much I love it. The linen-pink pencil has a super soft texture, so it goes on smoothly and is easy to blend. It's also super matte, which is perfect for someone like me who doesn't really love shimmer. I swipe this under my brow bones, on the inner corner of my eyes and in my water lines, and it makes my whole eye area look brighter and more awake.
Most products in the Benefit brow collection range from about $15-25, which is pretty much par for the course with other specialty store brow products. I for one think this collection has the best, most comprehensive selection of products out there and is totally worth it.
Click Here To Shop Benefit's Brow Collection
Images: @benefitcosmetics/Instagram; Courtesy of Brand