Expect Some Life-Changing Shenanigans In 'B99' Season 5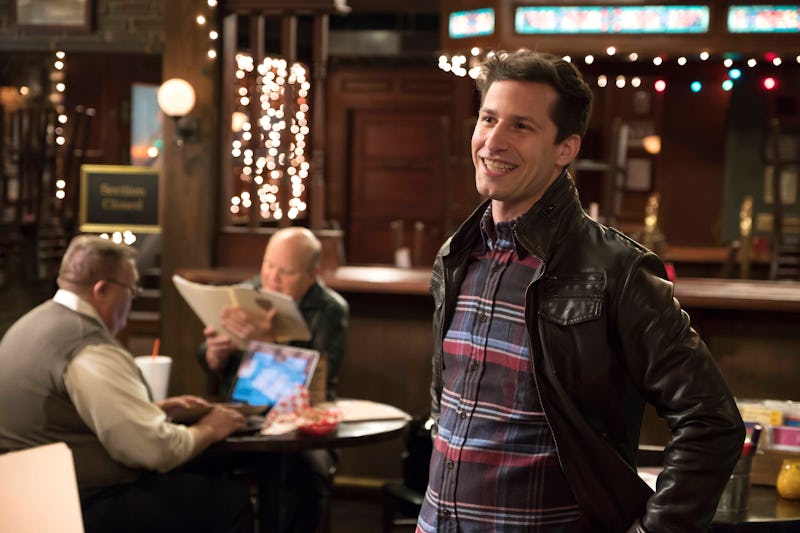 John P Fleenor/FOX
Like many beloved network sitcoms, Brooklyn Nine-Nine is beloved by fans, but has not always been a sure thing. The critically acclaimed sitcom has been moved around the Fox schedule multiple times, which is not a definite sign of danger but never the news you want to hear about what should be a long-running series. Thankfully, Brooklyn Nine-Nine was renewed for Season 5, according to Deadline. And it will premiere sometime in the fall on Fox. No specific date has been announced yet, but the series will still air on Tuesdays.
What fresh twist will the Season 4 finale have in store? Will Jake and Rosa end up in jail? Brooklyn Nine-Nine is definitely more serialized than your average network workplace sitcom. They're not afraid to mess with the world a little and keep those dramatic stakes high.
The hour-long May 23 Season 4 finale features the return of Adrien Pimento, a Mr. Robot-like hacker, and also "admits" that Gina, like actor Chelsea Peretti in real life, is pregnant. The actor wasn't just hiding her bump behind a desk like so many other TV shows have done. The character was hiding a pregnancy. Gina's not quite as private as, say, Rosa — but that totally checks out and makes for a funny reveal.
Presumably, the identity of the baby's father and how motherhood affects Gina could come into play in Season 5. Hopefully fans will also meet more of the precinct members' parents. That's always fun, and only about half of the cast has gotten to welcome (always exciting) guest stars to the show as their folks.
Thankfully it's just a summer break for Brooklyn Nine-Nine. Whatever comedic cliffhangers the show has in store will be resolved in no time.