Desna Will Go Deeper Into The Underworld In 'Claws' Season 2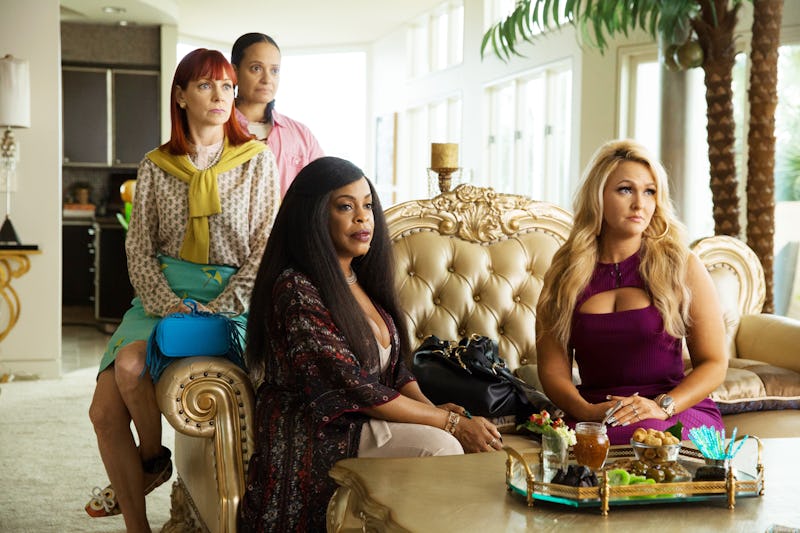 Doug Hyun/TNT
The first season of Claws has set up some major cliffhangers for the Aug. 13 season finale, and Desna's nail business is in serious danger. But there's one thing that deflates a bit of the tension, and that's the news that Claws will return for Season 2. The Hollywood Reporter broke the news in July that TNT renewed Claws, which was averaging over six million viewers an episode. But when will Desna (Niecy Nash) and the rest of the crew be back on TV?
UPDATE: TNT announced in April that Claws Season 2 will premiere on June 10.
EARLIER: Those Season 1 ratings are impressive, so it's no wonder why the network decided to bring the show back. TNT's statement dropped when the series was only halfway through its first season, so it doesn't reveal much of anything about the show's detailed future, including any new cast members, or any other spoiler-y hints. But the THR piece does indicate that Claws will return in 2018.
A statement from TNT programming VP Sarah Aubrey shouts out the Claws' cast for representing "the diverse voices this network is all about," so that should mean that the show will continue to put a variety of women in front and behind the camera. Beyond that, though, the future of the Nail Artisan Salon is still unclear.
While Claws is infused with plenty of humor, the show's dark core has increasingly threatened Desna and Polly's money laundering enterprise over the course of the season, and nearly killed Desna's on-again, off-again love interest Roller in the penultimate episode.
There are a few comments from the show's stars and writers that could hint at the direction of the future season. For example, star Niecy Nash made a guest appearance on an episode of Netflix's Chelsea to talk about how there are still significant gaps of representation in television, even with series like hers. "What I get all the time now is 'Well, because of Taraji, and Viola, and Kerry, things have changed. Now everything is okay,'" Nash said. "That is progress — and I love seeing my black and brown sisters on TV — but there are so many other women in the world besides black and white women whose stories are not being told." When asked for some examples, Nash said, "Asian women, Indian women, Muslim women — a lot of women" still need more representation.
Nash's comments could indicate that Season 2 of Claws will incorporate even more women from marginalized and underrepresented groups — if not by adding new characters, by employing some directors, writers, or other creatives behind the scenes. In an interview with Ebony, showrunner Janine Sherman Barrois claimed that, after they saw the Claws premiere, she had "directors begging to direct it if we get picked up ... everyone is like, 'I want to direct it, I want to write on it, I want to be on it.'"
In an interview with Variety from before the premiere, Barrios described Desna as "an African-American woman in such a, sort of, female Walter White-ish part." In the first season alone, Desna has broken tons of laws and cracked a few skulls, but in her heart she's still looking out for Jen, Polly, Quiet Ann, and even Virginia. Could the overall arc of the show bend towards Desna's transformation from a savvy businesswoman to a supervillain, Walter White-style? Her decision to attempt to save Roller rather than let him die suggests that she still has some humanity, but her experience as a part of the "pill mill" has only brought her closer to a plethora of still-circling villains: the police, the DEA, the Dixie Mafia, Uncle Daddy... and anyone else the show may add in Season 2.
The first season was wild enough, but when Claws returns next year, this diverse crew of female creators and performers will no doubt figure out more creative ways to push Desna and the Nail Artisan ladies into even more dangerous territory.