'Clique' Season 2 Will Feature A #MeToo Storyline — But From A Male POV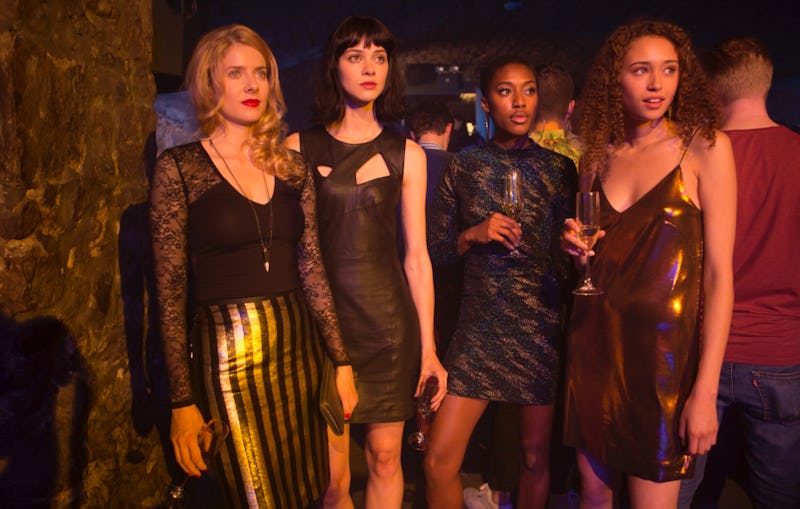 Pop TV
The Season 1 finale of Pop's new thriller series, Clique, airs Nov. 28 for American viewers, and while fans may be anxious to find out when Clique will return for Season 2, there really isn't a firm answer just yet. Season 2 (or Series 2, for our friends across the pond) already premiered on BBC Three earlier this month. And though Deadline reported in October that Pop was looking at an American release date for early next year, it remains unclear when exactly it will make its way back to the network.
As for the future of the show, there's no telling how far Clique could go, especially considering the successful hands at work behind the scenes. According to Digital Spy, the show was created by someone who knows teen TV drama like the back of her hand: Skins writer Jess Brittain. Skins ran in the UK from 2007 to 2013, and the first few seasons aired in a the states on BBC America, though in a censored format. MTV also attempted a full-fledged American remake back in 2011, but it was canceled after just one season.
Skins was a raw, racy show depicting the gritty reality of teens' lives, including sex, drugs, drinking, relationships, family trouble, mental health, and all the drama that happens when those things collide. And since its debut, Clique has drawn comparisons to its predecessor.
The BBC itself billed the series as a cross between Skins and another iconic teen drama, Gossip Girl, and teased that Season 2 gets political in a way that Season 1 did not. According to the network, the second season's "clique" is a "band of libertarian bros, waging war on their lefty counterparts" — a storyline created in response to the #MeToo movement.
"I'm reticent to say that men's stories aren't being told but I do think there is some truth in that," Brittain told BBC. "It wasn't as simple as okay, I've done the ladies, now I'll do the men. It was more seeing what was going on around me. I know men who are left-leaning and progressive, not scary Trumpian right-wingers, who feel frustrated and anxious about the narrative that has emerged as women push for change."
Brittain insisted that Clique remains a feminist show even as the narrative focuses more heavily on men, and that the protagonist, Holly, acts as a lens through which to view the more troubling parts of the story. "The fact that both men and women disbelieve women who come forward, that is a real thing," she continued. "The show seeks to show the reality and grossness and complexity of it. It would be very easy for me to put forward a correct feminist version of this story, but Clique is a thriller. Through Holly, it shows what happens if you give in and follow your grosser inner voice."
It certainly sounds like she's living up to her controversial Skins roots, but Brittain sounds like she has a clear message and intention in mind. And while UK viewers are already soaking in the new episodes, Americans will just have to wait a little longer to watch it all play out.