Courtney Act's New Dating Show Puts Bisexual Singles Centre Stage & It's SO Needed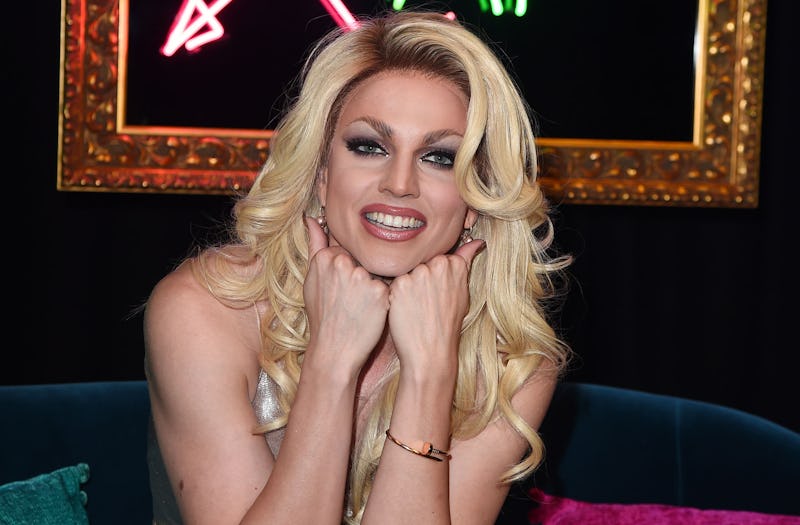 Eamonn M. McCormack/Getty Images Entertainment/Getty Images
Fans of RuPaul's Drag Race will have been familiar with Courtney Act for some time. The drag queen competed on the show in 2014 but really hit the limelight earlier this year after winning Celebrity Big Brother. Now, you can witness some more entertaining from the star as Courtney Act's new dating show has just been announced.
Famously taking over the CBB house with her educational LGBTQ+ speeches, the 36-year-old (whose real name is Shane Janek) has finally been given the chance to teach the entire nation. Come October, Act will be hosting The Bi Life. As its name suggests, the show — which will air on E! — will follow a group of bisexual Brits as they live and party together in Barcelona.
It'll be more than just a Spanish redo of Geordie Shore. Instead, the series aims to tackle the stigma surrounding bisexuality and will show the reality of dating as a bisexual individual. Ten episodes are set to air with bisexual, pansexual, and fluid people all taking part.
"It's high time there was a dating show for the large number of young people today, like me, who are attracted to more than one gender," Act said in a statement. "In 2018, we know that sexuality is fluid and sharing the stories and the experiences, the laughter and the love-making, of young bi people is so important."
The Bi Life will be the UK's first ever bisexual dating show and is particularly vital right now as the number of British people identifying as bisexual has risen by 73 percent in just four years, according to NBCUniversal International's chief marketing officer, Lee Raftery.
The series has also billed itself as the answer to Love Island's heterosexual problem. Aside from Katie Salmon and the late Sophie Gradon's surprise recoupling in 2016, the ITV2 reality show has only ever featured same-sex couples.
Producer Richard Cowles said that Love Island would be open to a "dedicated show" for LGBTQ+ individuals, as reported by Digital Spy, telling journalists backstage at the 2018 BAFTA TV Awards: "We've had bisexual people in the show. For a dating show, you need everyone to fancy everyone, so if you have gay and heterosexual in the same place, they're not going to fancy each other. Absolutely we'd consider two series a year."
But anyway, back to Act's brand new job. Thanks to her outspoken nature and the fact that she will always stand up for the queer community, the drag queen is the perfect host for such a pioneering concept.
The Australian star recently spoke to Metro about Pride, admitting that she wasn't happy with how certain brands were making money from the movement. "I think the whole conversation, generally, is moving in the right direction," she told the paper. "I see a lot of high street brands doing rainbow-inspired collections and big corporate brands doing things. And someone said to me, 'Oh, they're donating 10 percent of the profits.'"
Explaining that "that doesn't seem enough," Act added: "I don't want to sound ungrateful. And perhaps in that boardroom, the probably queer person battling for the cause started out much higher, and could only get 10 percent."
She concluded by praising certain brands' clothing collections, saying that "they're getting the message out to the wider community. If more queer things are being represented, a lot of society are influenced by these brands, so their minds may genuinely be changed."
The Bi Life won't be Act's first presenting job. In July, she announced that she will be hosting a new late night talk show. Featuring celebrity appearances and musical performances, The Courtney Act Show will air on Channel 4 later this year.
I, personally, cannot wait for the Courtney Act TV takeover. Brace yourselves, people.