'Crashing' Season 3 Could See Pete Making Another Life-Changing Move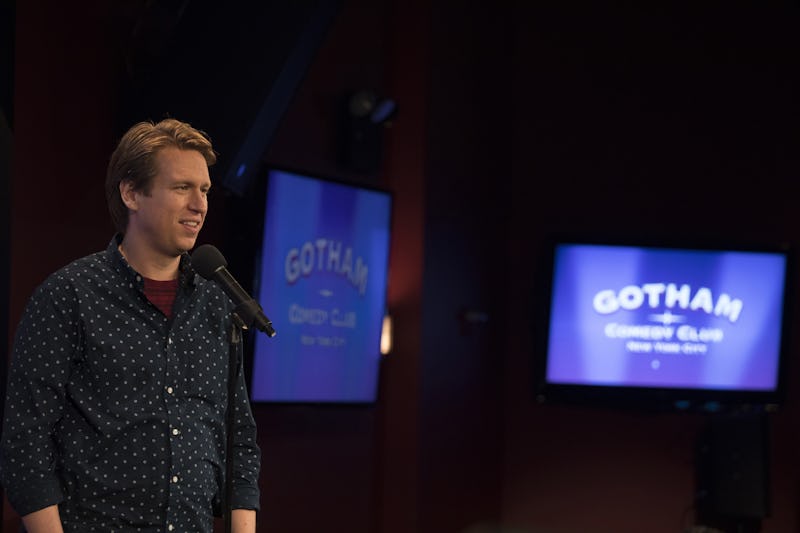 Craig Blankenhorn/HBO
Minor spoilers for the season finale. HBO's Crashing (casting: Gayle Keller) Season 2 showed Pete Holmes taking his life in a new direction. He pursued stand-up comedy with gusto — and he did the same with a brand new relationship. But once the season finale airs on Sunday, March 4, fans will be eager to know when Crashing will return for Season 3. Luckily, Deadline announced on Feb. 21 that HBO renewed Crashing for a third season. HBO has not yet publicly announced when the series will be back, though. So far, the first and second seasons have premiered in the winter months. If the series follows its current release pattern, we should be getting new episodes of Crashing either next January or February 2019.
Season 3 of Crashing (writer: Emily V. Gordon) could possibly take Pete on a new journey. In Season 1, Pete (Pete Holmes, playing an on-screen version of himself) found out his wife Jessica was cheating on him and he crashed on many comedians' couches as he pursued stand-up in New York City. The second season shows Pete finally moving on from Jessica and getting more involved in the comedy scene. He met and began dating fellow comic Ali (Jamie Lee), performed at many other venues, and even impressed college students at the NACA conference, where he seemed to land several gigs.
But while Pete's career seems to be doing well, he hit a rough patch with Ali at the conference — though they may have moved past it by the end of last week's episode. In the season finale, Pete and Ali go head-to-head in a comedy roast, so it looks like the fate of their relationship could depend on how their on-stage exchange goes.
While much of Season 1 was drawn from Holmes' own personal experiences, he told IndieWire that Season 2 has "fewer and fewer things that are being drawn upon from my actual experience." In addition to moving on from Jessica, Pete reconsiders his faith after an enlightening encounter with Penn Jillette in Season 2. Holmes told IndieWire the following about Pete's characterization in the current season:
"It's not as simple as a loss of faith. I don't think actually losing your faith is actually what's interesting about transformation. It's the moment where you consider that maybe it's another way. And I love those moments and I still look for those moments in any belief that I have, because it's a very interesting place to stand. When your mind softens for some reason and you don't just convert to someone else's ideology, but you go, 'Maybe it's not what I thought.' That's the Pete that we follow through Season 2, is a guy that's more confused than wayward."
And Season 3 will likely follow Pete's next phase. Perhaps the show will follow Pete as he leaves NYC to perform comedy for those colleges at which he landed gigs, since going on the road is also an aspect of a stand-up comedy career. He and Ali could perhaps find a way to balance their love of comedy and their affection for each other. And if they do go their separate ways, it might be awkward — as Crashing has shown viewers, the comedy scene is a small world.
Hopefully, Pete will continue his on-screen friendship with his mentor and real-life comedian Artie Lang. Holmes recently told Vulture that Artie's character is a bit of foreshadowing for Pete in the series. "On our show, Artie is always playing the ghost of comedy future," he said. "He's always showing Pete that there really is a lot of real suffering, pain, and loss, and to be careful."
No matter what the future holds for Pete and the Crashing comedians, it looks like Pete will be continuing his journey in Season 3.