Both 'Crazy Ex-Girlfriend' Season 4 And Rebecca's Fate Are Up In The Air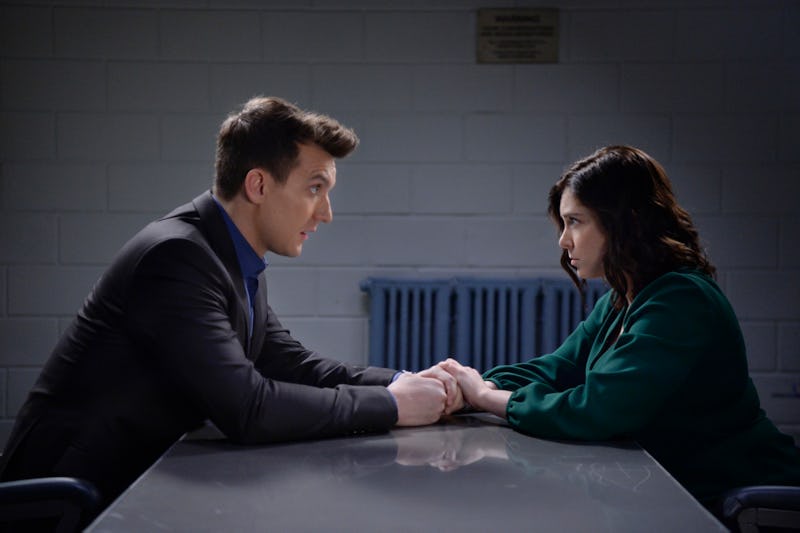 The CW
Spoilers ahead for Crazy Ex-Girlfriend Season 3. Things are getting even crazier on Crazy Ex-Girlfriend. Rebecca Bunch (Rachel Bloom) spent all of Season 3 coming to grips with her diagnosis of Borderline Personality Disorder, and she finally decided to take responsibility for all the things she had done to her friends and loved ones ever since she moved to West Covina — which culminated in the season finale in her pleading guilty to attempted murder. So when Crazy Ex-Girlfriend returns for Season 4, will Rebecca be singing the prison blues? Her fate is still up in the air in more ways than one.
UPDATE: Per The Wrap, Crazy Ex-Girlfriend Season 4 will premiere on Oct. 12.
EARLIER: The CW announced on April 2 that Crazy Ex-Girlfriend was officially renewed for Season 4. A premiere date has not been set yet.
EARLIER: The CW has yet to announce a Season 4 renewal for the musical dramedy, let alone a premiere date. So fans could be left hanging if Crazy Ex-Girlfriend doesn't return for another season. But Mark Pedowitz, the head of The CW, is notoriously good at allowing series to end on their own terms, and usually gives a heads up when renewing a series for a final season, so it's more than likely that Crazy Ex-Girlfriend will get a fourth and final season to premiere later this year in the fall.
The award-winning and critically loved musical comedy has always been on a four-chapter plan, according to creators Aline Brosh McKenna and Bloom. The first three seasons followed the first three chapters, so it makes sense that Season 4 will be the fourth and final chapter that McKenna and Bloom planned from the start. And McKenna confirms to Bustle that her plans have not changed now that they're nearing the end.
"Rachel and I have always thought about it in four chapters, so for us that means four seasons," she says. "I guess there is a world where the fourth chapter could be two seasons, but I don't think so. We don't know, because we haven't gotten picked up but we've always thought about it in four chapters, whether those are seasons or not."
So if/when The CW does announce a renewal, expect it to be for the last time. As for when fans can expect that renewal announcement? Last year, the Season 3 renewal was announced at the beginning of January during the Winter Television Critics Association press tour, which has already come and gone last month with no news. So we predict an announcement will come during the network's upfronts presentation in the middle of May.
But with Rebecca pleading guilty to the attempted murder of Trent, what will Season 4 even look like? When asked if Crazy Ex-Girlfriend will become like Chicago, with Rebecca singing and dancing behind bars, McKenna just laughs.
"Perhaps, perhaps," she says. "We think of it less in the specificity of that and more in terms of her general arc and where she's going as a human being and what she's learning, how she's going to try and redeem herself. That is more what we're talking about as opposed to the exact mechanics of where she'll be and how that will go."
But McKenna does promise that every character will be back and their stories will be told, from Nathaniel (Scott Michael Foster) and his love for Rebecca to Valencia (Gabrielle Ruiz) and her new girlfriend Beth (Emma Willmann) to Darryl (Pete Gardner) and his new daughter and his newfound friendship with White Josh (David Hull), and most importantly Rebecca's friendship with Paula (Donna Lynne Champlin). That look they shared during Rebecca's heartfelt plea speech at the end of the finale is going to have to keep us all going until Crazy Ex-Girlfriend is first renewed and then finally returns with Season 4. It's going to be a long wait.