Bad Luck 'Doctor Who' Fans, This S12 News Will Have You Wishing For Your Own Tardis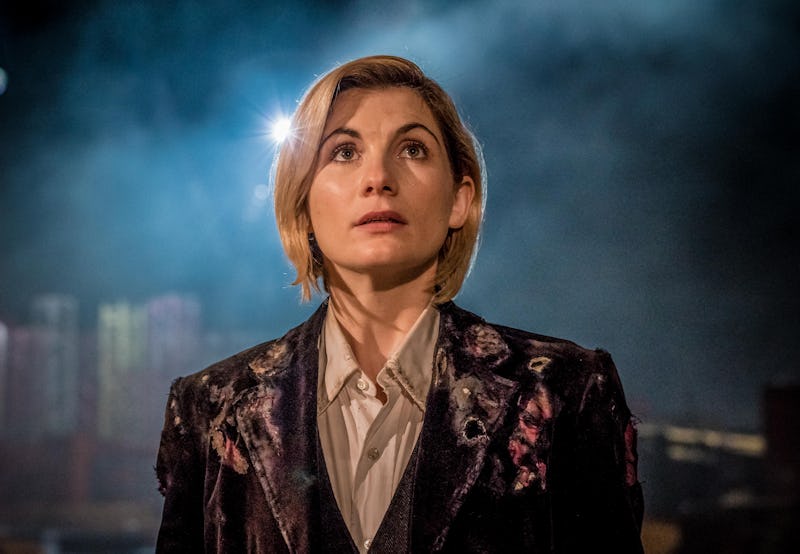 Doctor Who / BBC
Jodie Whittaker has well and truly breathed new life into BBC's Doctor Who this year as the 13th Doctor, becoming the first ever female Doctor and a firm fan fave. The 11th series has been filled with beautiful story lines such as the Doctor's encounter with Rosa Parks and the upcoming New Year's Day special looks like it's going to be massive, though sadly we could be waiting for a while for another glimpse of Whittaker in action after that. So, when does Doctor Who series 12 start? Steel yourself Whovians, as it's not the best news.
It turns out that viewers aren't going to see another series until 2020, which means you'll have to wait a whole year for more spacey wacey shenanigans. Showrunner Chris Chibnall confirmed the news in an interview with the BBC, however entertainment correspondent Lizo Mzimba pointed out that the New Year's Day episode will make sure 2019 isn't "a totally Doctor Who-free year". I'm still gutted TBH as while I'm sure it'll be great, it'll be the last one for a while.
Chibnall, told the broadcaster that "work on the series had already begun" so at least there's that.
He said, "As Jodie Whittaker's Doctor and friends have been winning the hearts of families across the nation this autumn, we've been busy with a whole new set of action-packed adventures for the 13th Doctor."
He also promised "more scares, more monsters and more Bradley Walsh, Mandip Gill and Tosin Cole", which this gal is super excited about. A good Doctor is only as good as their companions and the trio have been doing a stellar job so far.
As for why there's going to be such a long break? Mzimba claimed that although there was "a recognition that fans might want a series every single year", Doctor Who's a tricky show that needs a little more planning. He said that the show "has almost uniquely complex filming requirements and a lengthy post-production period".
Ugh, okay. I get it, I really do and the most important thing is that the the showrunners have enough time to make sure the next series is as good as it can be. If that means waiting a little while, I guess I'll just have to resign myself to rewatching the show on BBC iPlayer.
If you were worried that the 13th Doctor was a one series and done type of deal, Whittaker told The Hollywood Reporter that she would be returning to the TARDIS with her sonic screwdriver in hand.
She told the outlet, "I really can't wait to step back in and get to work again. It's been such an incredible role. It's been an extraordinary journey so far and i'm not quite ready to hand it over yet."
Beyond being an exciting new chapter for the Doctor, Jodie Whittaker's series has also been a smash success. According to The Hollywood Reporter, the pilot episode for series 11, The Woman Who Fell To Earth, was "the biggest season launch for the show" ever with "consolidated ratings of 10.9 million in the U.K.".
Chibnall told the BBC that they crew had all been "blown away by the response from audiences". Although whovians loved the last Doctor, The Hollywood Reporter reports that series 11 had "viewing figures above those of the last two series when Peter Capaldi starred in the title role".
The final episode of series 11, The Battle of Ranskoor Av Kolos, just aired and can be watched now on BBC iPlayer. The upcoming New Year's Day special will air on January 1 at 7p.m. according to Radio Times.