Here's When To Expect Donald Glover's Animated 'Deadpool'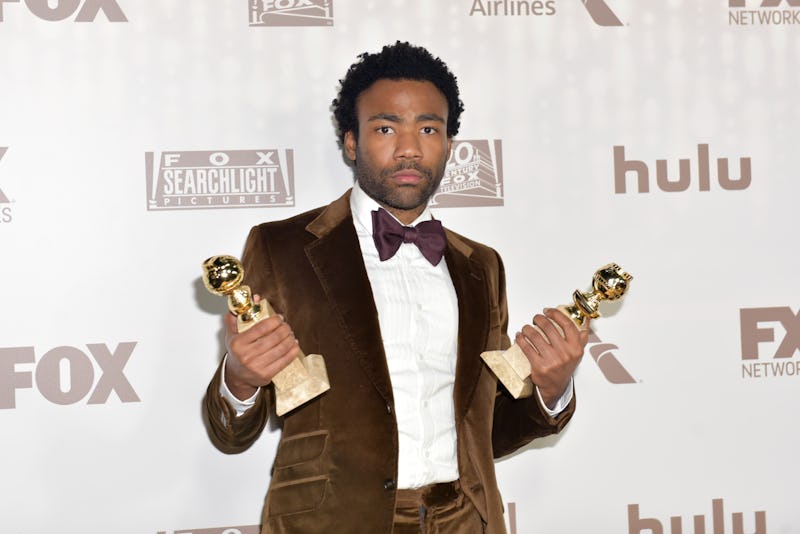 Rodin Eckenroth/Getty Images Entertainment/Getty Images
Take one Atlanta creator, team him up with his brother, stir in some Marvel executive producers, and you've got a recipe for comic book heaven. Donald Glover's Deadpool animated series premieres a lot later than any of us might want, but I'm hoping that it will be worth the wait when it gets here. It's been given a straight-to-series order for FXX, with a 10-episode first season commissioned. One very positive aspect about the project is the fact that Glover and his brother Stephen will be working together as showrunners, executive producers, and writers of the series.
Given that they both co-wrote Atlanta together (along with three other writers), this is a good sign, showing that they're experienced in working together and that teaming up gives great results (it won a Peabody Award and the 2017 Golden Globe Award for Best Television Series — Musical or Comedy).
At this stage, the media is reporting the series is set to drop in 2018. But can we get a little more accurate than that? Let's compare and contrast with Chozen, the first original series that was commissioned by FXX. It was announced in June 2013 and described as an "outrageous and ballsy comedy," which, if you're familiar with Deadpool, sounds like it's more or less on the same page. It was also from the makers of Archer and is an adult animated series — so, again, roughly the same genre despite being about rappers rather than superheroes.
It then proceeded to air on January 13, 2014 — so just six months later. With this in mind, everything looks very promising. Early 2018 looks far more likely than later on.
However, the other argument goes something like this. The Atlanta star has an incredibly busy dance card at the moment. Glover is playing young Lando Calrissian in the as-yet title free Han Solo Star Wars Anthology Movie, he needs to pen and perform in Atlanta Season 2, and he's voicing the adult Simba in the live-action version of The Lion King, which is set to drop in 2019. So when would he find time to be this involved — creating, writing, producing — for the animated series any time soon?
This said, the former Community star has always been great at juggling, maintaining a strong TV presence as Troy Barnes while simultaneously writing and recording two albums as Childish Gambino, Camp (2011) and Because the Internet (2013). He's a multitalented multitasker; at least in theory, being involved in four projects at once should be totally doable.
So cross your fingers. If it's business as usual, Glover should be getting to his new animated series far earlier than we could ever imagine.