Rihanna's New Fenty Beauty Release Makes '90s Body Glitter Cool Again & Here's When To Buy It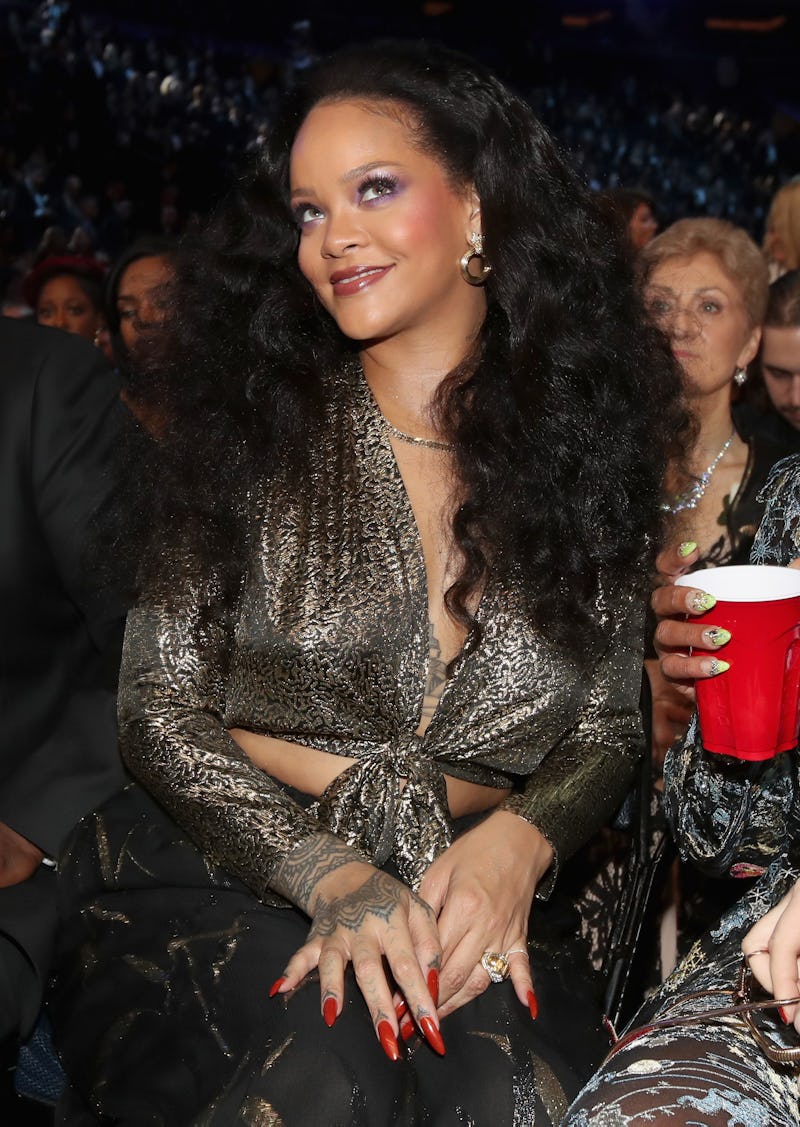 Christopher Polk/Getty Images Entertainment/Getty Images
If you are constantly inspired by Rihanna's gorgeous and dewy glow, you will be happy to know that the singer, actor, Puma Creative Director, and Fenty Beauty force-of-nature has found a way to bottle her radiance. Fenty Beauty is dropping the Body Lava and the Fairy Bomb. Essentially, that patented RiRi glow has been packaged and this combo will give you all of the '90s body glitter vibes.
Body Lava is a liquid body luminizer-slash-bronzer that's basically fire in a bottle. It's a magic potion that pretty much begs to be slathered on bare limbs all summer song. The Fairy Bomb, on the other hand, is a powder puff is a millennial pink poof packed with shimmer. Rih also teased a Kabuki brush for application. If you pair them, your skin will be so lit you will be able to communicate with the satellites in space.
Rihanna took to her personal Instagram account to reveal the products in her story. She used them IRL — that's "In Rihanna Life"— and demonstrated how they interact with actual skin.
Once you see how gorgeous these illuminating, sparkling, and straight up skin-loving these shades are, you will be OK with parting with your cash on Friday, April 6. That's the exact date this dazzling assortment of products will be available for purchase.
There are two shades of Body Lava in the Insta story. The bottle on the left is cheekily named "Who Needs Clothes" and has a rose gold, champagne-like shimmer. The bottle on the right is more of a true bronze and the shade is dubbed "Brown Sugar." Both are undeniably beautiful.
While this pic is a bit blurry due to the fact that Rihanna was moving around excitedly while showing off the product, you can see the names of the shades via the hashtags. And yes, we are as stoked as Rihanna regarding these body illuminators. The shades are complimentary and can be mixed and layered for a custom shimmer and sheen.
There's the drop date — in a bronzy font, no less! Go ahead and program a reminder in your mobile phone now so you can remember to shop next Friday.
Showing us how this liquid magic looks when smoothed over skin is an effective strategy. It leaves anyone who watches this Insta story wanting to take a dip in a pool of Body Lava. Or, at the very least, apply it to limbs!
Rihanna also debuted this pink-haired Kabuki brush, which is packed with luxe and lush bristles. Those will no doubt feel amazing when gliding across skin and applying Body Lava.
You should have no questions about where to dab and blend the Body Lavas! Rihanna's Insta story shows us that we can apply it any and everywhere — on arms, legs, shoulders, the face, decolletage, cleavage, collarbone, or basically wherever you want some additional glimmer and gleam. Seriously, though! Why bother with articles of clothing when skin glows like this?
Get ready for a molten, mesmerizing, and metallic glow!
Once we were adequately acquainted with the actual Body Lavas themselves, Rihanna went and revealed something else!
It's the Fairy Bomb! Welcome to the Fenty Family. But what is it?!
It's a powder puff packed with shimmer. If you layer it with the Body Lava, your glow will be unrivaled.
Ooh! It's so fluffy and will add another layer of radioactive glow. Remember this — there is no such thing as too much glow.
The Fairy Bomb will give skin a glorious, gilded glow. Aren't you glad that warm weather is coming so you can shed excess clothes and show off luminous skin courtesy of the Body Lava x Fairy Bomb combo?